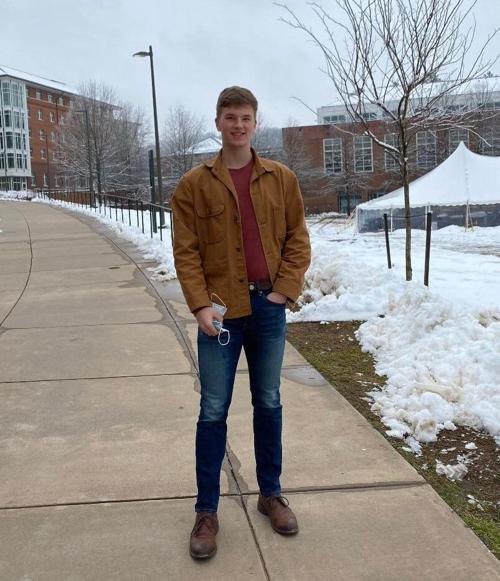 ABINGDON, Va. — A group of teens who were home during their college break are being praised for helping save an Abingdon man's life.
It was definitely a case of being in the right place at the right time, said 19-year-old Spencer Buddington, who, along with his friends, is being dubbed a hero.
It was a Friday afternoon a few weeks ago when Buddington and his friends — Tanner Humbert, John Reid and Bryce Vandergriff, all of Abingdon — were shopping in town before heading back to school for the remainder of the semester.
When the friends decided to stop at the newly opened Abingdon General Store on Main Street, they were told the store was closed.
Buddington was startled to see through the store window that a man had collapsed on the floor and was in need of medical attention.
As the teens began to walk away, the co-owner of the store, Steve Matney, ran after them, asking if any of them knew CPR.
"Fortunately, all of us know CPR, but I was at the front of the group and was the first to volunteer to help," Buddington said.
Once inside the store, the teen went into action, using the skills he had learned as an Eagle Scout member of Troop 222 of Abingdon.
He administered chest compressions followed by rescue breaths.
"After a couple of minutes, the man gained consciousness," recounted the student. "I tried to keep him awake, but eventually he stopped breathing again. I did more chest compressions, and he revived. By that time, the emergency services had arrived, and they took over."
The man whose life was hanging by a thread was 68-year-old James Ward of Abingdon.
"I don't remember any of what happened," Ward said. He still has no recollections of anything that happened before or after the episode.
Ward, who had been helping the owners of the store with last-minute renovations, had parked his vehicle behind the store to load scaffolding that had been used in the building.
"When I came back into the store, they said I keeled over."
After Ward was taken to the hospital, doctors confirmed he had suffered a heart attack. Hospitalized for eight days, he received a stent to open a blood vessel and later a defibrillator to regulate the heart.
"I'm still moving. I walk each day," said the patient, who is thankful to be home and recovering.
"I am certain that God put these young guys there for me," said Ward, who is a deacon at Holston Valley Baptist Church in Abingdon.
Matney, the store owner who called 911, was also thankful the teens were there to help.
"It was a chaotic day for us because we were just two hours from opening the store for the first time.
"It could have been a lot worse situation if James had walked out the back door and collapsed, where he might not have been found in time," said Matney.
According to Buddington, he wasn't the only one in the group of friends who knew CPR.
The young helpers share ties stronger than what they accomplished that day.
Humbert, Vandergriff and Buddington each are Eagle Scouts, participating in troops 222 and 70. Reid received his CPR certification as a lifeguard.
Even Clayton Ball, who arrived with the Washington County Life Saving Crew, is also an Eagle Scout with Troop 222.
"I'm just thankful I knew what to do," said Buddington, who credited his years as a scout member for instilling the importance of the life-saving skills.
"It was pretty shocking for my friends and me. It was definitely a scary moment," he said. "I'm glad we were all together to support each other."
The teen said the event has changed the way he feels about life. "It makes me want to slow down and not take for granted the time we have."
Karen Buddington said she was not surprised to learn that her son had stepped up to help. "My son has always been someone who helps people. He is a natural leader."
A student at the University of Virginia, Buddington said the incident probably will not change his mind about choosing a career. "I'm not much of a science person," he said. "I don't think a medical career is for me." Instead, he is pursuing a degree at either the college's McIntire School of Commerce or Frank Batten School of Leadership and Public Policy.
Most importantly, he credits his parents for teaching him about serving others. "It's not always easy to find these great opportunities to help others, but when they do arise, I hope I am there to step in and help."
Carolyn R. Wilson is a freelance writer in Glade Spring, Virginia. Contact her at news@washconews.com.