Two years ago, Judy Hess was on probation in three different counties.
For the past four decades, she'd lived her life in active addiction, cycling through crash and high, all the while oblivious to the fact that she was losing everything and everyone around her.
On March 3, the 63-year-old did what many thought impossible as she celebrated a monumental victory in graduating the Smyth County Recovery Court.
"It's been a rough journey, it's been a hard journey, but once I was determined that that was what my life was going to be, I have had a death grip on my sobriety," Hess said last week. "There is nothing and nobody that's going to make me go back."
Hess began her struggle with addiction 45 or more years ago.
"If it was a drug," she said, "I probably tried it."
While she dabbled with other drugs, Hess' go-to was meth and marijuana. She recalled trying speed for the first time, saying, "I was like, 'Wow, I like this. I can get more done; I can get all kinds of things done.'"
"Well, no you can't," she said in rebuttal to her former belief. "You end up making a bigger mess than you ever had to start with and there's a big cost to it—not only money, but your health, your family. You lose everything for one thing."
Without her realizing, Hess' life began to fall apart and family members began distancing themselves from her.
"You're on the inside and not on the outside," Hess said. "You don't see what it's done to you, you don't see what it's done to your family, you don't see what it's done to your friends until you get clean. And then when you do start opening your eyes, the worst thing is looking in that mirror and facing yourself."
Hess' daughter, Michelle Cress, recalled feeling more like a parent in the mother-daughter relationship. By the time she hit adulthood and had children of her own, the two grew even further apart.
"We went years without speaking," Cress said. "We went years without having any kind of relationship because I wouldn't let her around my kids, I didn't want her around me. I didn't want my girls growing up knowing about life like that."
Cress recalled going to pick her mother up from jail while she was pregnant with her oldest daughter more than 20 years ago. She and her late grandmother traveled to North Carolina to bond Hess out.
That is Cress' first memory of her mother's legal troubles. From that point on, Hess stayed wrapped up in the legal system, constantly racking up new possession charges and violating probation.
Meanwhile, Cress' daughter, Lakin Henderson, grew up and began working with law enforcement as a Smyth County dispatcher and is engaged to a deputy with whom she is expecting her second child.
Cress said one of her biggest fears was that her mother's addiction would place an unimaginable burden on her daughter's young family.
"I was always worried that Lakin, being a dispatcher, would have to take the 911 call that her grandma had overdosed or that my son-in-law would have to be the one to come and knock on my door and tell me that my mom had overdosed," Cress said.
By 2021, Hess had landed herself on probation in Smyth, Wythe and Bland counties. For 20-plus years, she'd spent her life in the grips of addiction, constantly looking over her shoulder, wondering if she was being watched by police or someone who might inform on her.
 It did occur to her that life would be so much better if she could put it behind her.
"Sometimes it would hit me that 'you're losing everything. You've lost your daughter, your granddaughters. Is it worth it?'" Hess said. "But then somebody would come by and you'd get high again."
Then in June 2021 Hess woke up and began her daily routine, preparing her high for the day.
"I got it ready and I sat right there and I looked at it and I'm like, 'I've had my fill. I'm done. I don't want this anymore,'" she said. "And I laid it down and didn't pick it back up."
But the lifestyle would soon catch up with her in August of that year as Wythe County issued a capias for her arrest on a probation violation charge.
Hess' granddaughter's fiancé took her into custody. She spent the next six months in jail.
Smyth County Recovery Court Coordinator Michelle Ward said Hess' case was a unique one, requiring some heavy-lifting by all three court systems during a time when some COVID restrictions were still in place. Ward said she got Hess' referral to the program through the public defender's office in Pulaski, which was representing Hess on the Wythe charge. Although she was arrested on a Wythe County charge, Hess' status as a Smyth resident and pending charges in all three counties made her eligible for the Smyth program.  
"All the courts had to agree, all the judges had to agree and all the players had to agree," Ward explained. "And, it was wild, because everybody did. It was like the stars just aligned for her."
At 46, Cress had long ago lost hope that her mother could beat her addiction. She'd tried in recent years to help her, allowing her to stay with her and her family, only to watch her fall back into the lifestyle. Though she loved her mother, and had once hoped to see her well and to build a relationship with her, Cress kept her at arm's length. Having lost her father to complications from alcoholism she always expected she would lose her mother in the same way to her drug addiction.
"It was easier to not have a relationship, not have any feelings toward her than the heartbreak of getting that phone call," Cress said.
So when she got a call from the Smyth County Recovery Court, searching for housing for her mother to enter the program, Cress' answer was a clear and resounding "not a chance."
Hess instead found a bed at the Hadassah House in Marion, where she was able to stay as she began her journey into recovery court.
The moment she was accepted into the program, Hess said she "hit the ground running."
"I said, 'I'm going to do this.' I don't want that life anymore. I want a real life. That life is just existing and that is not a life. Your family, they're your life."
Ward was pleased with Hess' determination.
 "The one thing that she kind of did throughout the program was she was very talkative, very vocal and very happy-go-lucky," Ward said. "When she came, it was with that attitude."
Ward said Hess took initiative, engaging with staff and taking full advantage of the counseling and classes offered through the program
"The ones that come in that have already decided that's what they want and they just need help doing it, they can really use the classes they're given and the tools that they're given to help project them further along into their sobriety and recovery efforts," Ward said. "She really did enjoy the classes, enjoy the information she was getting and was really ready to implement it from Day 1."
It wasn't until several months later that Cress learned of her mother's progress. They'd run into one another at an NA meeting Cress attended with a friend. While they didn't speak then, they soon opened a dialogue that gradually grew into a relationship. Hess later asked Cress to join her for a recovery court session in which she would advance to the next stage.
Cress was surprised with the program's effectiveness and the recovery court team's unwavering compassion and support.
"It was not at all what I thought it was going to be," Cress said. "I thought it was just an easy way out, a way to avoid going to jail."
The intensive program requires participants to undergo regular drug screening, attend counseling and classes, perform community service and learn to hold themselves accountable. Cress said it was obvious the team genuinely cares about the participants and had a drive to help see them through their journeys. She was particularly taken with Judge Deanis Simmons, who oversees the program.
"The way she is with the participants, she genuinely knows them as people, they're not just addicts to her," Cress said.
Because of her own experiences, Cress had a difficult time seeing beyond a person's addiction, she said. Watching her mother's journey through Recovery Court changed that. She hopes others will take notice, too.
"I always looked at an addict as an addict," she said. "They weren't a person, it wasn't somebody's sister or brother, it wasn't somebody's mom. With recovery court and the way they handle everyone, I look at them a lot different now, because they are somebody's child or somebody's mom and they're not just their addiction. Society needs to look at the person and their recovery, instead of just their addiction."
During Hess' journey to recovery, the two women have done what Cress had once thought impossible and have been able to mend their relationship so much so that they're now renting a home together.
"It's the first time in 46 years my mom's been sober," Cress said. "I never thought I would get that. For the first time ever in my life, I can count on her when she says I'll do this or I'll be there."
Although hard times have befallen Hess over the last year, she's been able to turn to the tools and resources she gathered in recovery court, and to the support of her family and friends to maintain that death grip on her sobriety.
Ward said Hess took the program seriously, focusing not only on completing the program, but also on her future, making plans for what life might look like in retirement. Her positive, can-do attitude was also a source of encouragement to younger participants, Ward said.
"One thing I noticed is with a lot of the younger ones, there was a time she was a great encouragement to everybody in the program and if they weren't able to do it, she was there motivating them, talking to them and trying to encourage them," Ward said.
"That's kind of the lovely part of our program," she explained. "There are varying ages, varying degrees of addiction. You can see somebody take on a different role every time. You've got some that are quiet, some that are vocal, there are some that are just very encouraging with positive attitudes and that makes a difference."
During her graduation from Recovery Court, Hess sat with her family by her side as she became the first woman to finish the program in the minimum 12-month period and did so without having ever been sanctioned by the team. Her accomplishments serving to encourage even those beyond fellow participants, Hess' son resumed the seat he took beside her the following week as he embarked on his own journey to recovery.
Hess' ceremony came on what would have been her mother's 90th birthday. Although she passed away while Hess was in jail in 2021, Cress believes her grandmother was in the courtroom in spirit that day as Hess marked the milestone.
"Even though Nanny couldn't be there, she still got to be there," Cress said. "Nanny hadn't seen her sober in over 40 years either, and then she graduates recovery court on what would have been Nanny's birthday."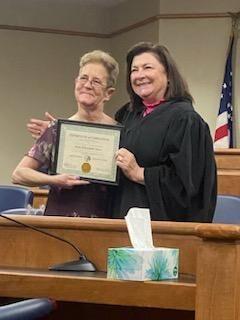 Following her graduation, Hess' family and friends crowded into the Atkins Ruritan Club for a surprise celebration to allow those who couldn't attend her recovery court ceremony the opportunity to celebrate her accomplishments.
 "It was a reward to see all the support she had in that room and how that family got put back together because of her sobriety," Ward said. "I just want her to continue that journey to get all of the things out of life that she deserves."
Today, Hess cherishes her new-found life, savoring small moments, like going out to eat or watching movies with her daughter and granddaughters, spending time with her siblings with whom she's now rebuilt bridges, and watching her great-grandson as he grows.
"When you're in addiction, you give up everything for that drug," Hess said. "When you give up that drug, you get back everything. The past year that I've been in recovery, I've gained back so much. I've got my family back."
"I've got a good job, a car. Honestly, food tastes better, the air smells cleaner, you see so much clearer without all the drugs in your system," she added. "It's just—everything."
In February, Bland County Sheriff Jason Ramsey learned from Hess' probation officer that she would be graduating Smyth's recovery court. Ramsey and a few of his deputies watched from the gallery of Bland County Circuit Court as Hess completed her final review and was released from probation.
"We're extremely proud of Judy," Ramsey said. "She really buckled down and done terrific on that. It's just a world of difference from where she was a few years ago. She's really done a complete change in her life and you can tell that she's a lot happier."
While it was within only her power to build a life in recovery, Hess also credits the support of the recovery court team, her daughter and other family members, and late friend Barbara Wyatt, who she met at the Hadassah House, with her success. She's also grateful to the Hadassah House for the support they showed her, and to her employer, MEC, a second-chance company, for taking a chance on her.
Upon her completion of the recovery court program, Hess was released from probation in Smyth County. On Thursday, she'll go before a Wythe County judge, who will release her from her probation term in that county, marking the first time in more than 20 years she's not been under supervision.
"I'll be done with it," she said. "But even though I am free and clear—no supervision, no drug tests, nobody watching over my shoulder—it still doesn't matter. I've got everything now. I'm not going to lose it again."
Moving forward, Hess hopes others can find hope and inspiration through her story. She plans to seek out advocacy opportunities and will take the first step in the near future with her daughter as they plan to take part in a presentation for a local church group.