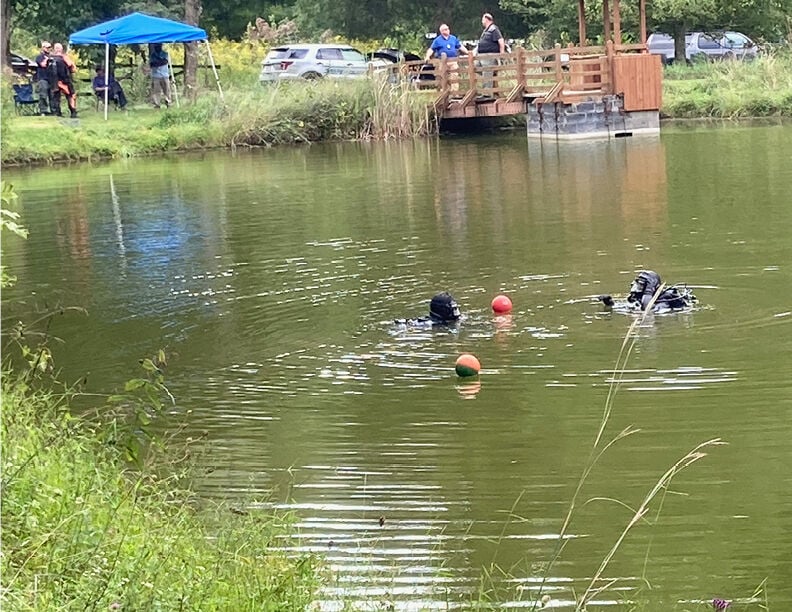 Investigators with the Marion Police Department launched a search Thursday morning in the area of Hungry Mother State Park in connection to a missing person investigation that has stymied the department for more than three years.
Police Chief John Clair said Marion officers and divers with the Virginia State Police Search and Recovery Team scoured the retention pond and surrounding areas at the park, looking for any evidence or items relating to the disappearance of Jami Megan-LaBeth Pakacki
The then-23-year-old was last seen leaving a house party at a home on Fern Lane in Marion on May 19, 2017. Witnesses told police Pakacki told them she was going to text a friend for a ride and then later saw her getting into a pickup truck at the end of the driveway.
The search of the retention pond is the latest development in the investigation. While the flow of tips from the community has slowed, Clair said they're still coming in and investigators take each one seriously.
"We don't get as many tips as we used to but if we get one we'll do everything we can and we always encourage anyone with information to contact us," he said.
Some tips, like the one that led to the search of the retention pond and surrounding area suggest that Pakacki may have been the victim of foul play.
In mid-January, Marion investigators and Smyth County deputies searched a local property in the Glade Mountain area after receiving a similar tip. For the better part of the day, they used K9s to search a limited piece of the property and manually searched beneath the ground.
That search came up empty.
Clair wouldn't say if investigators uncovered any new evidence in the most recent search, but did confirm that they did not recover any human remains.
He noted that other promising leads in the investigation have also recently surfaced, but wouldn't go into detail about those.
Anyone with information regarding Pakacki's disappearance is asked to reach out to the Marion PD at 276-783-8145.
Be the first to know
Get local news delivered to your inbox!