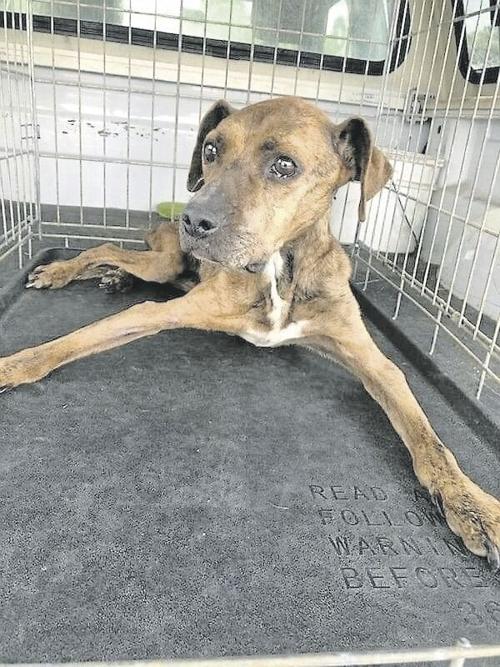 A grand jury will decide if an animal cruelty case that involves the death of a dog will head to Circuit Court.
The debate during Monday's preliminary hearing was whether the case against Harold Dunford of Austinville should be a misdemeanor or a felony. The key word in the charge against him was the word "malicious," which makes the charge a Class 6 felony, the least serious felony in Virginia. It is punishable by jail time of one to five years and/or a $2,500 fine.
Prosecutor Terri Bowles argued that by not seeking help for the obviously sick animal and lying to an animal control officer trying to help the dog, Dunford acted maliciously. Defense attorney Tom Jackson said the charge should be reduced to a misdemeanor, arguing that the dog suffered from kidney damage caused by Lyme disease, which caused it to stop eating, not because Dunford mistreated or withheld food and water from the dog.
General District Court Judge Jerry Mabe sided with the prosecution, saying there was probable cause that Dunford's behavior indicated malicious intent, as he ordered the case sent to the grand jury.
Dunford, 80, was arrested Aug. 30 after an animal control officer found a starving dog in a cardboard box at his house on Aug. 19. The dog died a week later.
Rescuers that worked to save the dog named it Jaelyn. It came out in court that Dunford called the dog Crush.
Wythe County Animal Control Officer Sharon Dauley testified that she went to Dunford's home on Lead Mines Road after receiving a call about a dog that needed a welfare check. She said that when she asked Dunford about the dog, he chuckled and said she was dead and buried. When pressed, Dunford said the dog was buried in a nearby field. Dauley said Dunford kept changing details in his story, which made her suspicious, and he eventually admitted the dog was not dead and could be found in a box "where she usually lays."
Dauley found the dog in a brown box, emaciated and unable to stand. She carried the dog to her vehicle and eventually transported her to Community Animal Clinic in Wytheville, where the dog remained for several days.
Dauley said she asked Dunford how he could let the dog starve, and he replied that it wasn't his dog, that it belonged to his nephew. Testimony proved that the dog originally belonged to Dunford's grandson.
At Community Animal Clinic, the dog appeared to be improving, but then her condition worsened and arrangements were made to take her to the veterinary school at Virginia Tech, Wytheville veterinarian Rebecca Beamer testified.
Beamer said the dog was very thin, not very mobile and "very, very sick." She, along with two Virginia Tech veterinarians, testified to the dog's poor condition and said the mixed-breed dog also suffered enlarged and failing kidneys caused by Lyme disease. The dog was also blind and had fluid in her abdomen. One of the Tech veterinarians said the dog had no fat on her, not even in her bone marrow, the last place from which the body draws fat.
In August, one of the dog's rescuers said she weighed 18 pounds – 32 pounds less than her ideal weight of 50 pounds.
Beamer said that when Lyme disease in dogs affects their kidneys, they lose weight, are more thirsty, suffer from nausea and lethargy. They also get ulcers in their mouths. The cause of death was kidney failure, the veterinarian who performed the autopsy said.
The defense attorney argued that the nausea and ulcers were why the dog quit eating, not because she wasn't offered food.
Dunford's daughter-in-law, Vivian Dunford, testified that the dog had lived on the family property for 10 to 12 years, and that Dunford's grandson brought her to Dunford's home, but eventually moved away without the dog. Vivian Dunford said family members have always had dogs and they are all fed and watered, and are never ignored. She said in the months leading up to Dunford's arrest, Dunford's granddaughter moved in with him for a couple of months and grew close to the dog.
When she moved out, the dog disappeared and family members assumed she took the dog with her, Vivian Dunford said. She added that on the day the animal control officer arrived, she saw a car pull up and thought Dunford's granddaughter was in the passenger seat. She said it's possible the granddaughter dropped off the dog.
Prosecutor Bowles said she didn't believe a word of Vivian Dunford's testimony.
Dunford's attorney, Jackson, said the dog's death was not caused by Dunford treating it maliciously.
"No one in the courtroom wanted the dog to die," he said.
Jackson admitted that when Dunford noticed the dog losing weight, he could have taken her to the vet, but you don't infer maliciousness just because the dog was in bad shape because of a disease.