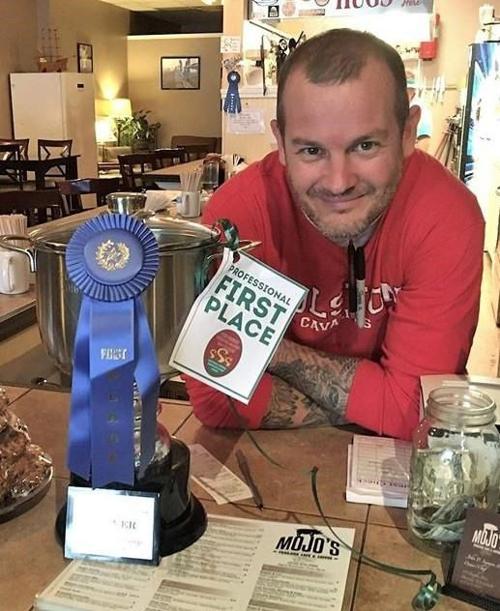 When John Seymore took over Mojoe's in Damascus, Virginia, five years ago, he dropped the "e" in the eatery's name.
Seymore wanted to make a difference in Damascus, said his mother, Susan Seymore, 72.
So, starting in April 2015, Mojo's became known for an upscale menu that included scallops, crab cakes, shrimp and grits, plus Brussels sprouts served with bacon.
"He turned it into a very successful restaurant, blowing everybody away with his food," Susan Seymore said.
Unfortunately, that restaurant's future is now in question after John Seymore, 43, died in a motorcycle wreck on U.S. Highway 58 at Osceola on Sunday.
According to the Virginia State Police, Seymore died after his 2019 Harley-Davidson struck a 2004 Dodge Ram pickup truck pulling a cattle trailer.
The truck was traveling west on Osceola Road. As the pickup crossed over the eastbound lanes of U.S. Highway 58, it was struck in the side by the eastbound motorcycle, the VSP said.
The driver of the Dodge truck was not injured in the crash.
Seymore died at the scene.
"He was very special," said his older sister, Jill Seymore Horsch, 47. "He was just a lot of fun — jokester. A curly-headed — brown, curly hair — little boy."
Horsch praised her brother for creating "a good atmosphere" at Mojo's and becoming "an extraordinary cook of upscale food."
Out of the kitchen, John Seymore rode his motorcycle "just for pleasure," said his sister.
"The motorcycle was therapy for him," Susan Seymore said. "And he would ride to relax."
On Sunday, Mojo's was open when Seymore lost his life, just a few miles west of Damascus.
"It seems like a nightmare," Susan Seymore said.
Just off U.S. 58, Mojo's sits along the Appalachian Trail, within sight of the Virginia Creeper Trail on the east end of Damascus.
Now, Mojo's is closed, and family members aren't sure when or if it will reopen. Because of health concerns over the coronavirus, family members also weren't sure Monday when a public memorial can be held to celebrate Seymore's life, said his mother.
"He was just a really good, unique cook," Susan Seymore said.
"He was an accomplished chef," she added, citing her son's experience working with other chefs in Richmond, Virginia.
"He had learned from the best. So he brought that talent to Damascus. He was very particular and set high standards," said Susan Seymore, who serves as bookkeeper for Mojo's.
"I think he will be greatly missed here," Horsch said. "He always had the greatest smile and always had good hugs. He could always cheer you up."
Be the first to know
Get local news delivered to your inbox!