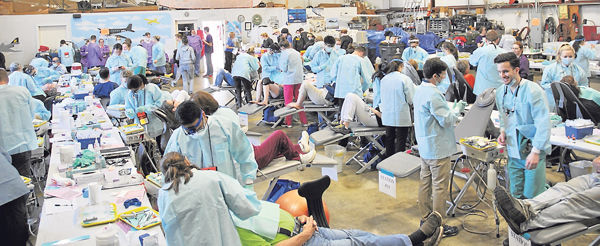 Harry Howe, coordinator for the Remote Area Medical (RAM) Smyth County committee, has announced the cancellation of the planned fifth annual RAM Clinic in May.
"RAM Headquarters has cancelled all RAM clinics through the end of May," said Howe, "and this includes ours."
Kim Faulkinbury, clinic coordinator with RAM USA, said, "As the coronavirus (COVID-19) pandemic continues to spread, RAM is continually monitoring guidance from the Centers for Disease Control and Prevention (CDC) and local health departments. Thank you for your patience and trust in this challenging time."
"Based on recently updated CDC recommendations on mass gatherings, RAM has suspended all clinic operations scheduled between March 16 and May 28, 2020."
"The decision to suspend operations will affect your clinic scheduled for May 15-17 in Rural Retreat. Please know this decision did not come easy. The current pandemic is affecting many clinics in the coming months. We have a full schedule for the latter half of 2020…."
"We extend a heartfelt thank you for your hard work and countless hours in planning to make this event a success. We remain dedicated to our mission to prevent pain and alleviate suffering by providing free, quality healthcare to those in need. The health and wellbeing of our patients, volunteers, and staff remain our highest priority."
Last year's RAM Clinic in Smyth recorded about 607 patient visits over three days with free medical, dental, vision and hearing care from hundreds of medical professionals, students and volunteers. Volunteers provide free care that is valued at approximately $390,010 or about $510 per patient.
This year's clinic was planned for two days, May 16-17.
The Remote Area Medical clinic program was established by Stan Brock in 1985 to address the pain and suffering caused by the lack of healthcare in impoverished, underserved and isolated areas and then brought the program to the United States to address the health concerns of poor Americans.