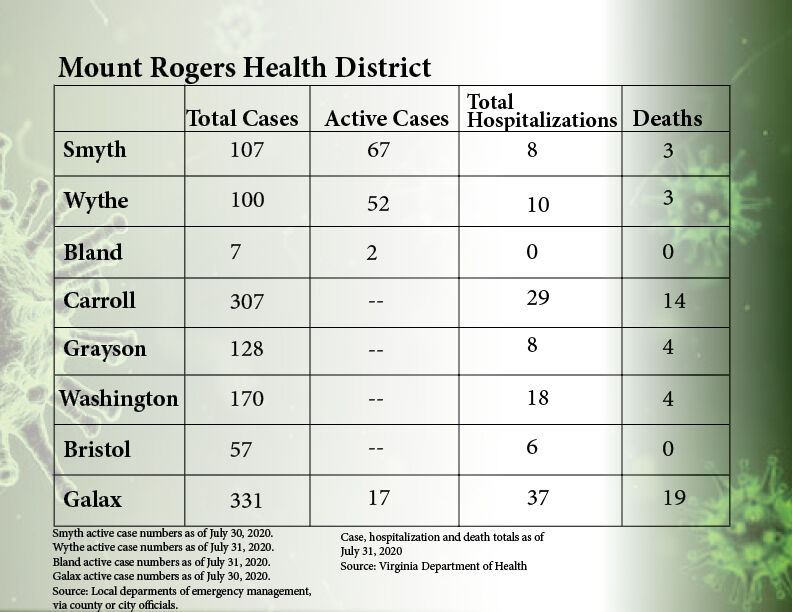 Updated  July 31, 2020 7 p.m.
Smyth and Wythe counties each broke 100 reported cases of the novel coronavirus late this week, with Smyth County reporting one new COVID-19 death.
According to the Virginia Department of Health, Smyth County reached a total of 102 cases on Thursday and tallied 107 on Friday. The county now reports eight hospitalizations and three deaths.
According to the Smyth County Department of Emergency Management, 67 of those cases were currently active as of Thursday. 
The rise in case numbers in the county prompted the Town of Chilhowie on Friday to close its town hall and fire administration buildings until further notice. The Town of Marion closed its municipal buildings to the public on July 17.
Likewise, the Town of Rural Retreat has also closed its office until further notice, according to a notice posted to its Facebook page. The move comes both as case numbers rise in the county and as Gov. Ralph Northam declared a state of emergency earlier today in advance of Hurricane Isaias, which is expected to hit parts of Virginia as early as this weekend, according to a release from Northam's office.
The VDH website recorded Wythe County's 100th case of the illness on Friday, however according to county officials, that number is at 106, with 52 cases currently active. VDH reports typically lag a few days behind.
According to VDH data, Wythe County has seen 10 hospitalizations and three deaths.
Bland County has reported seven total cases of the illness, with no hospitalizations or deaths, according to VDH data. County Administrator Eric Workman said on Friday that only two of its cases were currently active.
Galax, which saw a surge in cases last month that caught the attention of the Centers for Disease Control and Prevention, is now reporting only 16 active cases of the virus as of Thursday, according information shared to social media by the Galax Police Department.
Carroll County reports 307 cases, Grayson County tallied 128 and Washington County recorded 170. The City of Bristol, which also has zero reported deaths, hit 57 cases of the virus on Friday.
In a press conference on Tuesday, Northam said case numbers were largely stable in four out Virginia's five regions.
He announced that additional restrictions would be placed on the Hampton Roads area to help curb a spike in cases there. Those restrictions include an alcohol sales cutoff at 10 p.m., with all restaurants to close by midnight. The limit on social gatherings was also reduced to 50 people. 
Northam noted that he and health officials would be monitoring the southwest region, where a slight increase had been seen.
On Tuesday the 7-day percent positivity rate for the region was at 7.1%, Northam said. The Mount Rogers Health District reported 11.3%, but byy Friday, the health district's rate had dropped to 9.9%. Virginia's overall positivity rate is at 7.2%.
Statewide, the numbers are 86,501 confirmed cases and 3,387 probable cases. VDH reports 7,866 hospitalizations and 2,175 deaths.
Concerned about COVID-19?
Sign up now to get the most recent coronavirus headlines and other important local and national news sent to your email inbox daily.