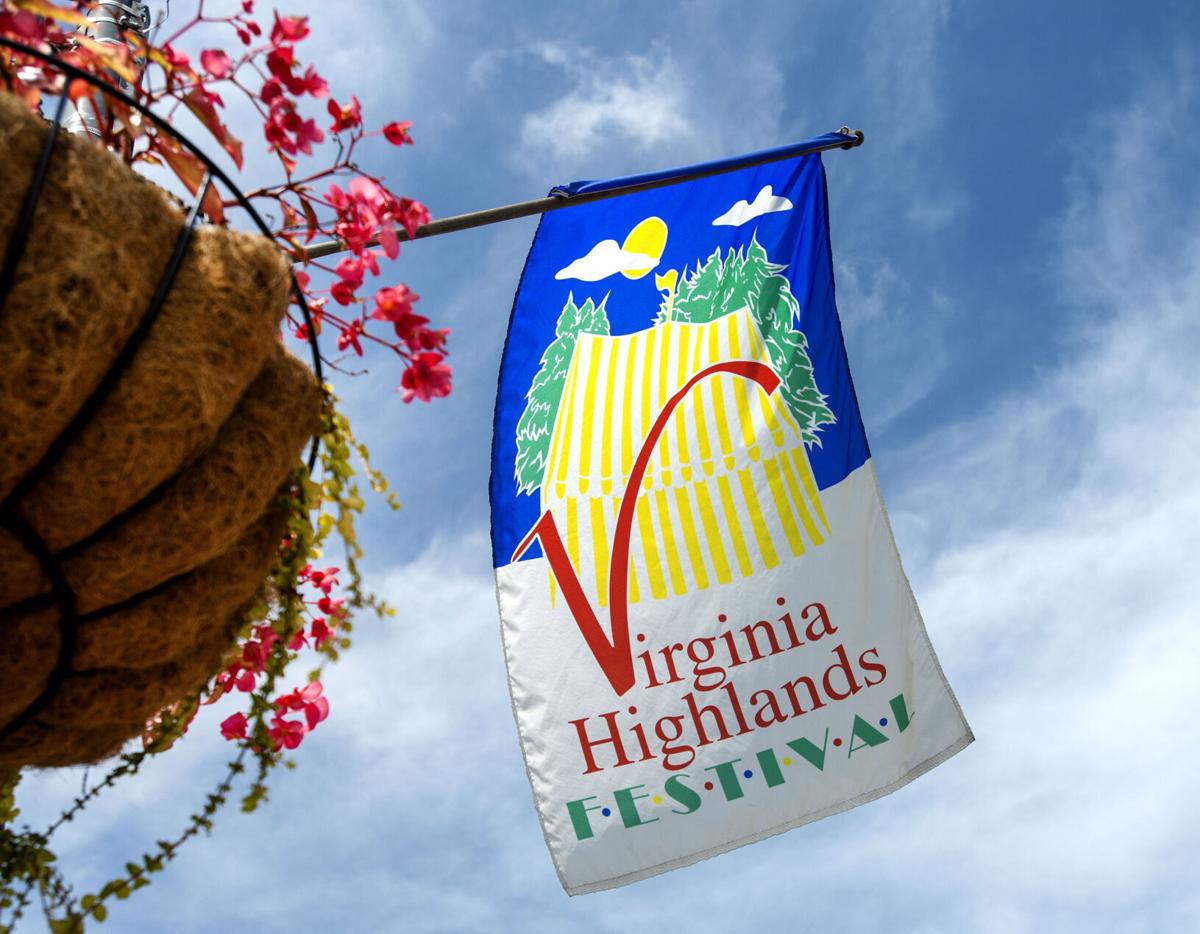 ABINGDON, Va. — Antiques and art are arriving in Abingdon next weekend for the long-awaited return of the popular Virginia Highlands Festival.
Like most events last year, the long-running event, founded in 1949, was canceled due to the COVID-19 pandemic.
"We didn't know if we were going to have a festival and at what form," said longtime festival volunteer Ben Jennings, 74, of Abingdon. "Some of the planning has come at the back end."
Coming up Friday, 75 crafters are slated to set up tents and tables on the Barter Green on Main Street — between the two stages of the Barter Theatre. This year, however, those stages are still closed, which leaves the performing arts traditions of the festival nonexistent, said Christine Webb, the festival's marketing director.
But performances of music like the Band of Oz will be in a big tent outside the Southwest Virginia Higher Education Center, Webb said.
That center is a new hub for the festival. It's where you'll find the antiques market — inside the center, rather than being staged inside tents outside the building, said festival Executive Director Becky Brett.
Brett says the festival has a mission: "What I care about is the greater community and our ability to positively, economically and creatively impact our community."
Each year, this festival attracts about 45,000 people for its 10-day span, Webb said.
"I think it's interesting to see the variety of people who participate in the festival as vendors, as antique dealers — and the variety of people who come in from the region and even outside the region," said Brandi Browning, the festival president.
Browning is also simply excited that the festival is happening, she said.
"We did not want to see the festival fizzle out and die," she said.
Getting the festival out of the COVID-19 pandemic slumber of 2020 has been a challenge, organizers say.
"It was touch and go," Brett said. "We are just such a small organization and operated very lean."
Yet the organization survived with loans and CARES Act funding, Brett said. More booth fee revenue also came in from hosting a holiday market late last year at the Martha Washington Inn in Abingdon.
"We operate on so much earned income and not as much contributed income," Brett said.
The festival's $300,000 annual budget took a 10% hit about a year ago when the town of Abingdon cut funding for nonprofit organizations — including the festival.
That meant a $30,000 cut, Brett said.
"The town stopped supporting our festival operating expenses," Brett said. "I don't like it. The town, they will fund some things for us. I would rather receive 10% of our annual budget so we can do what we need to do."
Town Manager Jimmy Morani said all nonprofit organizations were cut in 2020, due to lean financial times.
"We didn't fund any nonprofits," Morani said. "We just didn't have the funds to do it. But we are working with events and funding those as needed. The best approach is to take these events at a case-by-case basis."
The Virginia Highlands Festival ranks among the oldest continuous festivals in Southwest Virginia.
"People don't come just for one year. They come for 25-plus years," Webb said. "This is a tradition."
The festival originated on the grounds of the Martha Washington Inn in 1949. Robert Porterfield, who also founded the Barter Theatre, started the festival as a way to bring more tourists to Abingdon, and the Barter Theatre, during the summer months.
For this year, that's changed. The Barter Theatre is not directly involved in the festival for 2021, though the theater's shows at the nearby Moonlite Drive-In Movie Theatre have been listed as related community events.
The Highlands Festival was named "Best Festival" by Virginia Living magazine in 2019 and 2020.
It's also more than just art and antiques.
For one, it's an outdoor adventure package.
This year's festival features a lecture by Scott Bowen, manager of the new Clinch River State Park. Bowen speaks on July 27, 7:30 p.m., in the Southwest Virginia Higher Education Center.
The following day, you can kayak the Clinch River with Clinch Life Outfitters at St. Paul on July 28, 1-4 p.m.
Other outdoor events include a trip to the Great Channels (July 29, 9 a.m.); snorkeling on Whitetop Laurel Creek (July 25, 2-5 p.m.); and a guided hike at the Pinnacle Natural Area Preserve (July 31, 9 a.m.).
Other lectures include one by chef Vivian Howard, the author of "Deep Run Roots," who will speak with local chef Travis Milton on July 25 at 2 p.m. at the Higher Education Center. Cost of this lecture is $60 and includes a copy of Howard's cookbook for all who attend.
For history lovers, the Abingdon Historic Homes Tour happens July 31, 10 a.m. to 4 p.m. This self-paced tour visits nine houses in downtown Abingdon, all within walking distance. Tour tickets are $20.
The antiques market features 29 vendors inside the Grand Hall of the Higher Education Center.
For a couple of years, before the pandemic, the antiques market had relocated to the Washington County Fairgrounds. But attendance went down with the move, Brett said.
The current indoor market offers the comfort of air conditioning and protection from rain or wind, said Webb.
"At least if it rains, we wouldn't have to worry," Brett added.
Moving indoors makes sense, she said.
"We had a year off to consider our life choices. And we decided it would be better to have a smaller show that is an outstanding experience for everybody."
With the festival now just days away, Brett remains amazed that it's a reality.
"Can we all remember that less than two months ago, we were all under all the pandemic restrictions?" she asked.
"I'm really proud we never gave up on the festival," Brett said. "We didn't know for sure that we could even have a festival. The fact that we're doing anything is a miracle."