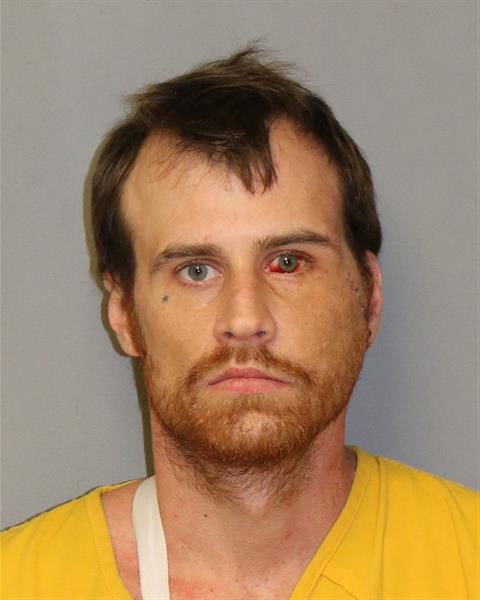 It wasn't the Wild West, but its elements were there – masks, men waving guns and even a shootout.
A Wythe County courtroom sounded like the recounting of a frontier tale on Thursday during the preliminary hearing for a 29-year-old Rural Retreat man accused of stealing and wrecking a car last November, and then trying to kill a deputy who investigated. The suspect, William Cody Grimes, and everyone else in attendance had their faces partially covered in the era of COVID 19.
Testifying for the prosecution, Alex Davidson said he left his 2004 Dodge Neon running on Nov. 9, 2019, while dropping off a nail gun at his uncle's Rural Retreat residence.
The car disappeared, and the family called police, he said. Then, they saw it leaving a nearby trailer park with Grimes behind the wheel.
"We tried to tell him to stop but he took off," Davidson said.
Grimes, though, didn't get far before crashing into some pine trees on Chinquapin Avenue, according to police and testimony.
Davidson, his uncle and other person got to the crash site before police, and Davidson said his uncle had a gun pointed at Grimes.
Deputy Tanner Mabe, the first officer to arrive, said he pulled into a driveway behind two pickup trucks and encountered Grimes and the others.
Mabe said Grimes appeared to be "heavily intoxicated," "like in his own little world," and tried to get into his patrol car.
He said Grimes wouldn't listen to commands, told him he had a weapon and patted his pocket.
Mabe said he drew his pistol, which Grimes grabbed.
"We fought for it and a round went off," he said.
Mabe said Grimes pointed the gun at Davidson and the other men and told them to get on the ground.
The deputy said he went to his trunk to retrieve his AR-15 when Grimes fired the pistol twice and hit his holster and his rifle bag. Under cross examination, Mabe, who sustained no injuries, said he didn't learn about the two bullet holes until after the shooting ended.
Mabe said Grimes ditched the pistol and exchanged it for the officer's shotgun, which was also in the trunk. Mabe said he fired three rounds at Grimes after Grimes pointed the shotgun -- which wasn't loaded but the officer believed to be -- at him.
Grimes fell to the ground, "collected himself" and got back up before raising the shotgun again, the deputy testified.
Mabe fired three more times.
"Mr. Grimes then went to the ground (and) I started giving him commands," Mabe said.
Earlier, police said Grimes was struck several times, and a state police agent testified on Thursday that one fired bullet fell out of Grimes' clothing as he was being loaded onto a gurney.
Agents collected more fired and unfired rounds from the shooting scene, and also looked at footage from Mabe's body camera, which fell into the grass during the shooting but managed to capture a still image of Grimes with a gun in his hand, according to photographic evidence entered on Thursday.
Jailed since his arrest, Grimes, who was handcuffed, wrote notes on a yellow legal pad throughout Thursday's nearly two-hour hearing, after which his attorney, Mike Barbour, argued that there wasn't sufficient evidence for an attempted murder charge since police admitted not testing Mabe's holster and rifle bag for bullet holes.
Judge J.D. Bolt, though, denied his motion and sent the attempted murder charge to the next grand jury along with charges of grand larceny and using a firearm in commission of a felony.
Grand jurors will meet again on Oct. 19. If Grimes is indicted on the felony charges, he'll stand trial in Wythe County Circuit Court.
Before being led from the courtroom on Thursday, Grimes removed his mask and blew two kisses to a woman in the audience before telling her he loved her.
Be the first to know
Get local news delivered to your inbox!