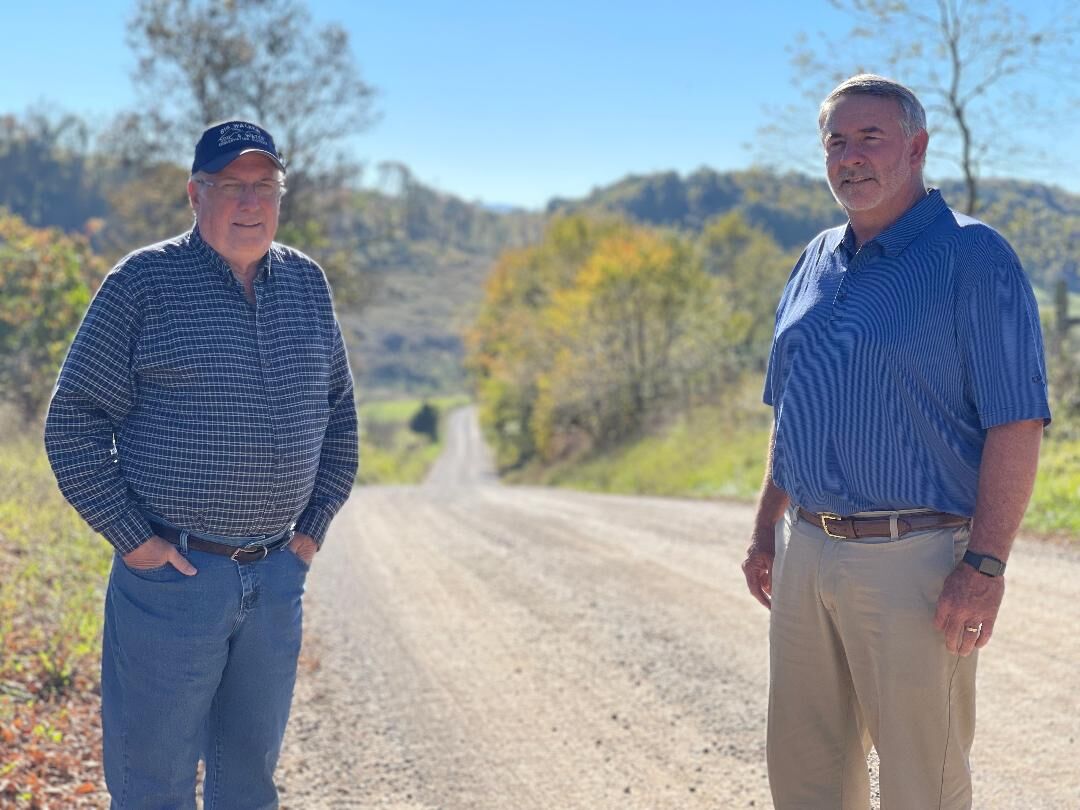 One Monday morning in early March, John Moody was out and about on his Crockett area farm, hauling hay to feed his 50 cows. But first, before he could dole out the two bales of hay, he had to open the fence to the feeding area. So, he parked his rusty, but trusty, red tractor in a ditch on Zion Church Road. As the engine idled, he ran across the road, opened the gate and turned around to a sight that shocked him into action. His tractor was coming straight toward him. He knew he had to move fast, so he tried to jump on the seat to take control of the 4,000 pound machine, but he was too late.
The tractor's massive back wheel caught him, pulled him under and ran over him, breaking two bones in his right leg and his pelvis in three places. In addition, gravel and rocks had burrowed into his knee as the massive machine pushed him into the gravel road.
"At first, I thought I was paralyzed," he said. "I couldn't move either one of my legs."
After rolling over Moody, the tractor kept going until it hit a fence.
Moody's wits were still about him as he worried about the cattle getting out of the gate, adding to the problems already at hand. So, using his arms, he dragged himself back to the gate and closed it. And then pulled himself to the road, so that anyone passing by might see him. He didn't have a cell phone.
"And I knew sooner or later, the mailman would come by here," he said.
Allen Dix has been a mailman for 15 years, working out of the Rural Retreat post office. He and Moody have known each other for decades. Part of his postal service training is being reminded to be observant and notice anything out of the ordinary on his route.
Dix knew a lot about Moody's routine: when he worked, where he fed the cows and when. That morning, he noticed that Moody's tractor was parked askew and into a fence.
"It's not unusual to see his tractor there, but as I got closer, I saw things had gone sideways," Dix said.
That's odd, he thought. So, he ventured even further up the road until he spied Moody. He ran to him, grateful to see he was coherent, although seriously injured.
"It was comforting to hear him speak, even to say he was not OK, that the tractor had run over him," Dix said. "Then, it got busy."
Dix assessed Moody the best he could, then dialed 911 and Moody's wife, Debbie.
Dix stayed with Moody until the rescue squad came. Once EMTs were with Moody, Dix hopped on the tractor and drove it back to Moody's barn. Then, along with neighbor Jay Cox, fixed Moody's broken fence.
Eventually, Moody was flown to Baptist Medical Center in North Carolina, where doctors set his leg with a metal plate and screws. Doctors had to cut the rocks and gravel out of his knee by hand, leaving a gaping hole.
"I came along at the right time," Dix said. "John is a lucky man."
"Lucky that you are a mailman and pay attention, that's the luck," Debbie Moody replied.
About three months later, Dix helped another customer: an elderly lady who had fallen behind her house. Dix carried her to the house and got help.
For his efforts to help Moody, Dix received the U.S. Postal Service's Hero Award during a ceremony Sept. 30 at the Rural Retreat Post Office. His photo and name will be inscribed on a wall at the USPS headquarters in Washington, D.C.
He was surprised by the honor.
"I'm a little uncomfortable with that (being called a hero)," he said.
"Well, we're not," Debbie Moody replied. She added that during her husband's recovery, neighbors helped out by bringing food and taking over farm chores like mowing and feeding the cattle. They even built a ramp at their home so John could navigate more easily.
"That says a lot about this area," Debbie Moody said. "In a more urban area, no one would have even noticed. It's the blessing of living in this area. People look out for each other."