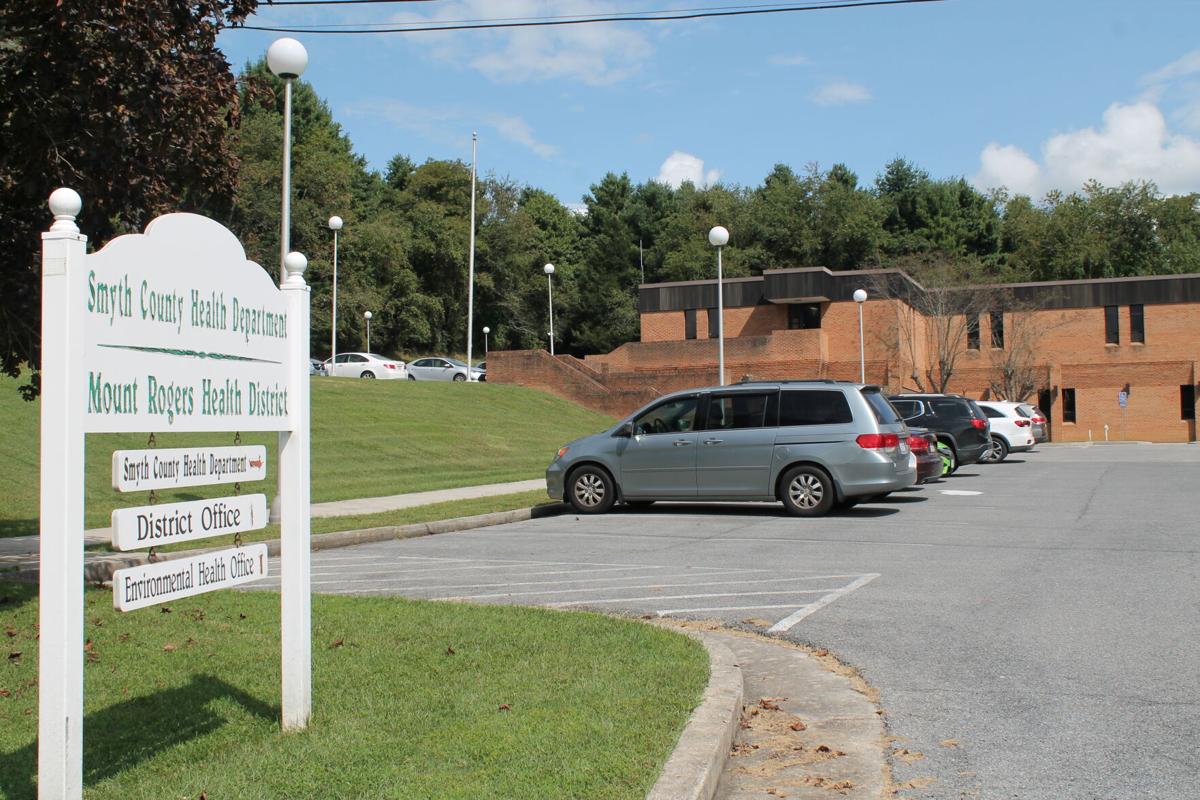 Mount Rogers Health District Director Dr. Karen Shelton shed light Tuesday night on how the COVID-19 pandemic has evolved in Smyth County.
In an update given to the board of supervisors, Shelton said spread of the virus started out very slowly. The county's first case was reported March 30. Then in April, only 13 cases were reported and in May only 15. June wasn't too bad, she said, with 36 cases, but it really started to pick up in July when 107 cases were reported.
"And in August, we had more cases than we had in all previous months [totaling] 273. Sixty-one percent of all of Smyth County's cases have come in the month of August."
As of Friday, Smyth County reported a total of 366 cases of the virus with 31 hospitalizations and 6 deaths. The county's percent positivity rate, which is a 7-day rolling average, was at 28.9% on Thursday, compared to a 11.5% rate for the health district and 7.5% for the state.
Some of the earliest COVID-19 cases in Smyth County came from those who travelled outside the area, Shelton said. "And then we had some healthcare workers and then there was a little bit of quiet for a time, but then things picked back up."
As Virginia's stay-at-home order was lifted, and summer kicked into full-swing, case counts in Smyth County began to rise.
"We thought we had a lot of cases and then the summer came," Shelton said. "And with summer, came a lot more cases. People started to travel, people were out and about."
Several people vacationed in places called "hotspots," where COVID-19 cases are on the rise. Once they returned, the virus began to spread to other family members and friends.
The health district also saw increases resulting from gatherings.
"As we look at why do we have cases in Smyth County, we look at things like churches, which we've had a huge number of cases from in Smyth County," she said.
Shelton said health officials do not regulate religious gatherings, nor do they want to. Instead, they encourage houses of worship to gather safely by holding gatherings outside when possible, wearing face coverings, maintaining a six-feet distance and increasing distance to 10 feet when there is singing or shouting. They also ask church leaders to encourage good hand hygiene and avoiding passing objects between members.
"People need religious gatherings, so that's why we say we're not going to regulate religious gatherings; we just want them to do it more smartly."
Another activity not regulated by health officials are protests. The health district saw a number of protests arise in response to the Memorial Day killing of a black man while in Minnesota police custody. Two such protests were held in Smyth County in June and July.
"I know that a lot of communities said that they didn't see any cases from protests, but I know that we had a lot of cases related to the protests, not only in Smyth County, but in surrounding counties."
Shelton later explained that the COVID-19 cases stemming from the Smyth protests were mainly found in law enforcement officers. Officers from several area agencies came to Marion in July to work a Black Lives Matter protest and counter-protest police believed had great potential to turn violent.
A few weeks following the July events, the Smyth County Sheriff's Office reported an outbreak. Sheriff Chip Shuler said the first deputy to test positive for the virus had come into contact with an officer from an outside agency who did not yet have symptoms. Those officers stayed on standby at the courthouse in case they were needed but did not have to take to the streets.
No cases were reported in officers with the Marion or Saltville police departments. Chilhowie police were not present that day.
The Mount Rogers Health District has sent out guidance on best health practices when participating in both protests and religious gatherings.
"We don't regulate protests and we don't regulate religious gatherings, so we just advocate that they do them smartly," Shelton told the board.
Increasing cases in the community means an increased risk of the virus reaching long-term care facilities, such as nursing homes and assisted living facilities.
"When we see an increase in our community, unfortunately it can get into our long-term care facilities and that is really our most vulnerable population," Shelton said.
Valley Health Care in Chilhowie first reported its outbreak on Aug. 28. On Friday, the facility reported a total of 41 cases, including both residents and staff members.
Speaking in general about the virus and long-term care facilities, Shelton said, "What happens is it just gets into the community and people get it, including healthcare workers. They work, the people in the facility get it, they have a large number of cases, some are asymptomatic, some have more symptoms, and again, unfortunately deaths are associated with long-term care facility outbreaks."
Staff who pick up the virus at work can then carry it back to their families, she said. "So we see it really spreading through the community in that way."
"The other big thing that we see is family gatherings," she said. "People have their Sunday dinners, they have their weddings, their funerals; they have their family gatherings. We don't regulate those either. We just want people to just live their lives more smartly and to do what they can to stop the spread at least."
The health department's goal is not to stop the virus, Shelton explained; it's to slow the spread.
"What we have been able to do successfully thus far is to keep the numbers slowly growing enough so that we have enough room in our hospitals for the sick people—not just the COVID sick people, but all the people who have illnesses that are not COVID," Shelton said.
As of her update to the board, the county had about an 8.7% hospitalization rate and a 1.5% death rate. Most who contract the virus will only experience mild-to-moderate symptoms, she said, but it hits the elderly much harder. Hospitalization and death rates among those over the age of 70 in Smyth County jump to 30% and 17%, respectively.
Shelton encouraged the use of Virginia's COVIDWISE app. A lot of people worry the app will track them, but Shelton explained that it uses Bluetooth technology and not GPS.
"If you've turned positive, you can activate the code and anyone that's been within six feet of you for more than 15 minutes within your contagious period will then get a notice that they've been exposed to COVID."
Once someone tests positive, the health department conducts a case investigation in which they find out when symptoms started, who they've been in contact with while they've been contagious, if they worked and any possible contacts they had at work. The health department also works with businesses to make sure they have best safety practices in place for their workers.
Following Shelton's brief, board chair Judy Wyant asked the question nearly all of Smyth County has been asking: What about active cases?
"Unfortunately, Virginia does not report active cases," Shelton said. "I wish we did, because I do think it does a lot for a community."
She pointed out that Galax still has a high overall infection rate due to a surge in cases there in May and June. Not reporting active case numbers makes it difficult for the community to tell that that surge has since subsided, she said. With a total of 403 cases, city officials reported on Thursday that only 2 were active.
While active case numbers are not reported to the state website, Shelton said the approximate number of active cases can be determined by calculating the number of cases reported to the Virginia Department of Health's website within the last 10 days.
"People are in isolation for about 10 days. So, from the time they develop symptoms, their isolation is 10 days, assuming that they recover on time. Some last longer… So the number of cases for the last 10 days is the approximate figure of your active cases."
Of Smyth County's 366 cases, 85 have been reported to the VDH website in the last 10 days.
"I think that's a big concern of citizens," Wyant said. "When you say there's 10 cases per day or 70 per week, I think it helps them to get a grip on it, maybe help them be encouraged to take more proactive measures to prevent it."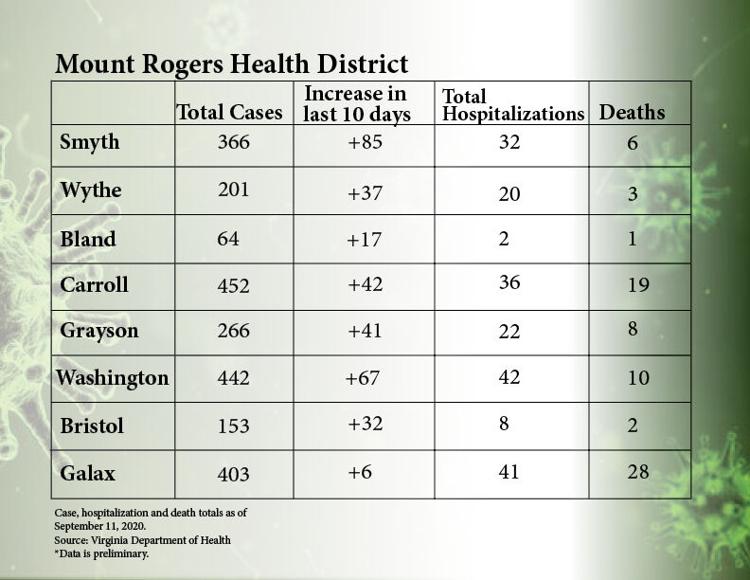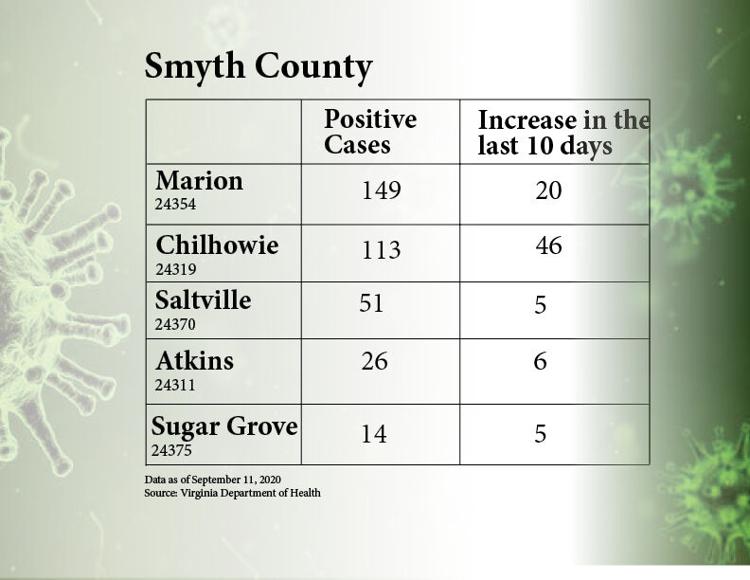 University of Virginia COVID-19 models currently project that Smyth County will peak around mid- to late-October, but that peak depends on how well the community responds now, Shelton said.
"How well do we look out for each other, how selfless we are, how are we looking out for our neighbor, how well do we wear our facemask, stay home when we are sick, wash our hands, clean all the surfaces around us? How are we at social mitigation to help keep this from transmitting to the next people? And if we do that it really well, it looks like our peak will be somewhere at the end of October."
If no measures are taken and the virus is left to spread rampantly, she said, "We have the projection to have many tens of cases every day."
With flu season upon us, Shelton said getting a flu vaccine this year will be of the utmost importance.
"To have a double respiratory illness at this point would have a lot of dire repercussions for many of those in our community."
A COVID-19 vaccine could be available by the first of next year, she said. Once it reaches the community, it will be given out in a tiered fashion with those who are most vulnerable receiving highest priority.
Shelton's full update to the board can be viewed on the county's YouTube channel here.
Be the first to know
Get local news delivered to your inbox!