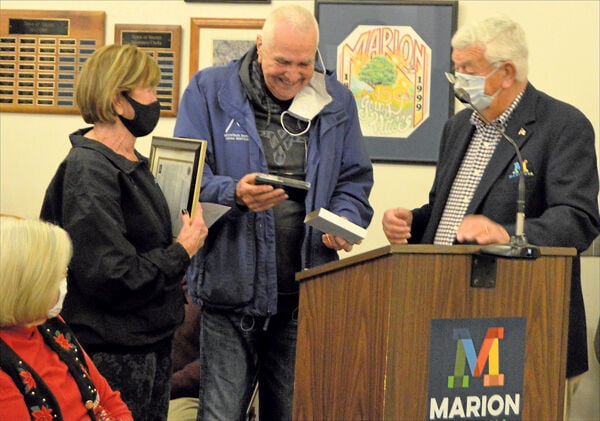 Ernie Sullins doesn't sugarcoat the story of his business career. He remembers when one dollar looked like a fortune, when he spent the better part of nine months sleeping in a box truck and when having too much pride cost him. 
Fifty or so years later, even more Sullins remembers the people who helped him through those times.
Over the last half a century in Southwest Virginia, the name Ernie Sullins has become synonymous with affordable clothing – from jeans to suits -- in a wide range of sizes. He specialized in Big & Tall sizes long before department stores did.
Sullins decided to venture into the retail world as a secondary career. He was already working in the county's education system. In 1970, he launched a discount clothing business.
Last week, he remembered hanging his first clothes on a rod he bought from Francis Brothers, Marion's hardware store at the time.
Marion Mayor David Helms recalled first buying clothes from Sullins in a trailer on a lot behind what is now Burger King on Main Street.
In just two years, Sullins opened his first storefront on Pendleton Street in downtown Marion.
The 1980s brought expansion as Sullins bought and renovated a store in Abingdon.
In 2011, he opted to relocate his Marion business to a high visibility spot just off Rt. 16. After renovating what is his current location, the Chamber of Commerce of Smyth County recognized Sullins' work with a beautification award.
More expansion came in 2013 when Sullins added a Bristol location to his retail business.
Now, after five decades, Sullins has decided it's time to retire – sort of.
He told the Marion Town Council last week that he'll celebrate his 76th birthday in February. "I'm not old enough to retire," he declared.
He did say he's turning over the business to his niece and nephew, but he'll help out with buying and other tasks. "Nothing will change," he said.
Sullins spent time reflecting on the people who've helped him, especially those who offered a hand up when he needed one. He particularly recognized Clayborne Gwyn, a Marion businessman and developer, for his help in getting him started. "How much I respect those people," Sullins said.
Sullins also thanked the town, saying the local government has backed and trusted him for 50 years.
Mayor David Helms reflected that anything Sullins has done in Marion has made the town better. The mayor cited Sullins' buildings. He may have particularly been thinking of the former Pepsi building that Sullins bought and built a successful business in.
Last week, the Marion Town Council recognized Sullins, adopting a resolution in his honor. That resolution described him as "a leader in our community and region in many, many ways."
The document continued, saying, "Throughout his career, Ernie Sullins has exemplified the very best of our Marion business family, providing quality products and top level service to customers throughout Southwest Virginia; and… after fifty years of perpetual motion, community involvement, and business leadership, Ernie Sullins has decided to retire. Now… we… express our most sincere appreciation for the citizen-, community-, and business leadership provided by Ernie Sullins throughout his career, and sincerely thank him for all of his contributions to Marion and our entire region by sharing his personality, his business acumen, his salesmanship, and his love of our town, and we wish Ernie and his wife Carol a long, happy, and prosperous retirement."