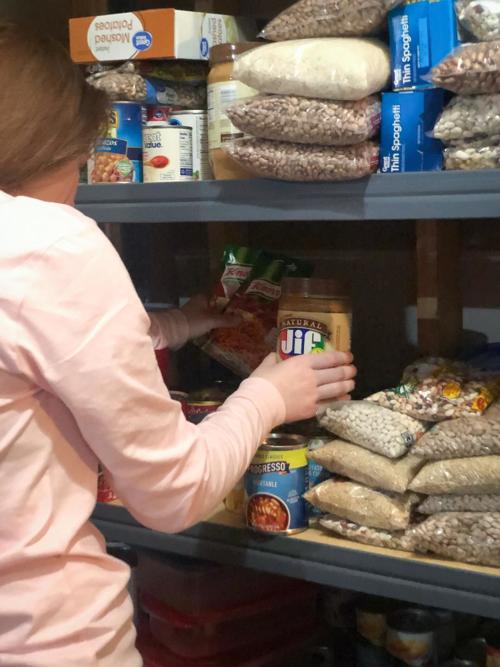 ABINGDON, Va. — They're probably the last group of people you would imagine are going hungry — but it's true.
Many college students face food insecurity, some never knowing where their next meal will come from.
And the problem is affecting local students, as well as those throughout the country.
In an effort to provide students' basic needs, Virginia Highlands Community College is opening a new food pantry on campus this month where their students will have access to nonperishable — and some perishable — foods during the week and weekends.
The food pantry has been named "The Phil Station" in honor of the college's beloved faculty member Phil Ferguson, who lost his battle with cancer more than a year ago.
A soft opening of the food pantry for faculty and staff members will be held at 1 p.m. on Jan. 8 in the MEC building on campus.
"We have become increasing aware — as surprising as it sounds — that one of the problems some of our students face is food insecurity," said Kellie Crowe, coordinator of public relations and marketing at the Abingdon community college.
"We had a student not long ago tell one of our counselors that she was so happy because her stomach was full — she had found a can of corn at home and had something to eat.
"At community college conferences we attend across the nation, we learn the top reasons students withdraw from school. There are a lot of reasons you'd think would be on the list, but in actuality, things like food and transportation are at the top.
"The food pantry is our effort to realize this is a need and to make an available place where our students can come and get food," said Crowe.
Food insecurity among college students is not just a local problem — it is found at two-year and four-year colleges throughout the country. A national report from the Urban Institute last year estimated that 11% of households with a student who was attending a four-year college experienced food insecurity. That figure rose to 17% of households that included a community college student.
For some students, food insecurity is just a few paychecks away. Food insecurity often affects community colleges where many students are likely to be single parents operating on one paycheck, or the first one in a family to attend college.
Grant funding kick-starts program
According to Stan Barringer, interim grant coordinator at Virginia Highlands Community College, the college received a $14,400 grant from Anthem Blue Cross and Blue Shield through the Virginia Foundation for Community College Education for the food pantry initiative.
"Virginia Highlands works with students with many backgrounds who face various barriers, including food insecurity," said Barringer. "This grant is a wonderful opportunity for us to provide the nutrition they need at college and at home.
"The project has been in the works for a long time," said the grant coordinator, who worked with many staff members to bring the project to life.
Barringer said a minimal amount of the funding was used to purchase a cooler and other supplies for the food pantry space, while most of the money was used to purchase food.
The food pantry was placed in the MEC building on campus. "It's a space where students will feel secure. It's located away from a major traffic area, where students can feel anonymous entering the pantry," he said.
In addition to canned food items, the food pantry will provide perishable items including yogurt and cheese.
According to Barringer, Anthem Blue Cross and Blue Shield provided the funding to start up the project with the understanding that the college would seek ways to sustain it in the future. "We're not sure if the grant will be available again in the future, but we have other funding sources available to ensure we're able to provide support to students as long as they need it," he said.
Organizers kicked off the program by providing a few students with Thanksgiving meals consisting of nonperishable items, such as macaroni and cheese, stuffing, pumpkin pie filling and canned vegetables, along with a small, precooked turkey and $20 gift card to Kroger.
"It's a wonderful opportunity we have to meet the needs of our students so that they have one less obstacle to face when trying to further their education," said Leigh Ann Adams, who is managing the food pantry in addition to her duties as director of the Upward Bound program at the college.
"I hope we will see positive effects on student success and retention once we are making sure students aren't worrying about what they are going to eat."
The program works by allowing students to check in using an iPad in the food pantry between the hours of 8 a.m. and 8 p.m. on Monday through Thursday, and 8 a.m. to 6 p.m. on Friday and Saturday.
Organizers said that since grant money may not be available going forward, the food pantry may conduct food drives and find other ways to keep the food pantry full.
"There's no limit to the amount of food they can take. We ask they only take what they need," he said.
Monetary donations as well as food items are appreciated, he said. Questions about making donations can be addressed by D'Lisa Mullins, financial specialist for the Virginia Highlands Community College Foundation, at 276-739-2449.
Barringer said the college is working with Feeding America Southwest Virginia and local grocery stores to purchase bulk food items for the pantry.
The food pantry is being made possible by community partners including Virginia Foundation for Community College Education, Anthem Blue Cross and Blue Shield, Goodwill of Tenneva Area, Feeding America of Southwest Virginia, Food City and Kroger.
Carolyn R. Wilson is a freelance writer in Glade Spring, Virginia. Contact her at news@washconews.com.
Be the first to know
Get local news delivered to your inbox!