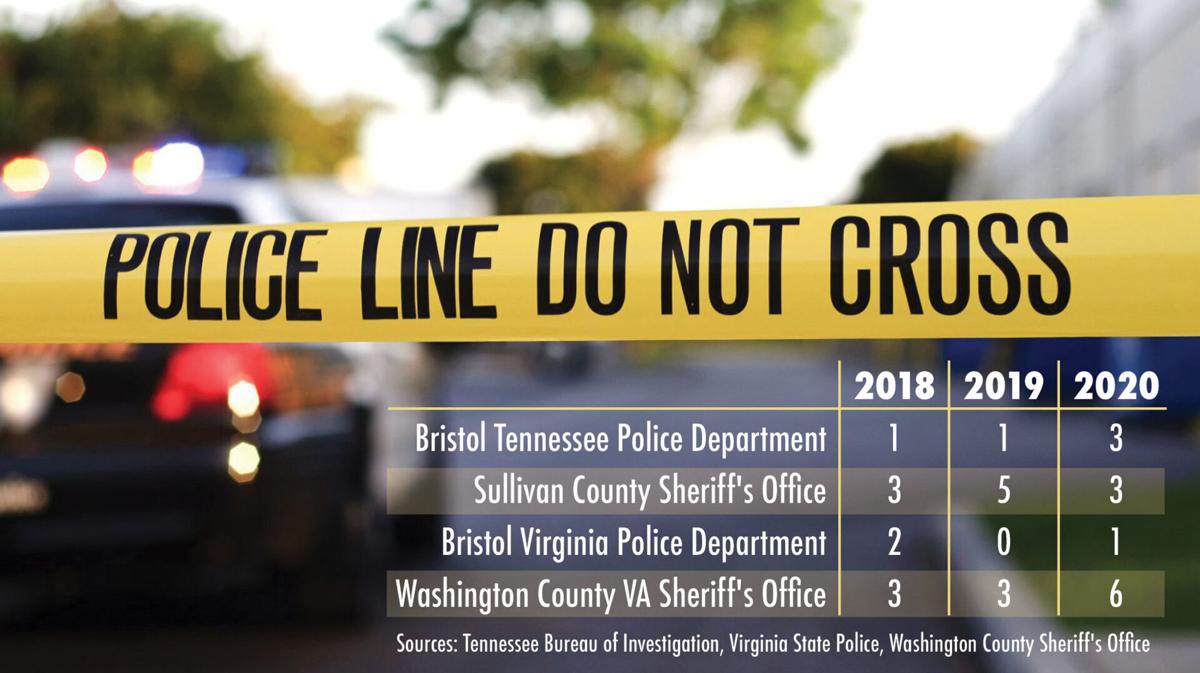 The Twin City area saw an overall increase in the number of murder cases in 2020 — a similar scenario seen across the country, according to data released by state and federal agencies.
Homicides in the U.S. in 2020 increased nearly 30% over the previous year, the largest one-year jump since the FBI began keeping records, data shows. Locally, the Bristol region saw a 31% increase in the number of reported murders, according to data from the Virginia State Police and Tennessee Bureau of Investigation.
In Tennessee, the city of Bristol had one murder in 2019 and three in 2020. The Sullivan County Sheriff's Office in Tennessee had the only decrease in the Bristol area. There were five murders in 2019 and three in 2020. There were also three murders in 2018.
On the Virginia side, the city of Bristol had one murder in 2020, but no cases in 2019. The city, however, did have two murder cases in 2018. The Washington County Sheriff's Office in Virginia had six murder cases in 2020. There were only three in 2019.
The U.S. murder rate, which rose 30% between 2019 and 2020, was the largest single-year increase in more than a century, according to the Pew Research Center and Centers for Disease Control and Prevention. The findings align with separate information published in September by the FBI.
The year-over-year increase in the U.S. murder rate in 2020 was the highest since at least 1905 — and possibly ever, according to provisional data from the CDC. There were 7.8 homicides for every 100,000 people in the United States in 2020, up from six homicides per 100,000 people the year before, according to the Pew Research Center. The rise in the nation's murder rate last year far exceeded the 20% increase measured in 2001, which was driven by the terrorist attacks of Sept. 11.
It is not yet clear why murders rose so dramatically in 2020 nationally or locally.
Experts have pointed to a variety of potential causes, including the economic and societal changes brought on by the coronavirus pandemic and the tensions that surfaced after the murder of George Floyd in Minnesota last year. But the exact reasons remain unclear.
Locally, officials like Washington County Sheriff Blake Andis, point to the drug epidemic that has plagued the region. Methamphetamine, heroin, fentanyl, opioids and other drugs have affected the region.
Other forms of violent crime also went up nationally and locally, data shows.
James Alan Fox, a criminologist at Northeastern University in Boston, said he considered 2020 a "unique situation" and not part of any sort of long-term trend. He attributed the dramatic uptick to a confluence of factors, including the coronavirus pandemic, conflicts over politics and race and people just generally having too much free time — especially with so many people staying home last year.
"I don't want to minimize what's happened," Fox said. "I just don't want people to believe that the sky is falling and that this is a permanent" trend.
It should be noted that far more homicides were reported during the crack cocaine epidemic during the late 1900s.
Nationally, the number of murder cases has also led to an increase in discussion about gun control policies.
"This jump in murders is just the latest proof that we are experiencing a gun violence epidemic within the COVID pandemic," John Feinblatt, president of Everytown for Gun Safety, said in a statement. "This death spiral will continue until we stem the flow of illegal guns and invest in proven intervention programs."
In Washington County, Virginia, the sheriff said a majority of the six murders in his jurisdiction were drug-related and not related to COVID-19. The county saw decreases in domestic violence cases and a major increase in drug-related offenses.
"Drug-related offenses are steadily rising in the area, and it is getting easier to obtain illegal drugs due to the increase of illegal smuggling into the country," Andis said.
The WCSO is currently conducting several drug-related investigations, he said.
"Agents have been working diligently during COVID conducting illegal drug purchases from suspected drug dealers," he said.
Drugs are suspected to be behind a homicide reported on Jan. 16, 2020, in Washington County, where Alberta Susan Warren, 79, of Glade Spring, was found dead in her vehicle off Widener Road. Authorities later arrested Saltville resident Karen Lou Holmes, 49, on charges of first-degree murder, robbery, use of a firearm in the commission of a felony and possession of a firearm by a convicted felon.
Andis said the two women knew each other for several years and were involved in a drug conspiracy. Detective Thomas Chapman said Holmes told him that she met with Warren the day before and took pills to Warren to pay off a debt she owed, according to a criminal complaint.
Holmes has a hearing scheduled in Washington County Circuit Court on Wednesday.
A family argument led to a homicide investigation on Aug. 28, 2020, in Washington County, according to Andis and court records. Albert Lee Ricketson, 30, of Abingdon, faces two counts of first-degree murder, two counts of use of a firearm in the commission of a felony and possession of a firearm by a felon.
Detectives said Misty Dawn Bishop, 38, of Bristol, Virginia, and Trevor Alexander Sweat, 24, of Bristol, Tennessee, both died of gunshot wounds at a home on Peaceful Valley Road between Abingdon and Bristol.
Ricketson was involved in an argument with Bishop, who was Sweat's girlfriend, Washington County Sheriff's Office Detective Curtis Heath wrote in a criminal complaint filed in Washington County General District Court.
Andis said Ricketson was the boyfriend of Bishop's daughter.
Ricketson, who has a lengthy criminal history, is being held without bail at the Southwest Virginia Regional Jail in Abingdon. A Washington County grand jury indicted him Tuesday. He's scheduled to appear in Washington County Circuit Court on Dec. 3.
A Bristol, Tennessee man faces a second-degree murder charge following a fatal stabbing reported in downtown Bristol, Virginia, on June 7, 2020. Chandler Ryan Rutter, 24, was arrested after police responded to a wounded man identified as William Kenneth Price, 28, who was stabbed in the abdomen. He later died at the hospital.
"Mr. Rutter said that Mr. Price was punching him so he used what he thinks was a pencil in a stabbing motion into Mr. Price's side," an arrest warrant states.
A motive has not yet been determined.
Sgt. Steve Crawford said police were able to determine that an argument began a few doors down from the stabbing incident.
"Argument kept going until the fight and stabbing," Crawford said. "Not really sure what the argument was over."
Rutter is scheduled to appear in Bristol Virginia General District Court on Dec. 2.
In Bristol, Tennessee, Police Chief Matt Austin said there were two incidents that resulted in three deaths. Austin said the deaths in 2020 were "domestic in nature."
In October, police said three people died in a murder-suicide at a home on Trammel Road, where the bodies of 36-year-old Kristina Robinson, her 17-year-old daughter Gabrielle Kennedy and 47-year-old Michael Robinson, Kristina's estranged husband. All appeared to have died from bullet wounds.
"[Michael Robinson] appeared to have died from a self-inflicted gunshot wound," police said in a statement at the time. "A rifle was found with his body, and it appeared to be the weapon used during this incident."
Prior to the murder-suicide, detectives had secured a grand jury capias charging him with several counts related to a child abuse investigation.
Since he was living in Russell County, Virginia, at the time, the arrest warrant was sent to the Russell County Sheriff's Office, the department said, so he had not yet been served, according to Terry Johnson, who now serves as a major at the Police Department.
Johnson said all the evidence his department uncovered pointed to Michael Robinson as the shooter.
The third murder death reported in Bristol was on Meadowview Road and was a case where a baby was shaken, according to Johnson. A Sullivan County grand jury indicted the child's father, William R. Shaffer, 25, on a charge of felony murder and two counts of aggravated child abuse.
Police had responded to the residence in reference to an unresponsive 2-month-old infant. The child later died at the hospital. The responding officers felt the death was suspicious in nature and began an immediate investigation, according to a news release.
During the investigation, detectives collected evidence and conducted several interviews with witnesses and the suspect and established the death was criminal in nature. A grand jury later indicted Shaffer. He's scheduled to return to Sullivan County Criminal Court on Jan. 6.