A decrease in passing rates in Southwest Virginia for the state's Standards of Learning tests reflect how the COVID-19 pandemic has challenged students and schools, local education officials said Friday.
As expected, the results of the 2020-21 SOL tests released this week reflect the circumstances faced by students and schools last year, and establish a baseline for recovery from the pandemic, according to the Virginia Department of Education. Scores followed trends on state tests nationwide.
The VDOE said pass rates reflect disruptions to instruction caused by the pandemic, decreased participation in state assessment programs, declines in enrollment, fewer retakes and more flexible opt-out provisions for parents concerned about community spread of COVID-19.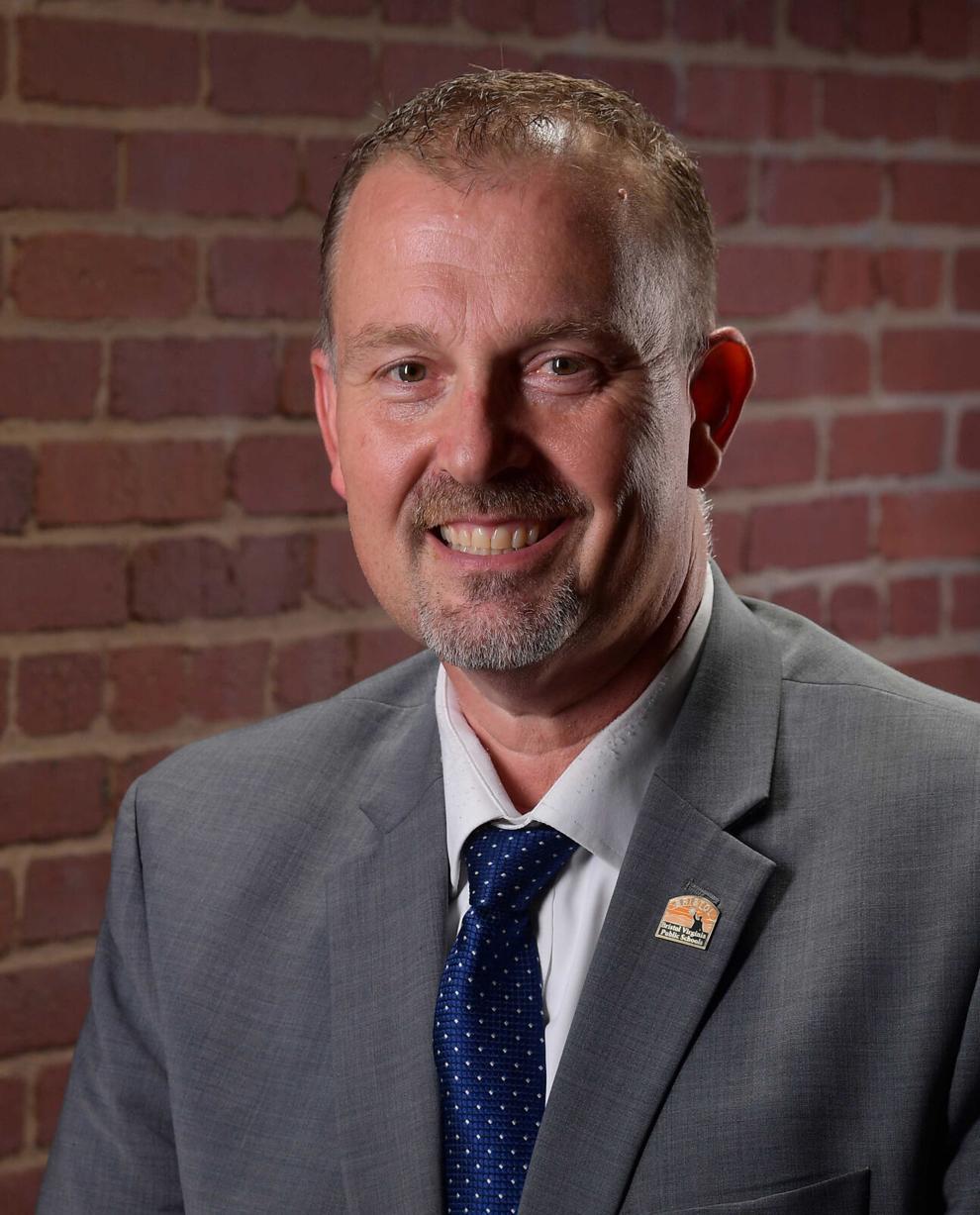 Statewide, the passing rate dropped by 9% for English tests as 78% of students passed the exam in the 2018-19 school year, but only 69% of students passed in 2020-21. For math, the rate dropped statewide by 27%, and the science passing rate dropped 22%. The changes were nearly identical for local students, the data shows, as math and science passing rates dropped last year.
"We are not at all surprised by the drop in SOL scores," Bristol Virginia School Superintendent Keith Perrigan said Friday. "Every division in the commonwealth saw scores drop. We actually expected it to be worse."
Perrigan noted that students in Bristol stayed home during quarantine for most of March and all of April and May in 2020.
Then, during the most recent school year, 30% of Bristol's students were virtual most of the year. The other 70% experienced in-person learning in a reduced daily format, or 30 fewer instructional minutes per day, due to limitations for students on buses, and only attended four days per week. Bristol schools were open for four days per week instead of five for cleaning purposes and to allow teachers to focus on virtual students.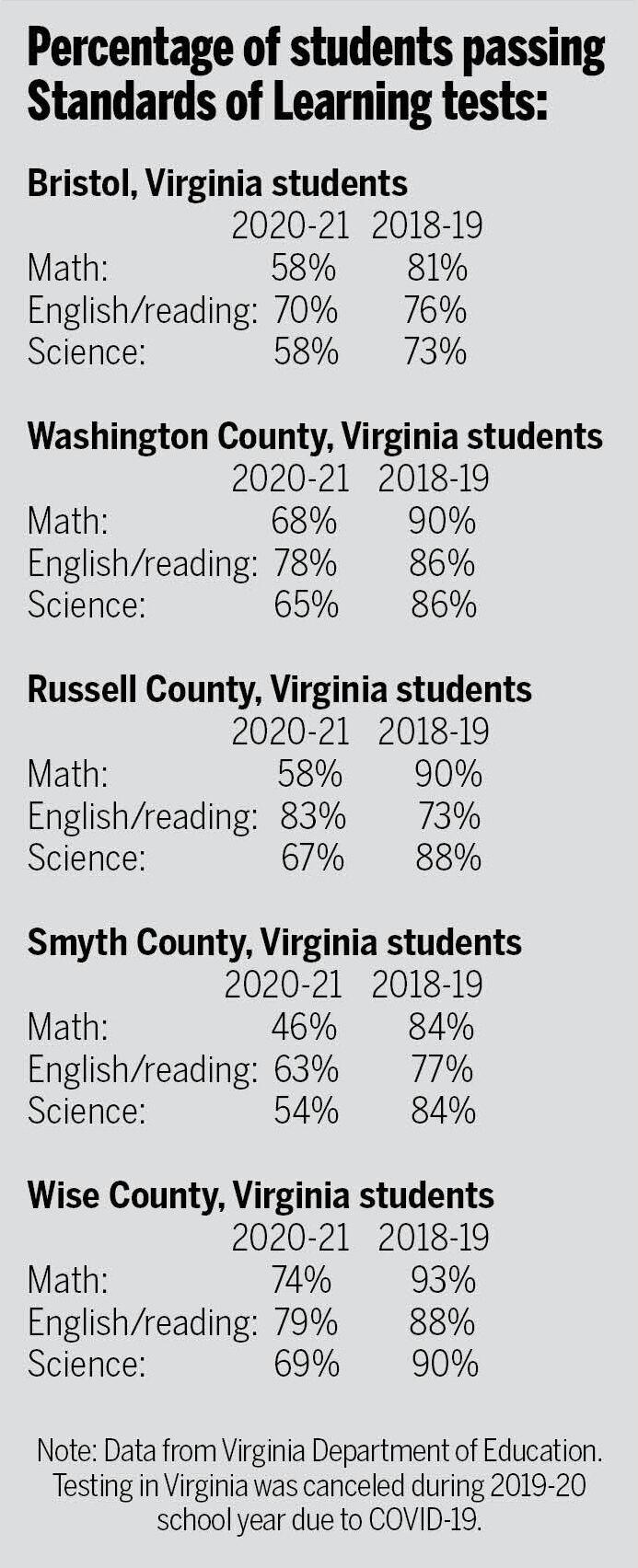 "The pandemic has had an impact on students in many ways, and while we ensured instruction based upon the Standards of Learning, our main focus this past year was on students gaining needed knowledge for the grade or course and their overall well-being and development," said Washington County Assistant School Superintendent Jeff Noe.
There was some positive news from the results, Perrigan said
Despite a drop in scores, Bristol and other divisions in Southwest Virginia climbed in statewide performance rankings. Bristol also exceeded the state average in nearly every category and subgroup, as did many divisions in the region.
"One of the main reasons we decided to open fully in person last year is we knew that our students needed to be in class," Perrigan said. School divisions in Southwest Virginia should be heralded for their continued success, especially considering that we spend significantly less per student than other areas of the commonwealth. The fact that BVPS didn't experience larger decreases is a testament to the leadership of our School Board, the heroic work of our teachers and staff, and the collaboration and dedication of our students and families."
In Bristol, 70% of students passed in reading compared to 76% two years ago, and 58% passed in science compared to 73%.
In Washington County, 78% of students passed the reading portion of the SOL compared to 86% two years ago. In math, the percentage dropped from 90% to 68%, and in science it dropped from 86% to 65% in Washington County.
The number of students to pass exams also dropped in Russell, Smyth and Wise counties in Southwest Virginia. In general, math and science scores dropped significantly more than English scores.
Perrigan said that the best thing about the SOL data is that it will help school officials better identify where they need to address unfinished learning.
"We will use this data, and benchmark data that we are gathering now, to plan instruction during the school year and in our after-school and summer camp programs," Perrigan said. "Our hope is … if we can stay in school in an in-person format that we can use this data to trigger unprecedented academic growth for our students."
Noe said Washington County's primary concern going forward is for the safety, care and health of students and staff. As for test results this school year, Noe said the district is focused on addressing learning gaps and grade level and course standards.