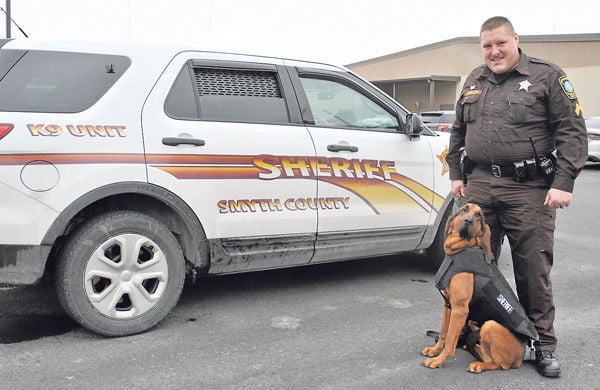 The Smyth County Sheriff's Office is grateful this holiday season for a lifesaving donation to one of their canine deputies.
A level 3a ballistic vest, with the same kind of protection such vests offer human law enforcement officers, has been donated to Canine Officer Mags, a bloodhound trailing dog.
"CW Security Solutions/CW Armor of Vinton provided Mags with a vest that can be worn when she is deployed on a call in which she may be trailing an armed subject," said Sheriff Chip Shuler. "This vest is capable of stopping bullets from many different calibers of weapons and also provides protection from potential stabs from knives or other sharp objects."
The vest's value is about $1,200, which, Mags' handler, K9 Officer Cpl. Brad Johnson, said would be difficult for the department to afford.
"This generous donation to our department is greatly appreciated and will serve us for years to come," said Shuler.
Johnson said a fellow canine handler with another agency was being provided a vest by CW Armor and the company had a second vest to donate and asked the officer who then contacted the SCSO.
"This was very good for us," Johnson said. "We didn't have a vest before, only a leather tracking harness."
That harness, he said, allows the handler to control the dog because the dog is never let loose while trailing. Doing so could damage evidence or cause risk to the dog. The new vest has special attachments for secure handling.
"A ballistic vest for a dog is just like a human vest, only fitted to a dog," Johnson said. "When you're trailing someone who might be armed the situation can be very dangerous for both."
"We will need to train with her in the vest," Johnson said. "Anything you change you need to train with. We have been training with the FBI lately. That has been a good thing. They have taught us some things."
The SCSO has two trailing dogs, Mags with Cpl. Johnson and Able with Sgt. Michael Lowe. There is also Luna, a narcotics detection dog with Sgt. Landon Smith, and plans are to add another narcotics detection dog.
"A dog is an incredible asset to the department in what they can do and bring to the career," Johnson said. "What you pay out (in purchase and training) is nowhere near what you get back. One missing child that's found, the dog is paid for forever."
"The dogs have given us a tool in the war on drugs," he added. "A fleeing suspect is dangerous to the community and a dog is invaluable in trailing and capture."
Johnson said he enjoys his work with Mags and through his canine handling work and training has met many interesting people.
"It's been a blessing to me, being a K9 officer," he said. "People have been so nice, friendly and helpful. We work together, but sometimes it's just the dog they want to see. There is a misconception by people: police dogs are not pets and can't be treated like a pet. Police dogs must enjoy what they do the most or like anyone they can be distracted by something else."
As Sgt. Smith once explained about Luna, what these dogs are trained to do is like a game to them and they work for a reward. For some it's a toy. For trailing dogs, said Johnson, the reward is food.
"Trailing dogs work for food," he said with a smile. "They like to eat."
Johnson will mark two years with Mags in February. She will be three years old in May.
Mags was donated to the Department of Corrections when she was nine months old. A woman near Blacksburg wanted to donate a bloodhound and contacted the local police department, which then contacted DOC as that agency trains dogs and handlers.
"That was a true blessing for us. She turned out to be a very good dog," Johnson said. "What you're looking for in a trailing dog is one with high drive. She is a trailing machine. Sometimes it's hard to keep up with her. I can tell you one thing, handling a dog is no easy task. It's very strenuous work trying to keep up with a dog. There's a lot to know reading the dog. We make our best assumption from what the dog is doing. It's true for any dog no matter what the dog specializes in. You form a bond. It's a special bond."
Johnson said he and the SCSO are very grateful to CW Armor, a division of CW Security Solutions, LLC, for the donation of the vest for Mags and to the DOC for 12 weeks of free training. They brought the training school to Marion, he said, so he and the dog didn't have to travel to Richmond.
"They were very helpful in any way they could be," Johnson said of the DOC. "They found the dog and provided the training. The FBI also provided some training and allowed us to come up and train with them. They provided resources we didn't have like a scent-transfer unit that pulls the scent off of something without having to touch it and puts it on a sterile gauze pad for the dog to use."
Johnson carries the special equipment for Mags in the K9 unit, which is also specially outfitted for the dog. And when they're not training or on the trail, Johnson and Mags might be in a local school educating children about the sheriff's department and its role in the community.