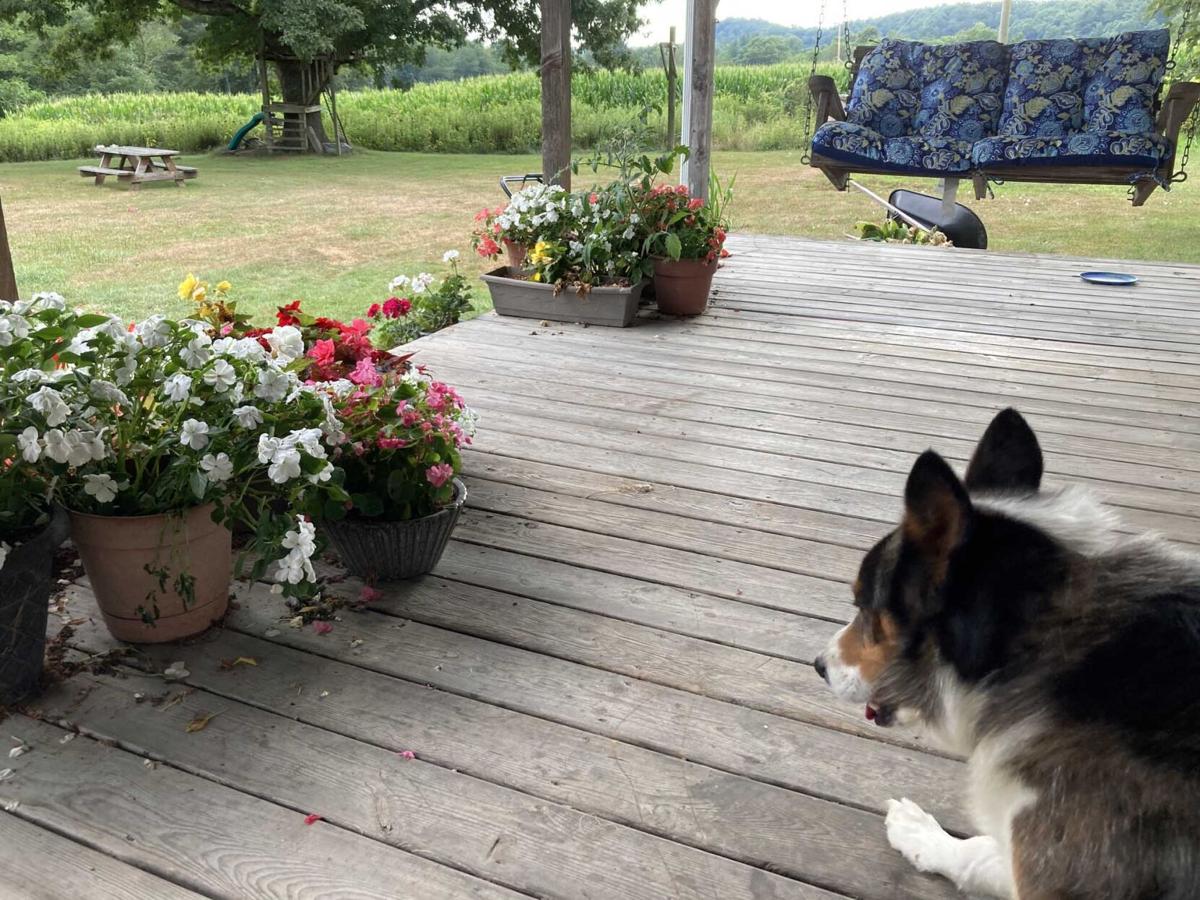 The channel from Roanoke brings early morning news into my living room. I almost never ever turn it on, but DVR must've been recording something from that channel the night before. What caught my ear, however, was the "dog-walking report" or whatever they call it. The weather guy tells you how the temperatures will be when you go to walk your dog. It struck me that I've never walked a dog in my life. This is apparently remarkable because it's so common a chore they have a whole segment in the weather report daily on the news about it for the masses. I have never walked a dog because my dog is self-walking. He just goes outside and does it. I have the luxury of living in the middle of a cornfield just past the capital of Nowhere. And ain't it lovely? I complain sometimes about lack of cell signal or internet but my dog is awful happy. I briefly felt sorry for those other dogs at their master's mercy to get time and pretty weather to go outside. They need the wide open spaces my Hardy has. But we can't all have that. There just ain't enough. Nowhere to go around.
Is there not enough Nowhere or are there too many of us? The spanse of our Earth is certainly finite but we seem to never run out of filling it up. Principally with people as the population grows, but each person also with their stuff. I have thought on a lesser scale about my house. Sometimes when I have a purge and throw things out to Goodwill or the trash, I have to part with things that I'm not sure I won't want later. I tell myself, however, that the size of my house does not increase. I cannot bring in but so many items without taking some out. It seems to be the same with our world.
Like our space, our time fills up. I remember a book I studied in college called "The 7 Habits of Highly Effective People" by Stephen Covey. One of the things I took away from this book was that the things you say yes to determine the things you have to say no to. There are only 24 hours in your day, no matter how you stretch it. The more things you commit to, the more things you are unable to commit to. Your dance card is already full. You get it? You smelling what I'm stepping in?
The older I get and the more I go through, like King Solomon, I realize the futility in most things. What does it profit a man to gain the world and lose his soul? (Mark 8:36) So what ought we to focus on? Other than showing love and caring for other people, it's all meaningless, right? All this fluff we fill up our days with. All these things we commit to. They're just things.
I have so often thought to myself, "I have to____" fill in the blank. Most times, the "have-to" portion of that comes from a willingness to fulfill a commitment that I made, but why make the commitment? It's perfectly all right to say no, and there really isn't a reason necessary other than I don't want to. I need more nothing.
I used to never miss school. I had this false, probably slightly arrogant, idea that things wouldn't run properly if I wasn't there. No one would teach my students as well as me. You know what? I missed like four months of school last year due to illness (did you know I was sick? #coraandsara), and you know what stopped? Not much. You wanna learn just how nearly useless you are? Take a four-month break and see how things just roll right on without you.
While this might sound depressing, it's not. It's a relief. I don't have to say yes to everything. Things will get done just fine without me. And you know what? That frees me right up to have more nothing. Why can't I make your party? I have something to do: nothing. And like my sweet, blessed puppy, I can run free and not be tied up, needing to schedule a walk. My whole life is a walk. I'd rather do it without a leash.