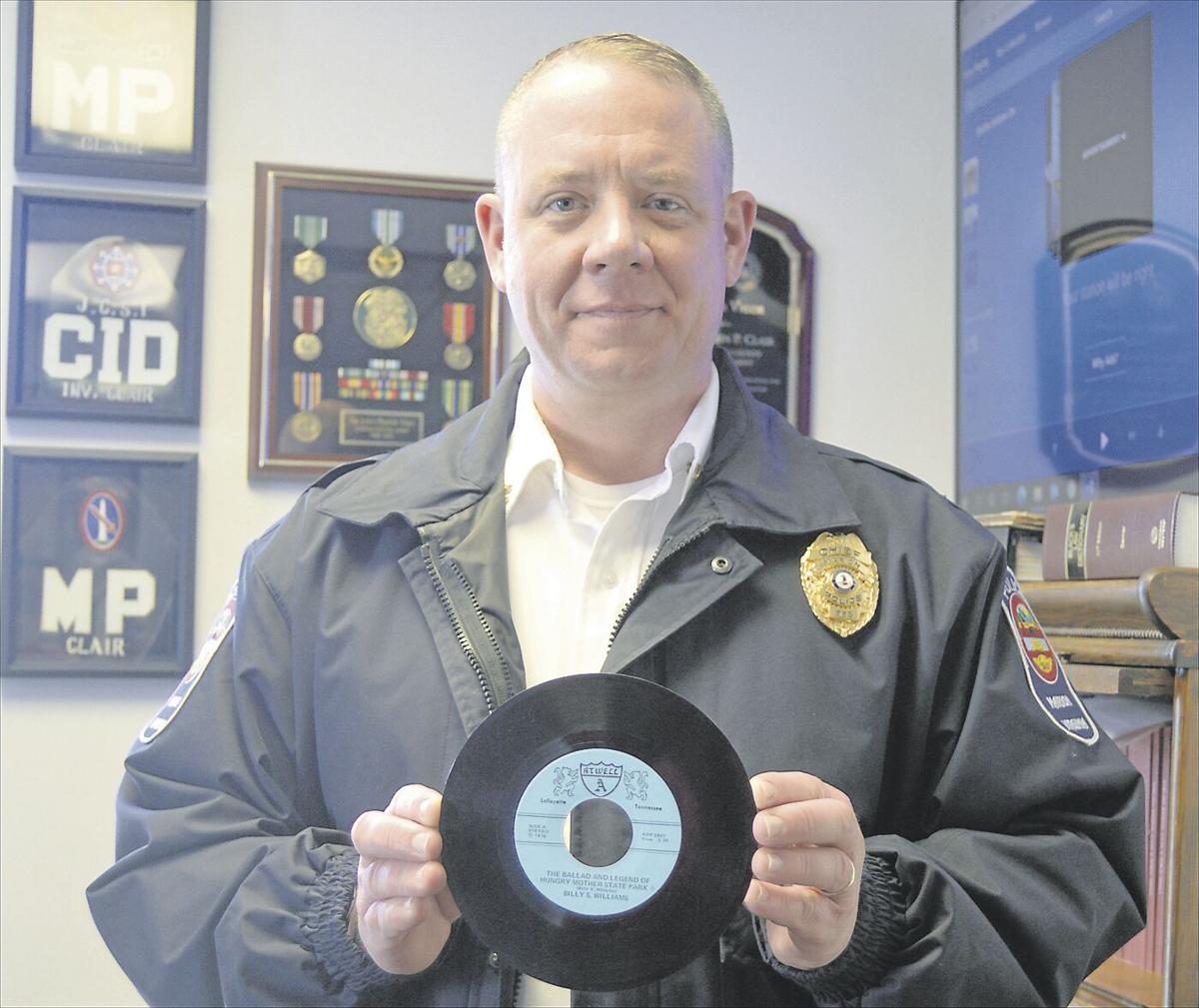 Billy S. Williams witnessed the birth of Hungry Mother State Park, though he wasn't an especially old witness – about 5 at the time of the park's dedication in 1936. His family's land bordered Hungry Mother near the builders' camp so he knew the place intimately. Thirty years later, Williams penned and recorded a song that celebrated the park.
Another 45 years later, Marion's police chief saw one of the old 45 rpm records in a local antique store. Intrigued, he shared the experience on social media and may have helped bring new life to The Ballad and Legend of Hungry Mother State Park.
Chief John Clair was making his rounds, visiting some of the downtown businesses when he went into The Past Time Antique Emporium and General Store. He saw a copy of the vinyl 45 in a display case.
The antique store owners only had the record on display. Clair began his research. First, discovering a digital recording of the song on YouTube and then ordering the only copy of the record he could find online for $5.
Talking to people around town, he was surprised how few knew about the song.
When his record arrived, Clair imagined framing and hanging it in his office.
Noting the resurgence of vinyl, he also imagined that the song's owner could re-record the song.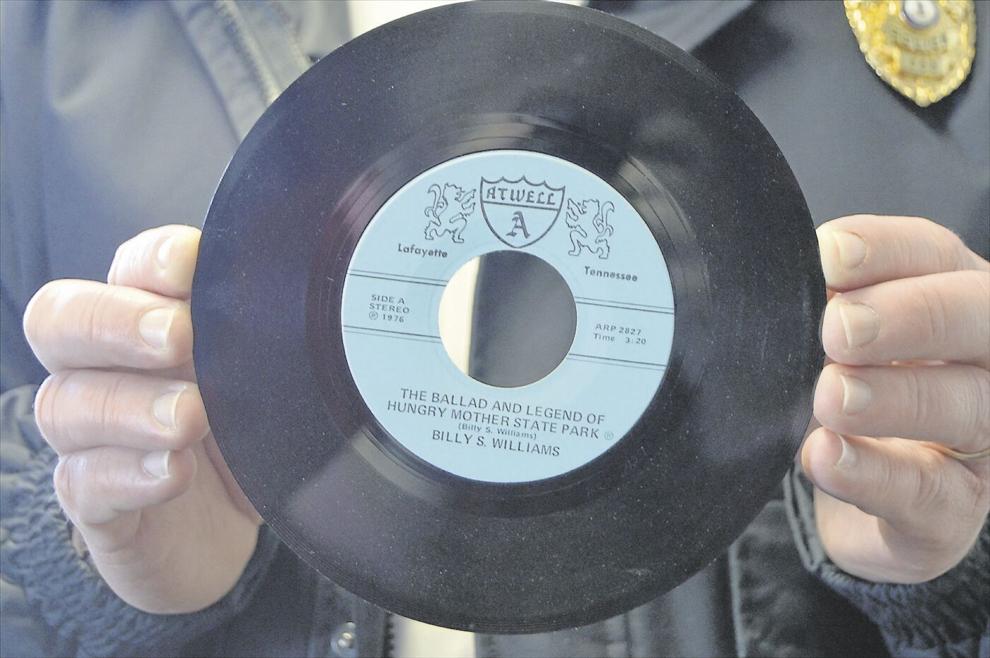 The owner is one of Williams' daughters, Alice Richardson. Her dad died on Jan. 27, 2020 at 88 years old.
Now living in Florida, Richardson said, "Music was his fondest hobby, a joy."
Rich in talent, she remembered that he could play multiple instruments, including the guitar, banjo and mandolin. He even made some of his own instruments.
Williams wrote numerous songs and recorded four – two 45 rpm records with A and B side songs.
He also shared his musical gift at church, Richardson remembered of the lifelong Baptist. Even after a stroke threatened to take music from him, Richardson said he relearned how to play.
Their father passed that love of music onto his children – three boys and four girls who lived into adulthood. "All of the boys played in bands," Richardson and her youngest sister, Nunnie Emery, said.
While their family was large, Williams' sibling count was even higher. He was one of 12, growing up as neighbors to Hungry Mother. He wasn't the only sibling with musical talent.
Williams' niece Julia Williams Kodak, who has done genealogy for 30 years, saw the Marion PD's Facebook post about Clair's discovery. She wrote, "My dad and Billy used to sing and play at a lot of talent and other types of shows in Marion. All of his family could play and sing."
She also remembered, "Once Daddy and Billy sang before a Lester Flats & Earl Scruggs show and Earl asked to play my dad's banjo when they came off stage. One of his favorite memories."
Kodak later told the News & Messenger, "The CCC camp wasn't far from where they lived so I'm sure they were witnesses to the park even being built, at least my grandfather and the older ones."
Hungry Mother and another five state parks, the originals in the Virginia system, were built during the Great Depression and provided temporary employment for many in the Civilian Conservation Corps that worked in Roosevelt's Works Progress Administration.
The work wasn't easy. In his ballad, Williams sings of the "wheelbarrows, picks, and shovels, and blood and sweat and tears" necessary to open the park.
When the park was dedicated, 5,000 people were reported to have attended the opening. It was called the biggest event in Smyth County history. The park has continued throughout its life to be a source of jobs and economic revenue for the area not to mention recreation.
Richardson and Emery said as youngsters her parents "took us to the park all the time" and they particularly enjoyed the annual festival.
Beyond the park, his daughters said, "Williams loved the mountains."
In the ballad, he sings of the "rough and rugged mountains."
He didn't leave Smyth County until he joined the Army, where he served as a medic.
When he returned, Williams worked for Brunswick (today's General Dynamics), helping design and build satellites and other equipment. He also was widely sought after as a repairman, especially for TVs and vacuums. Over his lifetime, he also did stints as a finish carpenter and police officer.
Emery reflected, "He was good at anything he wanted to do."
Another fondness his daughters recalled was horses and his cowboy hat. For years, they said, you never saw him walk out of the house without his cowboy hat."
Among his interests, Williams liked to learn about the Native Americans who once lived in these mountains. For his ballad, he chose the legend that invokes an Indian raiding party that captured a man and his wife and child. The woman escaped with the child and they were later encountered along the creek and the child says the famous words: "Hungry, Mammy."
The late historian Mack Sturgill, in his book, Hungry Mother: History and Legends, said that legend wasn't well known in this area prior to the coming of the park.
The name and the story have hung on.
Clair hopes the song may experience a new life as well.
With the resurgence of vinyl, he said some companies are working to find lesser known songs that didn't make it in their own time and create "a revival of good music."
Richardson and Emery concur.
They plan to introduce the song to a singer they know to see about recording it again. Emery said, "We'd like to bring it back to the forefront…. We don't want to see it lost."
They also like to imagine that some of Williams' 15 grandchildren and 13 great-grandchildren will carry his musical legacy to future generations.