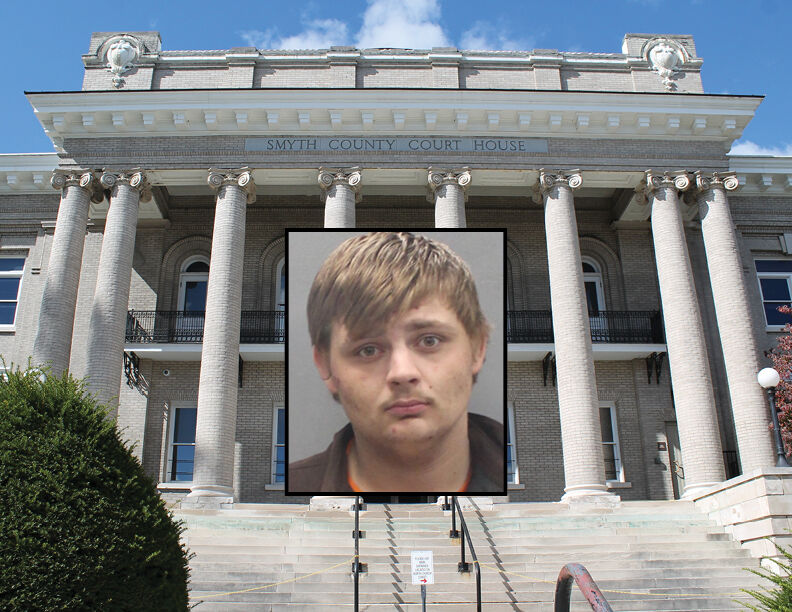 A Smyth County judge certified a malicious wounding charge against a Chilhowie man accused of stabbing another man in January to a grand jury.
In a Wednesday afternoon preliminary hearing, witnesses testified that 19-year-old Jessee William McGhee stabbed Walker Kegley as Kegley and another man were trying to get McGhee to leave the property.
Kegley, who was among four eye-witnesses to testify during the hearing, said he rode with his friend, Ronald "RJ" Carter Jr., to Carter's sister's apartment on West Lee Highway so Carter could talk to his father.
When Kegley and Carter arrived, McGhee was standing outside a window of the home, Carter said.
Another witness who was inside the home before the pair arrived said McGhee had been asked to leave the property. Myra Ray, a friend of Carter's sister, testified that when McGhee couldn't get inside the home, he went to the window screaming for someone to let him in. He then got into a vehicle and began blowing the horn, she said, and then returned to the front door where he broke the door handle.
Carter said his sister, who had previously dated McGhee, asked him to kick her door in because the people inside couldn't get out of the apartment. Carter said when he got inside and learned that his father had been hit, he went outside to confront McGhee.
"I just wanted an answer to why my father had been hit in the face," Carter said.
From there, witnesses, who gave testimony while the other witnesses waited outside, gave varying and sometimes conflicting accounts of the incident, as McGhee's defense attorney, Chris Munique, later pointed out.
Kegley said he and Carter were facing McGhee as they approached him, McGhee walking backward. The two men were trying to get McGhee off the lawn, he said.
Likewise, Carter said he told McGhee, "The best thing you can do is leave, get off the property," but he also said he was trying to get answers from McGhee about what happened to his father.
Carter also testified that when he went outside to confront McGhee, "Everybody was holding me back because they know my temper."
Ray testified that that didn't happen.
At some point, Kegley got in between Carter and McGhee, and Carter returned to the front of the house to check on his father, Carter said.
Ray testified that Carter didn't return to the front of the house.
Kegley denied hitting McGhee, but admitted that he pushed him by the shoulders.
Carter also said Kegley didn't hit McGhee, but he and Ray both testified that an altercation between the two men lasted about two minutes.
A fourth witness, Layne Gerbich, said he had stopped in the parking lot of a church next door to the apartment to talk to someone on his phone and noticed "two people having a scuffle."
The proximity of the altercation also varied, with Kegley and Carter saying it happened on the lawn and Ray and Gerbich saying it took place in front of the church.
Kegley said he didn't see the knife, but "I turned around and I got stabbed" in the abdomen.
Gerbich, who said he knew McGhee, but didn't realize he was one of the men in the scuffle, said McGhee ran to his car, jumped in the back seat and told him to "go". Gerbich didn't see the stabbing, he said, but "I could tell something was off."
After McGhee calmed down, "he said, 'I just stabbed someone in self-defense. Can I borrow your phone to call 9-1-1,'" Gerbich said.
Chilhowie Police later picked McGhee up at his home and placed him under arrest.
Kegley said he spent just under 24 hours in the Johnston Memorial Hospital in Abingdon, having his wound repaired and treated. He was out of work for two weeks, he said, and is still on light duty.
Munique argued that McGhee was trying to leave the property and was scared of the group of about six or seven people who were at the residence. After Kegley testified that McGhee had been walking backward as he and Carter approached him, Munique said, "So Jessee kept saying over and over, 'Just let me leave,'" Munich asked.
Kegley said he did, but "every time me and RJ would stop walking, he would stop."
Munique asked Kegley, "You bragged to other people in the community that you beat Jessee up?"
He reminded Kegley that he was under oath and indicated that he had evidence Kegley sent messages to someone saying he "whipped Jessee's ass for beating up a girl."
"I don't recall that, no." Kegley said.
According to court documents, McGhee told dispatchers that someone had tried to stab him and that he had stabbed them in self-defense.
At the hearing, Munique asked Kegley, Carter and Ray what happened to the knife Kegley had. Each of them said Kegley did not have one.
"In the end, Jessee gets attacked. He had a right to defend himself," Munique said.
He asked General District Court Judge Travis Lee to dismiss the charge, saying that the Commonwealth hadn't made a case for malicious wounding.
Assistant Commonwealth's Attorney Jill Lawson countered that there was no doubt that a stabbing took place.
"The question is whether it was in self-defense or not," she said. "That's a question for a later judge or a later jury."
Preliminary hearings are meant to determine if there is enough evidence to bring the defendant to trial, and not to determine if the defendant is guilty of the crime or not. If a general district judge certifies felony charges to a grand jury following a preliminary hearing, the grand jury will then hear evidence to determine if there is enough evidence to indict the defendant on the charge. Once a defendant is indicted, they then stand trial in circuit court.
While Lee agreed that there was an indication the stabbing may have been in self-defense, he also agreed that his courtroom was not the place for that to be decided.
Lee certified the malicious wounding charge to a Smyth County Grand Jury. The next grand jury is scheduled to convene this week.