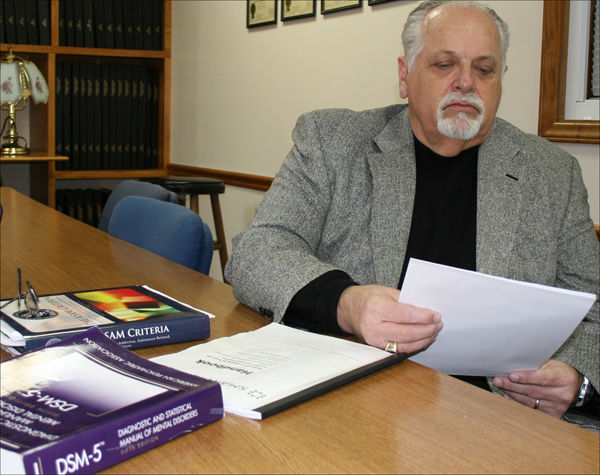 It has been almost 10 years since Tom Martin of Marion made a decision that would not only change his life for the better but would also have a positive impact on hundreds of other people.
Martin decided that alcohol would no longer have a hold on him. He stopped drinking and has not taken a drink since.
"Alcoholism pretty much destroyed my family. I hated alcohol as a young person. The thing that kind of triggered me was a nasty divorce. I started drinking to kind of numb myself. I knew better, but I still did it. I had alcoholism on both sides of my family," Martin said.
Throughout the years, Martin continued to drink, getting to the point where he was drinking a fifth of Wild Turkey and as many beers as he could get his hands on every day.
"Then I met my wife, Connie, but I still drank. She could have one or two drinks and she was fine. Not me. If there's a pitcher of beer there, I had to have the whole thing, thinking, 'Where's the next one coming from?' I would drink until it was gone or until I passed out or blacked out. There toward the end, I almost never got sick. I consumed alcohol most of the day, every day," Martin said.
Finally Martin's wife reached the point where she could no longer tolerate his drinking, so she gave him an ultimatum, "It's either me or the booze."
"She saved my life. I was drinking like crazy, riding that BMW motorcycle, riding drunk, riding fast. They clocked me on 81 doing 130. That's when she decided to leave me. She'd had enough. That was my bottom. She was enabling me, but it wasn't her fault that she was enabling me. It was my fault. I chose to drink as much as I was drinking. She lowered the boom more or less. She said, 'It's either me or the booze.' That's exactly what she told me. When that woman gives you an ultimatum, you just got an ultimatum. I knew that, so I thought, 'I've got to do something.' I told her 'I've got to get some help.' She found a counselor for me," Martin said.
Martin and his wife attended the first counseling session together.
"He was a young guy. I went into that counseling room and my wife's letting me have it. I was squirming like a fish out of water. He looked at me. He was a little guy, and he said, 'Big boy, it looks like you're just going to have to sit there and take it.' 'I thought I better keep my mouth shut,'" Martin said.
"That counselor looked at me and he said, 'Tom, when it comes to you and alcohol, it's not an option.' That went right through this thick skull I've got and that's the day I got sober. I haven't had a drink since. It's not an option for me. Does that make me less of a man because I can't handle alcohol? I was drinking a fifth of Wild Turkey a day -- that's pretty powerful liquor – and whatever beers I could get down depending on the day. I was drinking a lot," he added.
Martin acknowledges that he had knee problems and was in pain.
"Since then I've had knee replacements, so I'm not in that kind of pain any more. Thank God for that. I was medicating myself, but there were other things I could have done. I wanted the alcohol. It gave me something to do. I never acknowledged to myself that I had a problem, but I had a problem. I did not relapse. I quit cold turkey. That worked for me, but it might not work for someone else," Martin said.
Martin's battle with alcohol and his path to recovery instilled in him a desire to help others battling addiction, and so several years ago, he enrolled in Liberty University and earned a master's degree in counseling. He currently works at two clinics in Smyth County, conducting both individual and group counseling sessions. One of those positions comes with a salary. The other is on a voluntary basis at the Mel Leaman Free Clinic, where he does individual mental health and substance abuse counseling on Tuesdays and facilitates SMART Recovery, a group-based program for those suffering from addiction in the evening.
"My alcoholism is essentially what got me into counseling. I had strong motivation that got me sober. My problem was alcohol and my wife was the external motivator. I did not want to lose my wife. She was tired of my drinking. After I got sober and was sober for about six months and those neurological pathways in my brain started to heal, I got to where I liked myself sober," Martin said, adding that he shares his story with his clients in an effort to help them and to encourage them.
"SMART Recovery stands for Self Management and Recovery Training. SMART believes you can manage yourself. It's a choice. However, when it comes to urges and stuff like that your brain is really hijacked. There are people who are really on a destructive path. They know they are killing themselves and yet they still drink or they still use. Why is that?" Martin said.
SMART Recovery is a four-point program -- building and maintaining motivation; coping with urges; managing thoughts, feelings and behaviors; and living a balanced life, he said.
"If a person is not motivated, there is probably not much gonna happen. You've got external and internal motivation. I get a lot of people in the clinics that I work in who are court ordered. That's certainly external motivation. External motivation can last a long time; however, I would hope that people who become sober for a long period of time will transfer that into internal motivation," Martin said.
He also utilizes psychiatrist J.O. Prochaska's five stages of change in his counseling. Those stages include pre-contemplation, contemplation, preparation, action and maintenance.
For example, in stage one, an alcoholic would say to himself that he does not have a problem with alcohol. He can quit any time he wants to. That person is essentially in denial, Martin explained.
In stage two, that same alcoholic might say, "I've got two DUIs pending. My wife is about ready to leave me. I'm about to lose my driver's license. I think I've got a problem."
In stage three, the alcoholic comes to the realization that he has a problem. He begins preparing for his sobriety.
He might "call up and get a counselor. Go to the liquor cabinet, pull out all these bottles of liquor, unscrew the tops and pour it down the sink. In essence, he is preparing for his sobriety," Martin pointed out.
"Stage four is the action stage. That's where the rubber hits the road. It's July. The weather is hot. I'm mowing my yard. It's a self-propelled mower, but the belt breaks. So now I've got to push this thing. I am sweating. A cold beer would really taste good right now; however, I have promised my wife that I would stop drinking. I've promised myself that I would stop drinking. So I go into the house and I get a nice cold glass of tea," Martin said, adding that once an alcoholic is in the action stage for six months, his brain begins to develop new neurological pathways. The urges are not as strong. The brain is trying to heal itself. After about six months, the alcoholic graduates into the maintenance stage.
"I am maintaining my sobriety. I am doing what works for me. Personally, I've been in the maintenance stage now for about nine-and-a-half years," Martin said.
He said it is important to determine which of the five stages a client is in so that the tools he uses in treatment can be customized to that client's needs.
"If they are in the pre-contemplation stage of change, then I pretty much have to use motivational interviewing to try to build some motivation within themselves. Hopefully, they can come to the realization that they have a problem and be motivated to change. When they get into the maintenance stage, they are already motivated, so I need to change to cognitive behavior, to teach coping strategies they can use to overcome an urge or a craving," Martin said.
 "For an individual starting into recovery, they seem to think they are going to be cured quick, that those urges are not going to be so strong or they're not going to have them again. If you've been on meth for many years, you are probably going to have urges for the rest of your life. With alcohol, it can take six to eight months for the brain to begin healing itself. With meth, it can take 18 months to two years. There can be significant brain damage with meth. Can some of that be irreversible? Yes it can," he said.
Martin believes there is always hope and that even those who have suffered from addiction for many years can find help.
Almost 10 years into recovery, Martin no longer thinks about drinking. As an alcoholic maintains their sobriety, the urges become less frequent and the intensity decreases, he said.
SMART Recovery is an abstinence-based program, and Martin knows that abstinence from alcohol is the only option for him.
"I do not give myself permission to drink. Drinking in moderation is not an option. If I give myself permission to drink – let's say only one beer – what's going to happen when something really bad or really good happens in my life. I've given myself permission to drink. I don't want to go there and spin that cylinder. If I'm not giving myself permission, then that's not going to be my first thought, to drink. In recovery, if you are just trying to be abstinent and you don't have a plan, your chance of making it is not good," Martin said.
"Only one in five alcoholics gets sober. That's not good, a 20 percent success rate, an 80 percent failure rate. My encouragement to my clients is to be in that 20 percent," he added, pointing out that he discloses to his clients his battle with alcohol.
"I think that helps. You don't have to have a substance abuse issue to be a good counselor, but it's been my experience people want to know you've experienced some of the things they have," he said, adding that he encourages his clients to figure out where the bottom is for them and to realize that they do not have to hit bottom to begin recovery.
"I never acknowledged to myself that I had a problem. When my wife said to me 'it's me or the booze,' that was my bottom. Most people don't know where their bottom is. You don't have to hit bottom to get help. Unfortunately, some people's bottom is death. I've had two in the groups that I have done over the years that are no longer on the planet. Both of them overdosed. I tell them you do not have to hit bottom. You can get sober today. They say relapse is a part of recovery, and many times it is, but it doesn't have to be. I did not relapse. I quit cold turkey. That worked for me, but it might not work for someone else," Martin said.
"After seven years in counseling, I have learned that not one thing works for everybody. You have to have a lot of tools. I can't fix anyone. It's my job to give you some tools to work with. It's your job to use the tools. Sometimes people in recovery mess up a few times. Don't beat yourself up over that. Don't say 'I'm a failure' because, if you say that, that type of self talk, then most likely you are going to stay there. So you lapsed. What was the trigger? What were you thinking? Let's come up with some coping strategies so that won't happen again," Martin added.
Martin understands about cravings and urges. Although he has not lapsed or relapsed, he understands how it could happen. Even now, he faces temptation just like others in recovery. He uses all the tools at his disposal to continue on the road of sobriety.
He recalled an incident in that happened a couple of years ago. His motorcycle was in need of repairs. He went to see a friend to borrow a trailer so he could transport the bike to the shop. He had known the man, who is older than he is, since school. That man knew Martin's past. He knew Martin used to drink a lot. He didn't quite believe Martin was committed to being sober.
"I set down there in his garage. He reached in a refrigerator and brought out a Ball jar with strawberries at the bottom of this liquid – strawberry moonshine. Let me tell you what thoughts went through my head. 'Boy that would taste good.' We all have automatic thoughts. You don't dwell on them. You don't do what they say. They are stupid thoughts.
"My next thought – to be that tempted – I thought it would be about my wife, but it wasn't. It was 'I'm the substance abuse counselor. I can't be doing that.' This all went on in my head about two seconds. I said no. He took a swig. It went back in that refrigerator and he pulled out this fifth. It didn't have a label on it. It had been taken off. He had on there green marijuana mixed drink or something. I said no. So he reached back in there and brought out two beers. I said no. 'I'm the substance abuse counselor over there. I'm not doing stuff like this.' He looked at me and this is what he said: 'That woman ruint you.' That was strong temptation. I don't think he believed I was a recovering alcoholic. He does now," Martin said.
Martin is committed to maintaining his sobriety. He doesn't want to disappoint himself, his wife, his clients and God.
"I don't want to disappoint God anymore. My faith is important to me. I have two master's degrees and they're both from Christian colleges. I do know a little about the Bible. I don't want to disappoint Him anymore. I've got no problem with boundaries. I've got no problem saying no to you. I've got pretty strong interpersonal boundaries, but I have a harder time telling myself no. I have to say no to myself first," he said.
Martin's path to sobriety began through individual counseling. He then completed a faith-based program, Celebrate Recovery, at a church in Blountville, Tennessee.
"Not long after that, I decided to go into counseling. I wanted to help others. A lot of counselors get into counseling because they got help. Something worked for them and they feel like they can help others," Martin said.
His message to those struggling with alcoholism like he was and to those struggling with other drugs is to get help, to get on the path to recovery and find the tools to help battle the addiction.
Martin is a licensed professional counselor and a master addiction counselor. He received notification this week that he has earned a substance abuse counselor license from the Virginia Board of Counseling and is licensed in the state as a Licensed Substance Abuse Treatment Practitioner (LSATP). LSATP is the highest and most difficult license to obtain related to substance abuse in Virginia.
According to Amanda Fleenor, physician's assistant at the Mel Leaman Free Clinic, the clinic offers services to individuals living in Grayson, Smyth and Washington counties who meet income requirements and have no health insurance. In addition to offering mental health and substance abuse help, the clinic also offers services like those provided at a primary care physician's office, including treating chronic and acute medical conditions. They also offer dental services and are affiliated with the Emory & Henry School of Health Sciences.