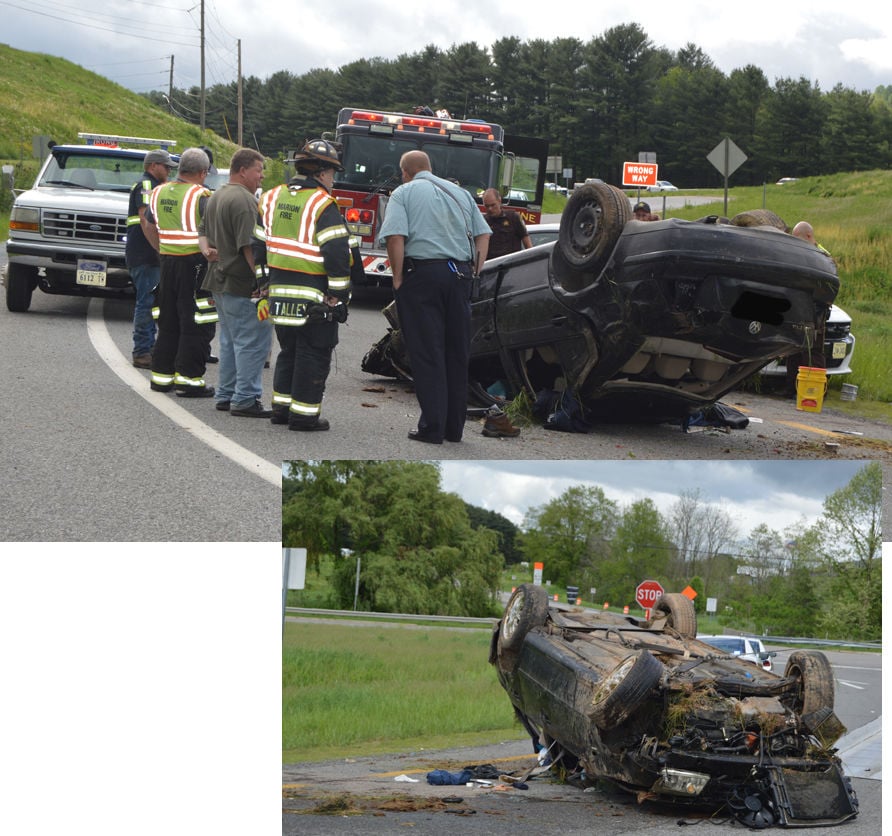 A Bristol, Tennessee man is being held without bond at the regional jail in Abingdon following a high-speed chase that ended with the suspect's vehicle on its top Sunday afternoon.
According to a statement from the Smyth County Sheriff's Office, at around 4 p.m., a Deputy Greg Ward noticed a black Volkswagen Jetta fail to move over for a Virginia State Trooper who was parked in the emergency lane checking on a disabled vehicle around mile marker 44.
Ward attempted to stop the Jetta, but after initially pulling over, the driver, identified as 60-year-old Doyle A. Whitlock,  sped away as the deputy was walking to the vehicle, the statement said.
The ensuing pursuit lasted approximately six miles and reached speeds of more than 100 miles per hour before the driver lost control and the vehicle overturned, landing on its top at the end of the ramp. 
After a brief foot chase Whitlock was taken into custody. He was the only occupant of the vehicle and received only minor injuries, according to the statement.
Whitlock is charged with felony eluding police, driving on a suspended or revoked license and resisting arrest. He was also summonsed on multiple traffic violations, the statement said, and additional charges are pending.
The VSP assisted with the investigation
A driver fleeing a Smyth County deputy exceeded 100 mph as he tried to get away Sunday afternoon, according to authorities.
The male driver caught the attention of Deputy Greg Ward when he observed him fail to move over as he passed a Virginia state trooper who was pulled over assisting a disabled vehicle, according to Smyth County Sheriff's Office Captain Billy Eller. Virginia law requires drivers to move over for emergency vehicles when they can do so safely. Ward turned on his lights and siren to initiate a traffic stop. 
According to Eller, the driver of the Tennessee-registered car didn't stop and reached speeds in excess of 100 mph. The chase ended when the driver lost control of the vehicle and came to a rest upside down on the northbound off ramp of Exit 50.
The driver, said Eller, sustained only minor injuries and wasn't transported to the hospital. "He's lucky to be alive," the sheriff's office captain said.
That driver was in the sheriff's office's custody Sunday. He was facing charges for the traffic violations and Eller anticipated that he would face additional charges as authorities continued their investigation. Please check back for updates to this article and see Wednesday's edition of the Smyth County News & Messenger.