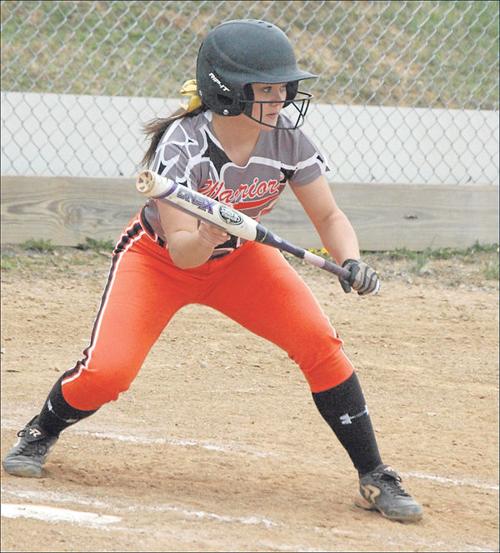 Chilhowie's varsity softball team stayed undefeated with a 6-3 victory at Marion on Friday, April 6.
The Lady Warriors, who had beaten the Scarlet Hurricanes 15-1 in five innings in the teams' first meeting, found themselves in a 1-1 tie entering the sixth inning. Pitcher Emily Frye led off the top of the sixth with a double, though, to pave the way for a three-run inning for the visitors.
Shelby Murphy had a four-hit outing for the Warriors, and teammate Caitlin Pierce had three hits. Kendahl Pruitt homered over the left-field fence for the 'Canes in the fourth inning.
Chilhowie also won on the Marion baseball diamond. The Warrior boys had their second 15-run game of the season against the 'Canes as they collected a 15-6 decision.
Logan Branson doubled and tripled as he produced a four-hit day for Chilhowie. He had two RBIs and scored two runs as did teammate Daniel Boardwine, who had two hits. Alex Robinson had a three-hit game for the 'Canes.
Then on Monday, Chilhowie hosted George Wythe. The Lady Warriors improved to 6-0 with a 12-1 win in four and a half innings while the boys fell to the Maroons 13-3 in five.
Rachael Williams smacked a fourth-inning grand slam for the Lady Warriors, who received three hits and two RBIs from Murphy. Frye struck out seven in the circle and had two hits at the plate with three RBIs.
Chilhowie 001 003 2—6  14  0
  Frye and Luttrell. Baggett, Pruitt (6) and Anderson. W – Frye (5-0). L – Baggett (0-1). HR – Pruitt (M), 4th, none on.
Chilhowie 12, George Wythe 1
Chilhowie 003 9x—12  12  0
  Ingo and Wolfe. Frye and Luttrell. W – Frye (6-0). L – Ingo. HR – Williams (C), 4th, three on.
Chilhowie 106 052 1—15  9  2
  McClure, Armstrong (6), Sanchez (7) and Delp. Robinson, Wyatt (4), Pennington (7) and Tucker, Robinson (4). W – McClure (1-0). L – Robinson.