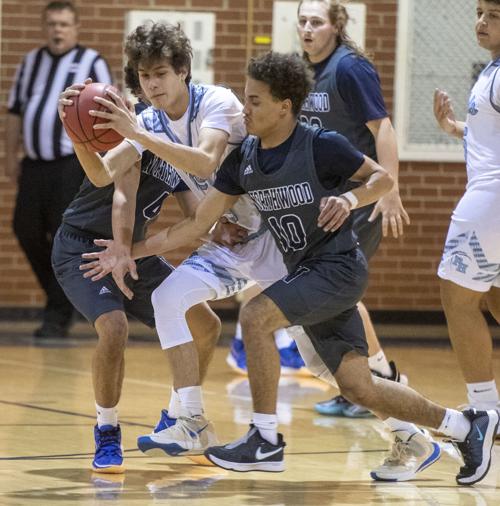 EMORY, Va. — If the early returns are any indication, it will be highly entertaining to witness the race for first place unfold in the Hogoheegee District over the next 3½ weeks.
"It's going to be anybody's game on any given night," said Patrick Henry coach Fred Selfe. "It'll definitely be a battle every night."
The boys basketball team at Northwood can attest to that, having survived a season-opening scare last Tuesday as senior guard Michael Frye's 27 points and clutch free throws helped the Panthers pull out a 60-56 win over the Patrick Henry Rebels.
Northwood and Holston finished in a tie for the top spot in the Hogoheegee's preseason coaches' poll with Holston losing its league opener on Monday night at Chilhowie.
It appeared Northwood might endure the same fate as the Panthers fell behind 17-7 and 22-12 in the first half and faced a seven-point deficit at halftime. However, the Panthers rallied, and a primary reason was the playmaking abilities of Frye.
He continually beat defenders off the dribble and converted difficult layups as defenders converged on him.
"Michael Frye can definitely get the ball to the hole," said Northwood coach Tim Johnson. "The thing I like about Michael is he's quick but for the most part plays under control. He's been there, man, and has experience. I talk to him about being a point guard all the time, and if we get scattered, it's his job to get us back together."
Frye's two free throws with 6.6 seconds remaining clinched the victory for Northwood. He had clanked his two previous attempts at the foul line.
"I had to make 'em," Frye said.
Seth DeBusk's 3-pointer with 5:28 remaining turned a 51-49 deficit into a 52-51 advantage, giving Northwood a lead it would not relinquish. However, PH (1-2, 1-1) never went away and pulled within 58-56 in the final seconds before Frye's free throws sealed the deal for Northwood.
"Give PH a lot of credit," Johnson said. "I thought they played well, made shots and played hard. It was a tough first game for us. Coach Selfe has them playing well."
Patrick Henry lost sophomore point guard Kade Gobble to a shoulder injury in the game's opening moments, while Hamilton Addair was injured early in the third quarter and later returned to the bench on crutches.
T.J. Pecina (15 points), Ean Rhea (12 points), Jacob Hall (10 points) and Isaac Presley (nine points) were the top scorers for the Rebels.
"Our kids persevered and fought and played their tails off until the end," Selfe said. "I can't praise them enough."
Eli Carter scored 17 points and blocked three shots for Northwood, but it was Frye who provided Patrick Henry with the most problems.
"Michael's good, man," Selfe said. "He's very shifty and knows how to use his body. He's not as big as some of our kids were, but he has the heart of a lion."
The Rebels don't have long to dwell on the defeat as it was the third contest in a stretch of six games in eight days.
"We have an off day [Wednesday] and then three in a row the rest of the week," Selfe said. "We just have to step up with the guys we have."
Meanwhile, the win held some special meaning for Johnson.
He doubles as Northwood's football boss and last coached high school hoops on the varsity level during the 2011-12 season at Thomas Walker.
Now 1-0, he hopes it isn't nine more years until his next victory on the hardwood.
"I told our guys before the game and after the game — we've obviously got a ton of stuff we need to improve on, but no matter what, we're going to be happy that we got to play a basketball game," Johnson said. "That's just the way it is. I am proud of the kids for fighting, and our experience came through for us. It's a good win."