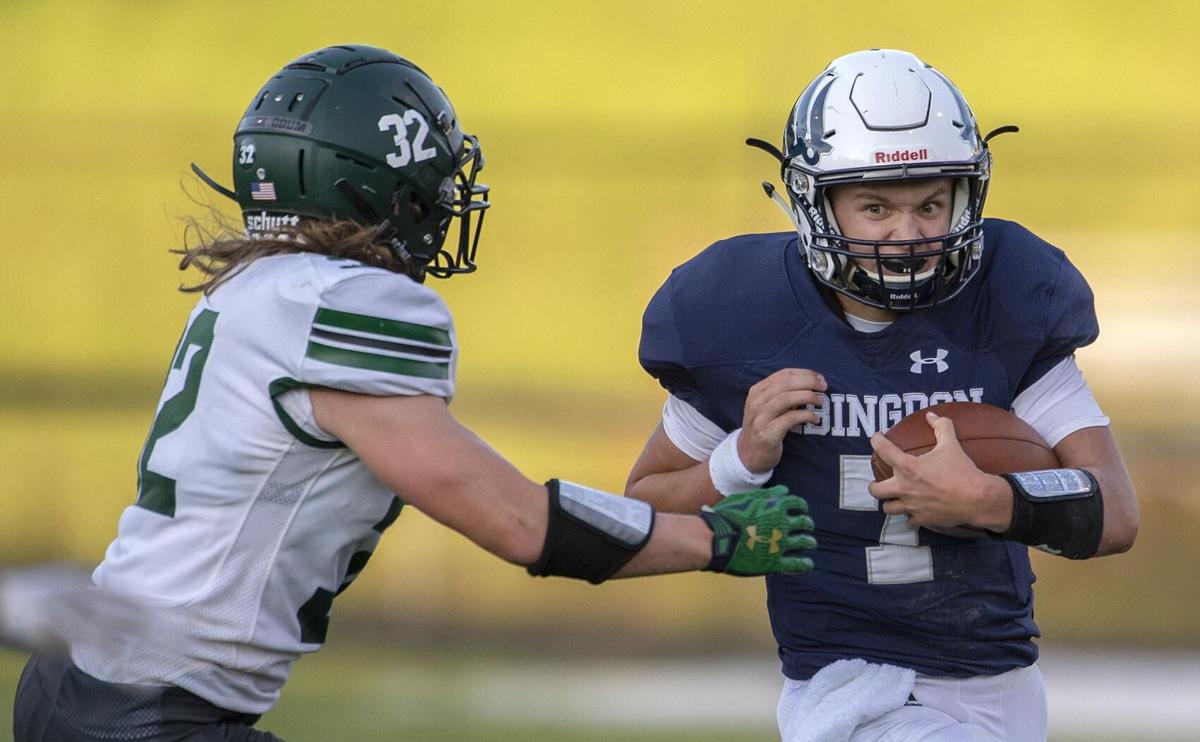 ABINGDON, Va. — Jake Puckett had been looking forward to this Friday night for most of his life.
The Abingdon Falcons were scheduled to open the home football season against Mountain 7 District rival Gate City.
Puckett is a senior for the Falcons.
"I've been playing with the same group of around 20 guys since middle league," Puckett said. "This is our last year of high school football. It's what we've all been working for."
Due to COVID-19 and various methods of learning, many teams remain in limbo regarding practice and schedules for the truncated season this winter.
"It's kind of crazy," Puckett said. "Someone could write a movie about all this."
The surreal summer of 2020 has been confusing and painful for football players, coaches and fans across Virginia.
Abingdon was originally scheduled to begin play at Washington County rival John Battle near the end of August.
"That's what we hoped for at first," Puckett said.
Flash back to Aug. 30 of 2019 at Falcon Stadium.
That's when AHS rolled to a 45-14 win over John Battle. Puckett opened the scoring with a touchdown pass, while Martin Lucas collected 130 total yards and scored four touchdowns.
So what sort of emotions is Lucas contending with now?
"It was really hard knowing that we should have been playing," Lucas said. "I miss football so much."
To ease his pain, Lucas and a couple of his teammates went to the Stone Castle on Aug. 21 to watch Tennessee High face Dobyns-Bennett.
Much will be expected of Lucas as a senior. Following a long and complicated deliberation process, the 6-foot-3, 250-pound running back made a verbal commitment to play at Arizona State on July 17.
"I can't wait until our first (high school) game this season," Lucas said. "I've been working hard and looking ahead."
Virginia High senior Dominic Norris knows the feeling. The VHS Bearcats were supposed to go up against Tazewell and John Battle early in the season.
"When I first heard that football season was off this fall, I was like 'Dang, what will I do now?'" Norris said.
The 5-10 Norris is in the mix as quarterback, receiver, running back and defensive back for the Bearcats.
"I started out playing flag football when I was little, and I've been playing ever since," Norris said. "I've never wanted football to end, so I didn't allow myself to look ahead at my senior year."
Norris said he has paid a price for success on the practice field and in the weight room.
"My senior year is here now," Norris said. "I have to keep grinding every day, even if I don't want to do it some days."
As VHS students undergo a transition period to the new school year with in-school learning, Norris has devised his own path to improvement.
"I've got a weight bar at home that I use for lifting every morning and night, and I throw passes with my cousins and friends in the backyard and on the practice field," Norris said.
Norris said just the prospect of a six-game regular season has provided a motivational boost.
"When we had to stop practice this summer, I didn't know what to do with myself," Norris said. "We couldn't be outside and get around groups of people, so I just stayed at home and worked on my computer. Now that the season has started in Tennessee, I might check out some games over there."
As for throwing passes and making cuts against oncoming tackers in February, March and April, Norris is cool with it.
"Practices are going to be cold, but games in the snow could be fun," said Norris, who also plays basketball. "I just want to compete, that's the main thing. At first, I was worried that we might not be able have any sports at all.
"Football has been a big part of my life, and I want to keep playing."
Marion senior Ben Calhoun has stayed busy during the unique off-season.
Following a family tradition, he aced the Armed Services Vocational Aptitude Battery (ASVAB) test required to join the military.
"My grandfather was in the Army and served in Vietnam," Calhoun said. "I was going to join the Marines at first, but I changed my mind after my grandfather passed away last month."
Upon completion of boot camp in North Carolina, Calhoun expects to be stationed in Georgia where he plans to train a rifleman.
"It will be tough not having football this fall," Calhoun said. "Some of us have experienced sadness, but we're trying to move on and prepare for life after high school at the same time.
"I think the Army will be best for me. I'm used to being active, and I like to help other people."
The versatile 5-8 Calhoun could play anywhere from receiver to quarterback on offense. He works at cornerback on defense.
Calhoun said he adapted to the various COVID-19 safety protocols during workouts and practice sessions this summer.
"I actually thought it was better not to have a football on the field because guys were able to concentrate better," Calhoun said. "We're all just trying to make the best out of this situation."
Football is important to Calhoun, whose father, John, played at Marion in the late 1990s.
"It's going to be a different atmosphere playing in the winter, especially for those who have never done it before," Calhoun said. "We practiced a couple days in the snow last year, so we're kind of used to it."
According to Puckett, the simple act of attending classes in person and seeing classmates again was a vital first step.
"I stayed at home with my family most of the time in March and April," Puckett said. "Toward the end of the summer, we were able to go on a couple of weekend trips, and it was good to just get out."
Puckett credits AHS football coach Garrett Amburgey for keeping the Falcons focused. Amburgey doubles as a guidance counselor at the middle school level in Washington County.
"It really helps to have a coach like we have, especially with all that has gone since the spring," Puckett said. "Coach Amburgey is a great teacher with an excellent football mind, but he also loves us, and he shows it every day. His door is always open."
The Puckett name is familiar to football fans around far Southwest Virginia. Steve Puckett, Jake's father, played at Lebanon and Emory & Henry. Paul Puckett, Jake's grandfather, also played at Lebanon.
"My father really knows the game, and I've learned about athletics and life in general from him," Jake said.
So what sort of advice has Steve given his son during this summer of uncertainty?
"He's told me that even though our football season is months away that there's no time to relax," Jake said. "We've been wearing masks, social distancing and working out in small groups.
"Reaching your senior year of football and playing with your buddies one final time is huge. Our season will come later, but we're still focused on our goals."
Be the first to know
Get local news delivered to your inbox!