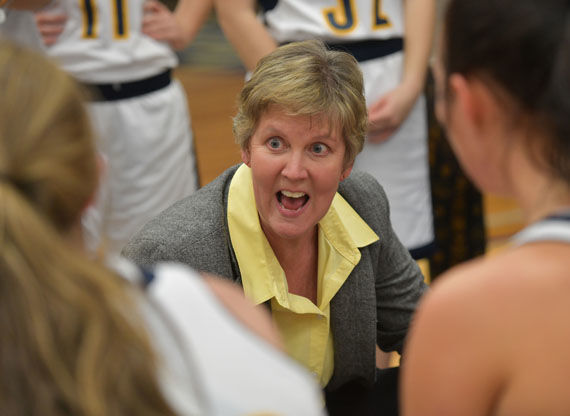 Life certainly won't be the same at Emory & Henry College when the fall semester begins in August.
Anne Crutchfield knows the lack of fall sports will be very different.
"It is hard to imagine coming back to school in the fall without having fall sports," said Crutchfield, the E&H director of athletics. "Fall and football, they go together. For colleges, soccer is such a big, important sport in the fall, and then you have volleyball on top of that, and it is kind of what kicks off our year."
Crutchfield announced via Zoom last Tuesday that Emory & Henry, in conjunction with the Old Dominion Athletic Conference, had postponed all conference competition and championships for fall sports through the end of the calendar year due to the COVID-19 pandemic.
That includes any winter sports that normally begin prior to the end of the year. She said the Wasps would be able to return to competition after Jan. 1, 2021.
"The pandemic has changed the scope of education as we know it; it has changed the life of everyone, and athletics is not immune to that," Crutchfield said. "If you look at the trends across the country, the trends across Virginia, and then you factor in North Carolina with our ODAC colleagues at Guilford, the numbers in those areas continue to increase, and it is very alarming.
"To be able to ask our athletes to travel to schools, to stay in hotels, to travel by bus, we feel like we just could not guarantee the health and safety of our athletes to be able to do that."
Fall sports impacted include football, soccer, volleyball, cross country, tennis and golf. Winter sports affected by what will be a delayed start to their seasons include basketball, swimming, indoor track and field and wrestling. Equestrian doesn't compete in ODAC competition, with the decision on their fate to be determined.
Crutchfield does see some positives in pushing fall sports into the spring.
"We know it is going to look different. We are going to work really hard to make positive experiences, and we are excited about having the opportunity with these fall sports athletes to get them back on campus," Crutchfield said. "I think it gives our fall coaches an opportunity, especially with our first-year athletes, to really get to know those athletes before they have to enter into the full competition swing of things.
"It will definitely be different, but we are optimistic that we can make it very meaningful as well."
Crutchfield expects the NCAA to provide legislation to allow fall sports athletes to practice and prepare for seasons that have been moved to the spring.
"We anticipate and fully expect to be able to have practices, workouts, having our coaches work closely with our athletes to help them grow as student-athletes and work on skill development and work on strength and conditioning," she said, "and to really make this an opportunity for us to get our athletes in the best shape and the best prepared they have been entering into the spring."
There will be challenges ahead for a school of the size of Emory & Henry, which may have limited personnel needed to operate so many sports during the same time period.
"For every small college, that is a concern," said Crutchfield, an E&H graduate and former women's basketball coach for the Wasps. "We are looking at how we can staff that. We are looking at how we can find the resources to add some different people to our staff, either full time or temporarily to be able to cover this and give our folks the coverage they need for their health and safety and to also make it a great experience for our student-athletes as well."
Crutchfield added that the ODAC would be redoing schedules and that the competition would likely remain solely conference games.
"At this point, it would be difficult for us to commit to anything past conference games," she said. "Different conferences across the country are making different decisions. I know one of the other conferences that we traditionally schedule some of our non-conference opponents with are looking at a different model than what the ODAC is looking at right now.
"At this point, I think it is safe to say that we will be committing to conference games. We can't guarantee anything beyond that."
Crutchfield admitted there are plenty of questions still to be answered, but that has been normal procedure since the coronavirus seemingly changed the world in mid-March.
"That is the extent of our information right now. There are so many pieces that continue to move," she said. "As everyone knows, the pandemic situation continues to be fluid, and we have to be flexible, but right now, we fully anticipate being back in competition after the first of the year.
"We will be working with our athletes this fall to put them in a position to have another successful season for Emory & Henry."
Be the first to know
Get local news delivered to your inbox!