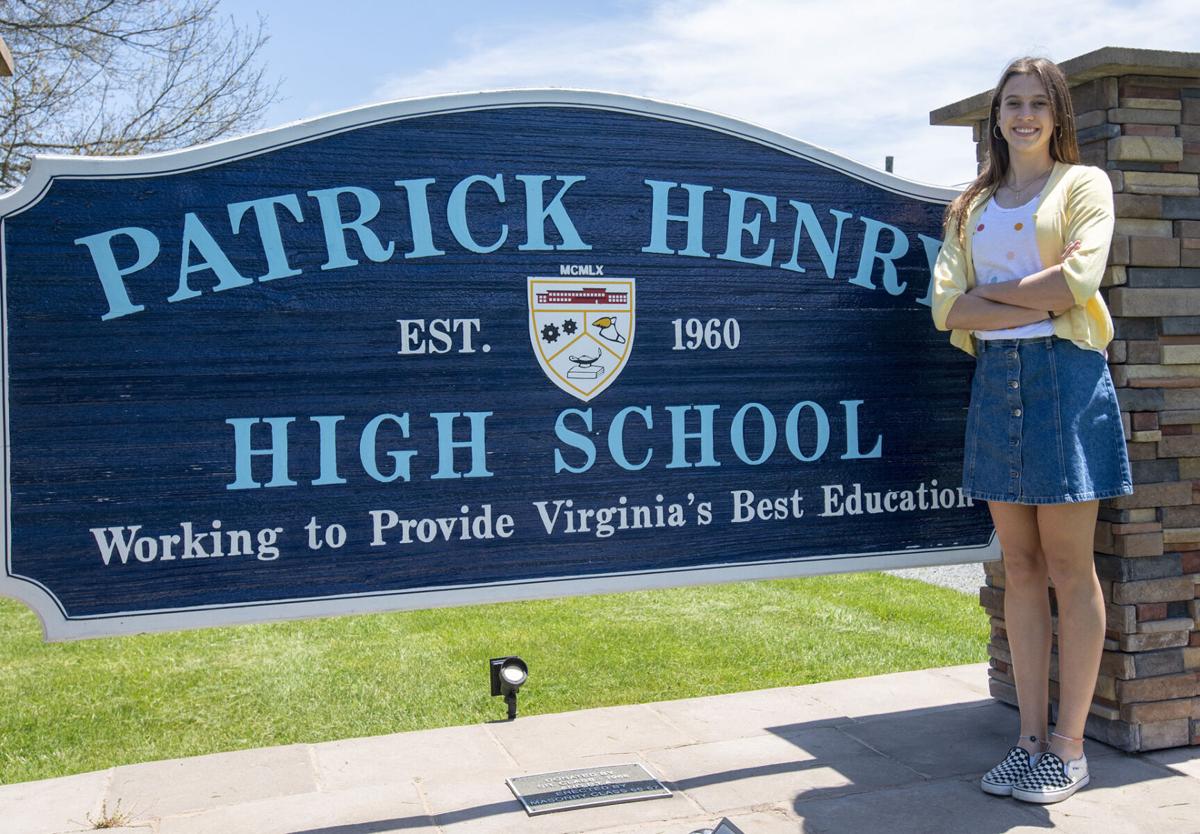 EMORY, Va. — Those bells Ella Maiden first heard three years ago weren't meant to announce her arrival at Patrick Henry. Looking back, maybe they should have been.
EMORY, Va. — Those bells Ella Maiden first heard three years ago weren't meant to announce her arrival at Patrick Henry. Looking back, maybe they should have been.
"It was a little scary, but thankfully I already knew the volleyball girls for several months by then," said Maiden, who was homeschooled for 10 years before arriving at Patrick Henry as a sophomore in 2018. "It was very different, and I am not going to lie, the bells were very hard to get used to.
"It was, 'OK, we are done with this class, let's go to the next one.'"
Maiden certainly adjusted well, thriving in her three years at Patrick Henry, quickly becoming one of the most popular kids in school.
"What I would say about Ella is that she is top-notch. She is everybody's friend, everybody likes her, you can't help but be around her and just enjoy her," said Crystal Miller, a counselor for Highlands Community Services, in addition to being an assistant volleyball coach. "She is team-spirited, she is school-spirited, she supports all the other teams. She has friendships with the football players, with the basketball players. She is just very loving and very caring towards others and always willing."
From compiling a perfect 4.0 grade point average to leading the volleyball and track teams to state championships, Maiden has been top of her class in more ways than one.
"Our school's motto this year was 'Win the Day,' and I think this is a perfect illustration of Ella, as a student, as an athlete and, above all, as a person," Patrick Henry principal Kendra Addison said. "She gives her all in everything she does, and that is so clearly demonstrated not only by her accolades but in her relationships as well. She is well respected by both her teachers and her peers. There is no greater satisfaction for an educator than to see students succeed, and I am proud of Ella and the impact she has had on our school."
That impact has led Maiden to be chosen as the 40th recipient of the Gene "Pappy" Thompson Award for Excellence, the third winner from Patrick Henry and second in the last three years. Caleb Frye won the award in 2010, while Isaac Eldreth was selected in 2019.
"It makes me feel incredibly blessed that I was even chosen to be a nominee at our school because there are many athletes at our school that are very athletic, and they deserve this as well," Maiden said. "It makes me feel very blessed to be a part of a school that has high academics and good sports teams."
The daughter of Steven and Billie Maiden, Maiden followed in the very large footsteps of her mother, the former Billie Hart, who was a three-sport star at Patrick Henry. She filled them fine, while taking her mother's advice to heart.
"She always said to put 110% into everything and leave everything out on the court and be humble," Maiden said. "God has blessed you with athletic ability, and use it to the best of His glory."
Maiden has tried to do just that, and it has shown.
"Ella is a leader in every aspect of her own life, and her athletic and academic résumés serve as evidence," Patrick Henry athletic director Sarah Helton said. "The way that Ella carries herself throughout each aspect and phase of her life, her faith, her commitment to family, academic excellence and the abundance of her athletic accomplishments are all characteristics of excellence. Ella's impact on our school and our community will be spoken of for years to come."
While Maiden was able to participate in sports at Cornerstone Christian Academy while being homeschooled, eventually the itch came for a change.
"It didn't bother me until I started playing sports, and then I was like 'OK, I kind of would like to play with bigger teams,'" said Maiden, whose sister, Avery, is a sophomore at Patrick Henry. Her younger sister, Elaina, is finishing up the seventh grade.
Miller recalled how emotional her mother was upon dropping her daughter off for a bus trip with the volleyball team. Ella? Not so much.
"Mom was tearful, Ella was like, 'Let's go,'" Miller said. "She got on the bus and was smiling and instantly was goofing off with the girls. They were singing their songs on the bus, so it was just immediate. We had a great group of girls who embraced her and loved her.
"That is Ella — she can easily fit in where she is at because she is friendly, she is approachable, and she likes to have fun. Obviously, there were some challenges, but I think her mom and dad prepared her well. … They really provided great structure, great accountability, great discipline, and [they] nurtured her, and she was able to come and spread her wings and do what she has done."
Maiden wasted no time making her mark, leading the Patrick Henry volleyball team to the Class 1 state championship in 2018. That was followed in the spring of '19, helping the Rebels claim the state title in track, with Maiden participating in seven events in a single day, setting a state record in the pole vault despite practicing just once a week at Tennessee High under longtime THS track coach Tom Murrell.
Yet Miller has other memories. She recalls how Maiden interacted with her younger daughter, slipping her a note of encouragement after a rough night on the volleyball court.
"Those are the things that people don't see. We can see her smash a volleyball, we can see her pole vault, but those for me are things that set her apart and that people don't get to see is just the person she is," Miller said. "This is not like a typical high school senior.
"She is a coach's dream. Her athleticism clearly sets her apart. I love watching her. I have said oftentimes I am glad she is on our side of the net. Ella comes into practice every day to get better. She comes in every day with the mentality that I didn't do that right, I need to fix that, or I didn't do that, I need to fix this better.
"Sometimes we are having to tell her to stop thinking and play because she is constantly analyzing herself and wanting to improve, wanting to get better, which … that was awesome as a coach because she is coachable."
Maiden has thrived in more than just sports. She also serves as president of the Student Council Association and is a Washington County Community Scholar. She is active in her youth group at Abingdon Bible Church, enjoys going on mission trips and assisted with day camps offered when Washington County schools went virtual during the COVID-19 shutdown.
"She is great. She is one of the friendliest girls I have ever met. She gets along with everybody, and she loves to help other people. She is not focused on herself, she is focused on the team," Patrick Henry track coach Mark Love said. "She wants to get better, but if she sees somebody else on the team that needs help, she is more than willing to help them out with anything.
"It doesn't matter what it is, long [jump], triple, high, whatever event she does. She wants to be successful as an individual, but she is all about the team. She wants to see the team be more successful than just herself, and that is what I admire about her."
Helping others has never been a problem for Maiden. She is just returning the favor.
"I have had so many older girls or older guys in my life that have tried to help me in certain sports or in the classroom," said Maiden, who played the lead role in nine of 12 plays from 2013-18 with the Barter Youth Academy and did the same in "High School Musical" at Patrick Henry in 2019. "I hate to see people struggle, and honestly with most of the volleyball team, they are like my little sisters, so of course I want to help them. Little brothers and little sisters on the track, if they are struggling with something, I definitely want to be there to support them."
Maiden will graduate on May 27, but her athletic career at Patrick Henry is far from over, with track season continuing into late June. Love thinks the eight-girl team could challenge for district and region titles, possibly even more, and knows Maiden will do what it takes to make it happen.
"She is a very outgoing person, and she is extremely easy to coach. She does everything you ask her to do," Love said. "She is just been a joy to coach since she has been here. She is the kind of person I can put in multiple events, and she doesn't complain about it.
"She definitely did that for us when we won state a couple of years ago. She was a little tired, but she just hunkered down and got it done. I am extremely proud of them. Her and her sister, they are all just great people. I love working with them, and I can't think of anybody who would be more deserving for this award than her."
Patrick Henry would have been considered the favorite to repeat as state champs last spring, but COVID-19 dashed those hopes.
"It was very challenging that spring because we had such a high chance of winning the state title in track again, and I was just devastated for just all the seniors across the nation, especially athletes, and how their last season was canceled. It was very hard," said Maiden, who continued to train by running through the fields with her sisters on the family farm in Damascus.
Still, Maiden refused to allow that disappointment to cloud her optimistic view on life.
"These past three years have probably been the best years of my life, and I have built so many relationships and friendships that I will never forget and so many memories," she said. "I think, just being here at the school, you learn how to work with different students and work with teammates, and working with each other is a big life lesson that people need to learn before you go off either into a career or into a serious relationship after you graduate."
Maiden's next stop will be Milligan University, majoring in business administration while playing volleyball and doing the pole vault. She dreams of a future in real estate, with hopes of owning rental and vacation homes. She could even wind up as a coach down the road.
Miller is confident Maiden will make her mark at Milligan.
"She is going to have challenges because college is different, but I do think Ella is just so open to new experiences, so that is exciting for her," Miller said. "She likes to be challenged, and so I just see college really opening up a lot of doors for her and challenging her in ways that will just be exciting."
Maiden will, no doubt, be missed when the doors open at Patrick Henry in the fall. She will miss it too.
"I hope they remember me because of the relationships we have built throughout the years," said Maiden, who turns 19 on July 3. "Certain things like laughing and joking with the team. I hope they might think of all the jokes that we had or all the quirky things that the teams used to do with each other."
"She is very well-rounded; she does a little bit of everything," he said. "There are not many kids that you see that can handle that. She has got so much she is doing. School, first of all, with academics, she is a great student, and athletics and doing all the other stuff. It is very hard to do, it is a rarity when you find a kid that can do that, and she is definitely one of them.
"I am definitely going to miss her, not just as an athlete but as a person. She is just fun to be around."