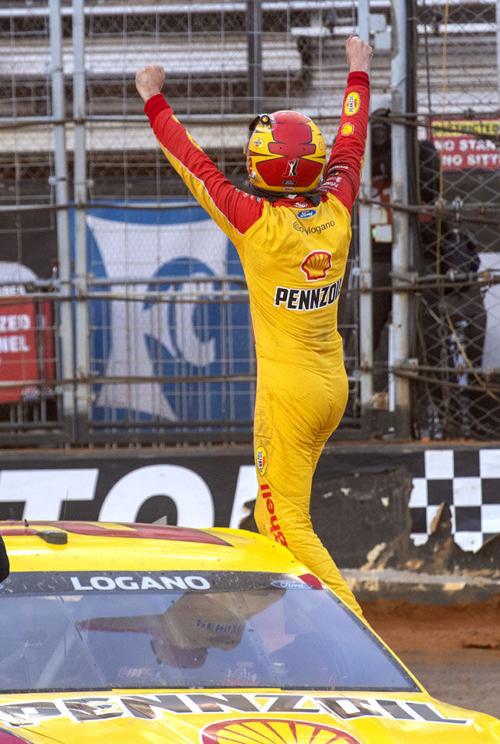 BRISTOL, Tenn. — Just before the final stage of Monday's Food City Dirt Race, Bristol Motor Speedway general manager Jerry Caldwell announced that the track will host another NASCAR Cup weekend on dirt in the spring of 2022.
That was great news for Joey Logano.
The Team Penske driver mastered a variety of obstacles over the final 61 laps late Monday to win the first Cup race held on a dirt surface since 1970.
"Man, it's incredible," Logano said. "There's nothing like winning at Bristol. But being the first to win on dirt here is really special."
Logano became the seventh different winner this season.
"I was getting nervous because there were so many first-time and different winners," said Logano, who was won at least one Cup race in 10 straight years. "I wanted to get a win to make sure we get in the playoffs. We did a lot of work in the dirt department over the last few weeks, and it helped."
An estimated crowd of 30,000 attended the most highly-hyped event on the schedule. Many of those fans cheered when Caldwell revealed that the dirt will return to Bristol.
And the fans rose to their feet again when a caution with four laps remaining created a two-lap shootout for the top prize.
Denny Hamlin, who was running second at the time, attempted to make a charge at Logano on the high side of the track. That allowed Ricky Stenhouse Jr. to slip past Hamlin.
"We had a blast," Stenhouse said. "Our car was really good on the long run, but we needed more on the restarts."
Stenhouse said he and Kyle Larson spent time consulting with the BMS track prep crew Saturday night.
"They did a great job of getting this thing raceable with all the rain and all the challenges," Stenhouse said. "We went back and forth overnight on what we were going to do with our car. I was terrible at the start of the race with the green track, but once the moisture blew off we got back to where we were in practice and I felt really good with it."
According to Hamlin, his high-side gamble was based on instinct.
"I really couldn't see a whole lot," Hamlin said. "I thought I could run the top hard, but they didn't prepare the track in between cautions like they did before. It was just marbles up there.
"I thought I had a shot. I just cut [Logano] too many breaks when he was cutting us off. They had a little better car in the long run. We're third-best again."
Daniel Suarez, the surprise winner of the second stage, and Ryan Newman rounded out the top five. Before venturing to Smoky Mountain Speedway in Maryville, Tennessee, last week, Suarez said he had zero experience racing on dirt.
"It feels so good to be able to race with these guys and have some fun up front," Suarez said. "Hopefully, our time will come very soon."
Newman described his day as "fun."
"We got turned around from a racing accident early and had to fight. We just didn't make it all the way back to the front," Newman said.
As the track surface became increasingly slick, the keys to success were technique, throttle control and patience.
"It was definitely a challenge," Logano said. "When they watered the track in that last stage, it kind of changed everything. Denny and I had a heck of a race. I had to defend the lead position and work the lap cars.
"Everyone at Team Penske put together some really good cars to be able to come here and wing it. Nobody really knew what to put in the car, but we were able to adjust the right way and get into Victory Lane."
Martin Truex finished 19th despite leading a race-high 126 laps.
The race was slowed by a total of 11 cautions, but the show went caution-free for the first 40 laps until a wild five-car incident on the backstretch. Aric Almirola had the worst luck when his car was slammed by several drivers.
"You can't see, that's the biggest problem," Almirola said. "We can't reach out there and pull a tear-off on the windshield."
The challenge intensified around 6 p.m. when drivers were faced with heavy dust combined with the glare of the sun. To relieve congestion and help with visibility, NASCAR opted to switch to single-file restarts.
Following the conclusion of the second stage, the water truck and several packer cars were summoned to help alleviate the dust issue during an extended break of 10 minutes.
Traditional BMS favorite Kyle Busch was forced into the pits on lap 10 due to an overheating issue and was never a factor again.
Dirt track aces Kyle Larson and Christopher Bell were involved in the third caution along with Ross Chastain. The trouble began when Bell lost control on the high side of the track.
"I knew it was a little bit slick, but I felt like I could go up there and make some time," Bell said. "I tried to go in shallow and pick it up on exit, and it was just really greasy up there."
For dirt racing diehards, the best news of the day came from Caldwell.
"The dirt experience is unlike any other for NASCAR fans and could become a must-see event every season," Caldwell said.