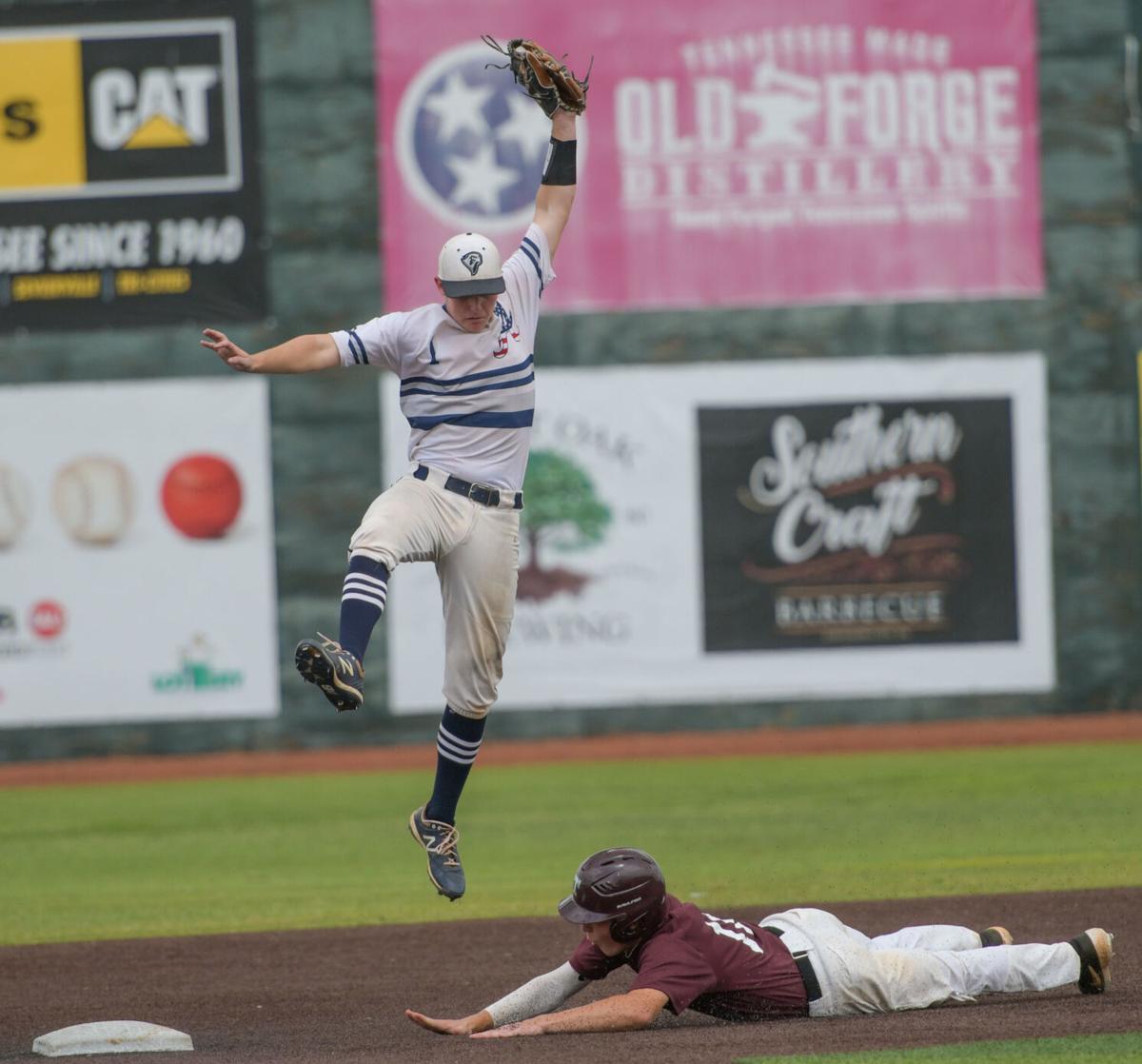 JOHNSON CITY, Tenn. — Perhaps Payne Ladd put it best when asked to sum up his team's performance on Friday afternoon.
"The first game was a rampage, and the second game was a rampage," he said. "All around, it was just a great job."
Impressive pitching, solid defense and stellar hitting resulted in the Vikings from Bristol, Tennessee, rolling to 11-6 and 9-2 victories over the A-Town Falcons from Abingdon, Virginia, and sweeping the best-of-three East Tennessee High School Baseball League championship series at Cardinal Park.
The Bristolians won the league's Eastern Division title and will play a squad from the Knoxville area in this week's ETHSBL World Series. That best-of-five series begins today with two games at Smokies Stadium in Kodak, Tennessee.
The Vikings (13-3) put it all together on Friday as two rising sophomore pitchers at Tennessee High stepped in and stepped up.
Braden Wilhoit crafted six efficient innings of relief to pick up the win in the first game. How would he describe his funky delivery?
"Sidearm, submarine," Wilhoit said. "Something like that."
It was certainly something effective.
Wilhoit was on the bump Thursday when Game 1 was suspended due to rain in the top of the third inning with the score knotted up at three runs apiece.
"I figured I was coming back [to pitch on Friday]," Wilhoit said.
He came back, all right. In a big way.
"For a sophomore to be in that moment, I'm just really proud of him," said Vikings coach Preston Roberts, who doubles as the boss of Tennessee High's baseball program. "A tie game; he probably slept on it all night and realized he had to do it again."
Wilhoit only struck out one batter, but he yielded just two singles and retired the final 12 batters he faced. He's a kid with impressive athletic bloodlines, as his father, Andy Wilhoit, starred in baseball at Sullivan East High School and King University, while his mother, Angie Fickes Wilhoit, played multiple sports at East and remains one of the best women's basketball players to ever take the floor at East Tennessee State University.
Braden Wilhoit certainly has an iron will and is a gamer like his parents.
"I was just hitting my locations and just letting them get themselves out," Wilhoit said.
Ladd was even better on the mound in the second game as the tall southpaw carried a no-hitter into the sixth inning.
He ended up teaming with Logan Quales on a three-hitter.
"Payne probably felt like he was done pitching for us this summer, but we called him on the phone and told him to wear his baseball pants to the game today instead of his shorts," Roberts said. "Then he ends up pitching."
What made Wilhoit and Ladd the top choices for Roberts?
"If you throw 82 to 84 [miles per hour] at Abingdon, they're going to light it up," Roberts said. "We just tried to keep them off balance with a sidearm righty and a slow-tossing lefty."
Scoring 20 runs on 23 hits over the course of the two games turned out to be pretty important too.
The Falcons (12-3) had given up just 10 total runs over the course of their first 13 ETHSBL games.
"They hit the ball like crazy," said A-Town Falcons coach Andrew Francisco. "I thought our pitchers threw strikes, they just hit it. … They're a really good team and well coached."
The Vikings strung together five straight hits in the third inning of Game 1 and never let up.
Cole Presson (three hits), Evan Mutter (4-for-4, four runs), Brayden Blevins (4-for-5, four doubles, four RBIs), C.J. Henley (three hits, two RBIs) and Greg Harris (two RBIs) contributed to a 17-hit barrage.
"We were ready to go, and we swung the bats early," Mutter said. "We just kept our momentum going."
Bryce Snyder (two hits), Garrett Embree (two hits) and Jared Graham (two RBIs) were among the standouts at the plate in Game 2.
Alex Odle had three RBIs in the first game for the A-Town Falcons, while Ethan Gibson, Brody Dotson and J.I. Hayton accounted for the team's hits in Game 2.
All three of the Southwest Virginia squad's losses in the ETHSBL came at the hands of the Vikings.
In the end, the Tennesseans executed on Friday, and the A-Town Falcons didn't.
"That's exactly right," Francisco said. "Their kids threw strikes and kept us off balance all day. Congratulations to them, and we wish them luck going forward."
Tennessee High compiled a 2-2 record prior to the 2020 TSSAA season being shut down back in March due to the coronavirus pandemic. However, many members of that team have gotten an opportunity to flourish in the East Tennessee High School Baseball League.
"Some of our younger guys got six games in, and the older guys have gotten about nine games or close to that," Roberts said. "We've got a larger sample size on all our guys and have been able to collect a lot of valuable information. It's been a great experience."
Be the first to know
Get local news delivered to your inbox!