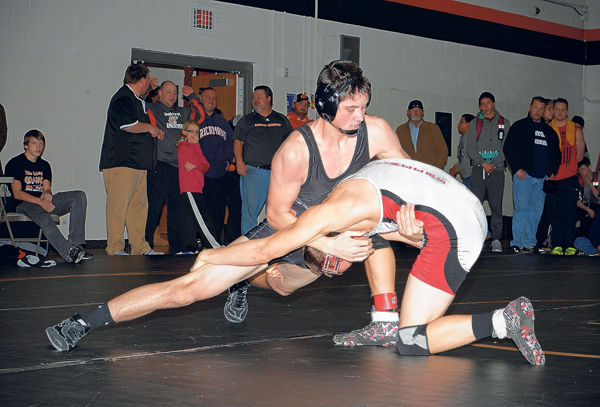 The Rural Retreat wrestling team came out on top at the Rural Retreat Invitational held last Saturday at Rural Retreat High School.
Rural Retreat had eight champions out of the weight classes to win the tournament. George Wythe placed eighth.
Here are the final team scores: Rural Retreat, 295; Castlewood, 136; Galax, 107; Lebanon, 102; Patrick Henry, 100.5; Glenvar, 83; Grayson County, 76.5; George Wythe, 69; Central, 67.5; Holston, 38; Floyd County, 24; Rural Retreat B, 16; Grayson County B, 14; Glenvar B, 13; Honaker, 10; Galax B, 4; Patrick Henry B, 3; George Wythe B, 0; Central B, 0.
Here are the top four finishers in each weight class:
106: Trey Boyd of Rural Retreat, Will Anders of Grayson County, Tanner Speight of Glenvar and Nathan Bernis of Galax.
113: Josh Wynn of Rural Retreat, Brant Cummins of Grayson County, Grayson Mullins of Central and Zach Belcher of Glenvar.
120: Jacob Wynn of Rural Retreat, Jaron Smith of Lebanon, Austin Farris of Patrick Henry and Teon Vu of Glenvar.
126: Ty Boyd of Rural Retreat, Matthew Duncan of Glenvar, Isaac Wright of Patrick Henry and Jacob Hale of Grayson County.
132: Marshall Taylor of Rural Retreat, Tucker Matney of Lebanon, Trevor Shupe of Central and Darrell Glover of Galax.
138: Josh Penuel of Rural Retreat, Will Lawrence of Grayson County, Peyton Watson of Lebanon and Austin Lamrouex of George Wythe.
145: Caleb Snider of Rural Retreat, J.C. Potts of Lebanon, Brandan Davis of Castlewood and Casey Lake of George Wythe.
152: Craig Eisert of Patrick Henry, Trent O'Neil of Rural Retreat, Jarrett Jessee of Central and Cody Luper of Glenvar.
160: Leighton Powell of Rural Retreat, Austin Cox of Lebanon, Noah Young of Castlewood and Joe Richardson of Holston.
170: Jared Ring of Castlewood, Julian Maxwell of Galax, Devan Meredith of Rural Retreat and Andy Yancey of George Wythe.
182: Joseph Dixon of Galax, Harley Mitchell of Rural Retreat, Devin Martin of Holston and Ethan Dean of George Wythe.
195: Caleb Spurlin of Galax, Spencer Elam of Castlewood, Hunter Moore of Patrick Henry and Drew Chapman of Glenvar.
220: Jackson Case of Castlewood, Cade Rouse of Rural Retreat, Andy Garrett of Patrick Henry and Logan Deel of Rural Retreat.
285: Jeffrey Keyston of Floyd County, Justin Hite of George Wythe, Garrett Shortt of Central and Corey Parsons of Castlewood.
Be the first to know
Get local news delivered to your inbox!