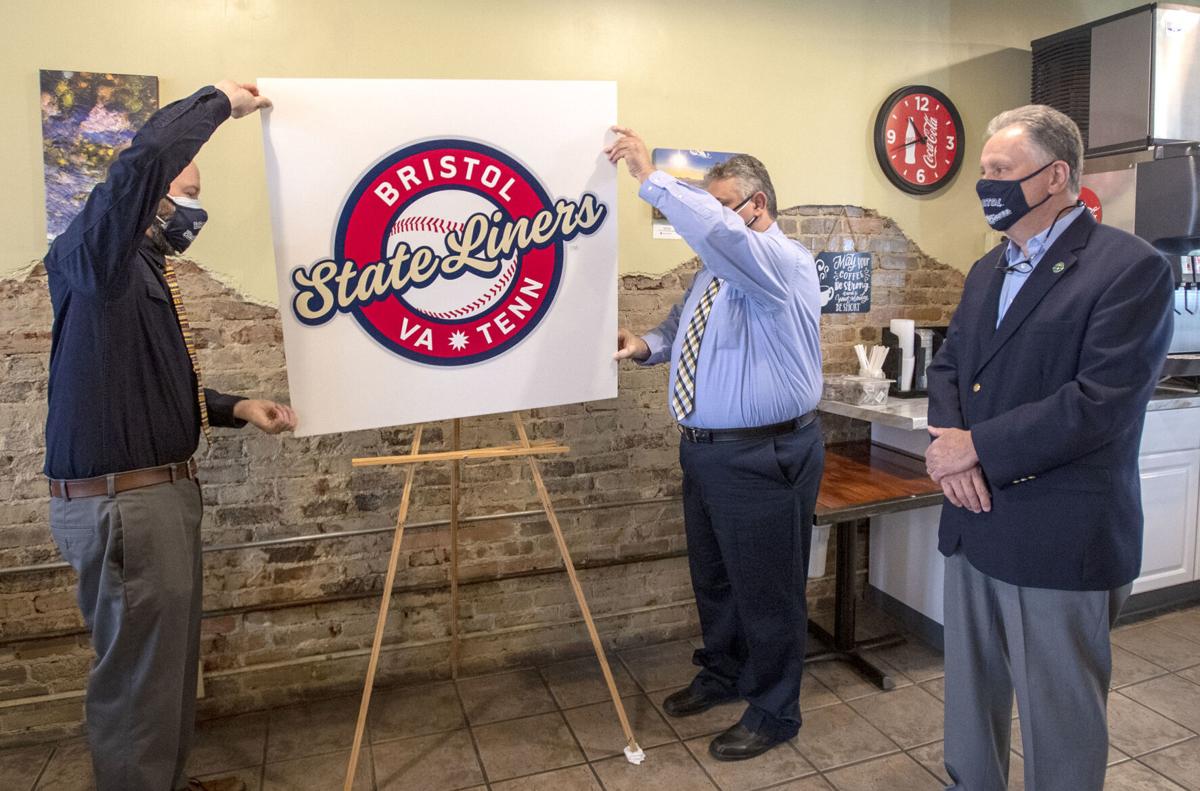 An old moniker has been reborn in the new version of the Appalachian League.
The Bristol State Liners officially returned on Monday morning, as the nickname and logo of the city's inaugural summer collegiate baseball team were unveiled during a press conference held at Bristol Bagel & Bakery on State Street.
The team colors are red, navy blue and cream, with State Liners spelled out in cursive script.
The name references Bristol's unique geography with twin cities in Tennessee and Virginia, while also paying homage to baseball's rich heritage in the community.
The Bristol State Liners debuted in 1921 and had a five-season run as a Class D minor league franchise in the Appy League. The name was later used by a semi-pro team that competed against other area squads in the Burley Belt League, and there have been several youth-league squads in Bristol that have gone by the name as well.
The new version of the Bristol State Liners are scheduled to play their first game on the road against Johnson City on June 3 in what will be opening night for the new amateur wood-bat league showcasing some of the nation's top college freshmen and sophomores. It will occur a century after the original State Liners debuted.
"I think that's pretty amazing we were able to tie that in and bring that back," said Bristol president and general manager Mahlon Luttrell.
The city previously housed professional teams known as the Boosters (1911-13), Twins (1940-55), Tigers (1969-1994), White Sox (1995-2013) and Pirates (2014-2020) too, but State Liners was the most memorable for many.
"There were some off-the-wall names some folks submitted and some other good suggestions as well," Luttrell said. "The Bristol State Liners just kept coming up, coming up, coming up, and we had to go with that. We didn't want to go out and spend a bunch of money to have some marketing group give us something that we already knew would work."
The Bristol State Liners won the Appalachian League championship in 1922 with Patsy O'Rourke managing. The team lost its final game that season to Kingsport, 1-0, in a nine-inning game that reportedly took 23 minutes to finish and was claimed as a world record by those involved.
Hobe Brummette, Hoke Dillinger, Jiggs Haenel and future big-leaguers Herman Layne and Joe O'Rourke were among the stars of the State Liners when they were a pro franchise.
When it was rebooted a few years later as a semi-pro operation, the roster was comprised mainly of local players.
DeVault Stadium houses Boyce Cox Field, named after a man who played for the Bristol State Liners and later served as president of the franchise when it was a Detroit Tigers and Chicago White Sox farm team.
Recently retired Tennessee High golf coach Bob Zeiger and his father, Buck, both played for the State Liners in different reiterations of the franchise. Bob Zeiger was excited about the rebranding of the familiar name.
"It's great," Zeiger said. "I still have some scorebooks and newspaper clippings [of the State Liners] from the 1940s."
Bristol, Virginia, resident Andrew Kristofek's father, Andy, was once a State Liner as well.
"It was great to see the name State Liners selected for the team," Kristofek said. "That name in itself has Bristol baseball history. I can't wait to see the wooden-bat league get started and watch great baseball being played again in Bristol."
After Major League Baseball restructured its player development system in 2020 and contracted 40 minor league affiliates, it was announced in September that the Appy League would transform into an amateur circuit and be jointly run by Major League Baseball and USA Baseball.
Bristol Baseball Inc. — a nonprofit organization comprised completely of volunteers — remains the operator of the city's franchise, with Luttrell continuing his role as president and general manager. Luttrell is also the mayor of Bristol, Tennessee.
Players from colleges such as Oklahoma State, UCLA and Vanderbilt have already committed to play this summer in the 10-team Appalachian League, and coaching staff should be announced soon.
"The next stage as far as local operators is trying to get some additional licensing agreements done where we can start getting merchandise selling," Luttrell said. "From that point, we'll start releasing information on ticket packages and stuff. As you can imagine, there are still a lot of details to work out."
The Bristol State Liners and Burlington Sock Puppets were the only Appy League team nicknames revealed early last week. The other eight franchises were expected to release their names in the coming days.