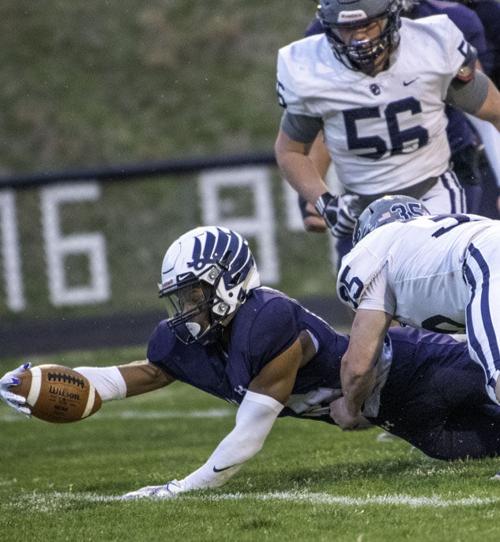 ABINGDON, Va. – Running the football and playing good defense have long been staples of winning football. Abingdon certainly brought both fundamentals on Friday night.
The Falcons dominated Carroll County on each side of the line of scrimmage, rolling to a 42-0 beatdown of their guest from Hillsville in semi-final play of the VHSL Region 3D playoffs.
Coach Garrett Amburgey's unbeaten club never gave the Cavaliers a chance in this one.
Abingdon finished the evening with 439 total offensive yards — 335 on the ground — while limiting Carroll County to a paltry 80 yards.
With star running back Martin Lucas not carrying it even one time, the Falcons (6-0) ran it down the throats of the Cavaliers, who allowed 14 plays of 10-plus rushing yards.
The Abingdon offensive line punished Carroll County (4-2) all evening.
"It all starts up front," said third-year Falcon mentor Garrett Amburgey. "That offensive line was really doing some work out there. Those guys – Charlie Sturgill, Dasean Lucas, Josh Lockhart, Alex Odle, Kaden Hounshell – all of 'em played excellent.
"And then our fullbacks [Reese Jones and Eli Ratcliff] do an excellent job of blocking. Reese Jones had blocks all night and I was glad to see him get a touchdown there at the end because he does such a great job blocking for us."
Malique Hounsell, a 5-foot-9, 190-pound junior, was the star of the Abingdon ground attack, toting it 21 times for 197 yards and touchdown runs of 27, 7 and 3 yards.
Bishop Cook, also a junior, had a nice game as well, with TD runs of 15 and 4 yards while gaining 65 yards on just six carries.
In addition, the physical Jones ran for 25 yards and capped the game's scoring with a 5-yard plunge with 6:40 left in the game.
"Malique Hounshell and Bishop Cook ran the ball really hard," Amburgey added. "We had a couple fumbles there, but those guys were working hard and finishing runs and playing the way we want to play Abingdon football."
Defensively, linebacker Tyler Harless seemed to be everywhere for Abingdon, which never allowed Carroll County to penetrate the Falcon 35-yard line.
"Our defense came away with another shutout," Amburgey said. "I can't say enough about our linebacker play. Tyler Harless flies around and makes plays and he brings the energy, and Jake Johnson is the captain of that defense and he gets us in the right places. Jake Puckett in the secondary is so good at communicating back there ...
"It was just a terrific night all the way around and I'm proud of all the guys."
In addition, Max Jessee hit all six of his point-after touchdown kicks.
Abingdon will play for the Region 3D championship next weekend against either Lord Botetourt or Christiansburg. Those teams play at 1 p.m. today in Daleville.
A—M.Hounshell 7 run (M.Jessee kick)
A—M.Hounshell 27 run (M.Jessee kick)
A—Cook 4 run (M.Jessee kick)
A—Cook 15 run (M.Jessee kick)
A—M.Hounshell 3 run (M.Jessee kick)
A—Rees.Jones 5 run (M.Jessee kick)
First downs: CC 6, A 24; Rushes-yards: CC 28-37, A 39-335; Passing yards: CC 43, A 104; Passes (A-C-I): CC 4-15-0, A 9-21-0; Fumbles: CC 1-1, A 5-2; Penalties: CC 5-40, A 6-45; Punts: CC 7-33.1, A 1-32.