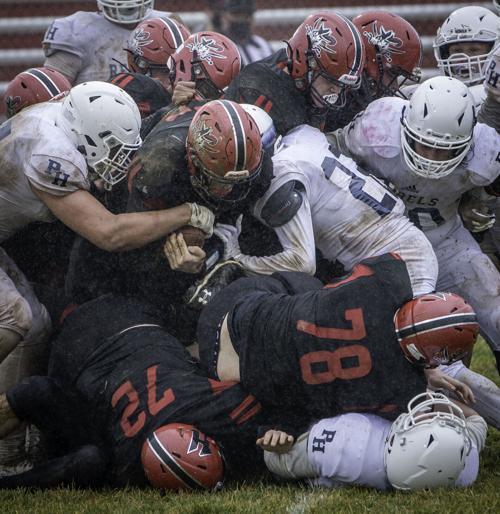 DAMASCUS, Va. — In his previous six seasons as head coach at Holston, Derrick Patterson had heard all about the Cavaliers' rivalry with Patrick Henry.
He just hadn't experienced anything positive from Holston's side.
"It has been a rivalry. When I first came here, all these kids, they were very, very passionate, and the coaches, the whole community, was very, very passionate about this rivalry game," Patterson said. "Obviously we have been on the wrong side of it here lately, but we were finally able to break through tonight.
"I am just really proud of our kids. [Patrick Henry] Coach [Seth] Padgett and those guys do a really good job, and tonight we were able to make a few more plays. We are real fortunate, and I am just excited for the kids."
Holston (1-1) used a strong running game, an elusive quarterback and stingy defense to blank the Rebels over the final three quarters to earn a 20-12 Hogoheegee District victory over Patrick Henry on a rainy Saturday afternoon in Damascus.
It was the Cavaliers' first win over the Rebels since 2013.
"Not in my whole time being here have I beaten them," said Holston senior quarterback Quaheim Brooks, who threw and ran for a touchdown. "It is crazy; we are all happy. We are all going crazy in the locker room. It is crazy."
Lane Blevins can relate. His name was seemingly on echo all game long with making stops, while also scoring in the final minutes of the second quarter to put the Cavaliers up 14-12 at the break.
"It feels great. We came to practice, and we were ready for them," said Blevins.
"To bounce back and not having beaten them in seven years," added Patterson. "It is a rivalry game, it is a district game. It is huge. I am just really proud of our kids."
Patrick Henry (0-1) played its first game under Seth Padgett, who replaced Mark Palmer after last season. The Rebels led 12-8 after one quarter but didn't score again, fumbling away their final scoring opportunity at the goal line in the final seconds of the opening half.
"Not having a scrimmage, not having a benefit game, that is tough, but that is no excuse for us not having discipline, jumping offsides so many times and extending their drives, and then we would get in there about a foot from scoring, and we fumble," Padgett said. "That stuff is on me, and we will get it fixed. We will be better next week."
Patrick Henry took a 6-0 lead on the game's second play, a 64-yard dash down the left sideline by speedy Connor Beeson, who has returned from a knee injury suffered last season. He added a 5-yard score later in the quarter, finishing with 126 yards in the game, but 104 of those came on two carries.
"I thought he played pretty well on both sides of the ball, but he did have some really good runs. … He is coming off of an injury from last year, and he looked good. He is one of the best players, not only in this district, but in this region," Padgett said. "You have to give a lot of credit to them. Holston did a great job and had a great plan, and that is a very good football team, and that is a tough team to play your first game.
"You haven't played in 15 months, but they did a great job. Hats off to them."
Holston answered Beeson's first score, capping an 11-play drive with Brooks connecting with a sliding Ethan Norris in the end zone for the 8-6 lead after the conversion run from Trent Johnson. After Beeson scored again, the Cavaliers went up to stay on a 3-yard run by Blevins with 2:57 left until halftime.
"We went into this game really blind. We really had no idea what they were going to do, and so we had to definitely try to make some adjustments, and my hats off to the coaching staff," Patterson said. "They were very, very good at communicating today about what was going on, and we were able to make some adjustments and put our kids in better positions.
"Hats off to the kids. They did a great job of executing the game plan; they're the ones that won the game for us. It definitely presented some challenges for both teams — but just super proud of our kids."
Patrick Henry had one final scoring opportunity, keyed by a 40-yard run from Beeson that put the ball inside the Cavaliers' 6. Four plays later, and the Rebels couldn't get the ball across the goal line, with the slippery ball squirting away from quarterback Chase Brown on the final chance.
"We had the ball third and goal from the 1 and then fourth and goal from the 1," Padgett said. "We were trying to sneak it in, and we fumbled the snap — those things that are on me. I guess I didn't have them as well prepared as I should have, but those are things we will fix, and we will be better for it next week."
The final points came with 4:11 left in the fourth quarter when Patrick Henry appeared to have Brooks stopped in the backfield. Instead, the senior reversed field and dashed 15 yards to the left pylon for the final points. He finished with 53 yards on the ground, while teammate Jordan Ezell added 78.
"I was just being me, I guess," said Brooks. "I was just trying to find a way."
"He is so elusive. He does a really good job of taking care of the ball," Patterson said. "Sometimes we get a little frustrated with him when we feel like something is there and he sees something else, but he is a playmaker, and more times than not, he is going to help us make a play to win the game.
"That is kind of what happened there."
There were only two turnovers on a rainy day, with Patrick Henry's Ean Rhea and Logan Walden of Holston each picking up fumbles.
"We definitely had a few opportunities that we missed there, but at the end of the day, we made the plays and were able to pull that one out," said Patterson, whose Cavaliers got to the 3-yard line early in the second quarter but came away with no points. "I was proud of our kids; I thought they handled the conditions well. You are going to make mistakes, but we pulled it out, and that is all we can say."
Patrick Henry finished with negative yards in the second half, with Beeson unable to get loose. The Rebels completed one late pass in the game for one yard.
"We made some changes at halftime," Blevins said. "We got on the [chalkboard], we got some new stunts going on, and we stopped him."
"Our defense toughened up," Brooks said. "It was really the defense that won the game for us."
Patrick Henry 12 0 0 0 - 12
PH-Beeson 64 run (run failed)
HL-Norris 6 pass from Brooks (Johnson run)
PH-Beeson 5 run (run failed)
HL-Blevins 3 run (run failed)
HL-Brooks 15 run (pass failed)
First downs: PH 8, HL 15. Rush-yards: PH 36-232, HL 59-208. Pass yards: PH 1, HL 6. Comp-Att-Int: PH 1-3-0; HL 1-6-0. Fumbles-lost: PH 7-1; HL 3-1. Penalty-yards: PH 7-36, HL 8-61. Punts-Avg. PH 4-30.7, HL 2-39.0.