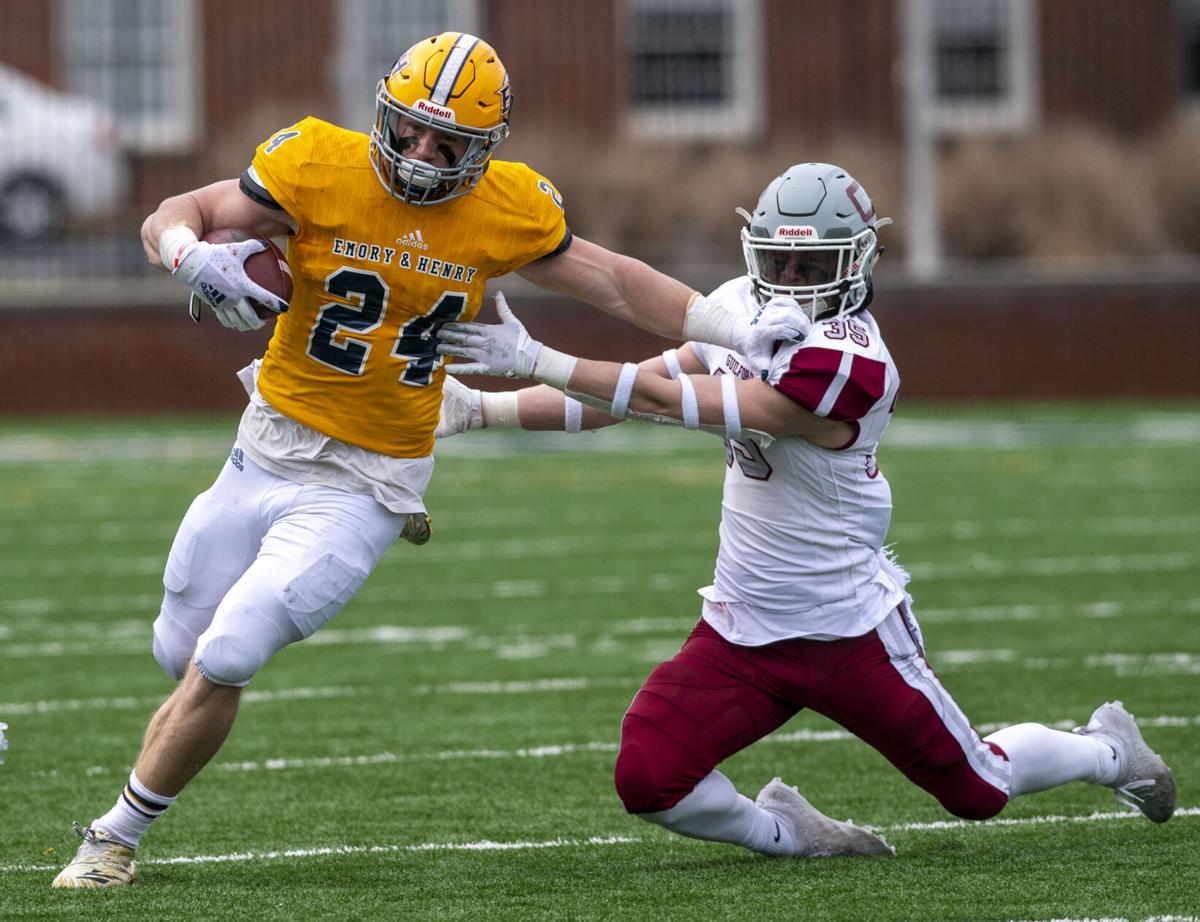 EMORY, Va. — The Emory & Henry Wasps entered Friday afternoon's football game searching for a spark on offense.
Grayson Overstreet answered the call.
The 6-foot-2, 220-pound sophomore from Moneta, Virginia, accounted for 109 yards rushing and two scores as E&H rolled to a 47-6 win over the Guilford College Quakers.
In the first two games this season against Ferrum and Southern Virginia, Overstreet faced stacked defenses designed to stop him.
"I was used to that in high school, and it doesn't bother me," Overstreet said. "The defense can key on me all they want, but it's hard to stop our offense because we've got so many weapons."
After a slow start Friday, the Wasps (3-0, 3-0) found success with a twin-back rushing attack operating behind the blocking of 6-1, 240-pound sophomore tight end Zach Venhors. Much of the yardage for Overstreet came on sweeps.
"I haven't run a toss sweep since high school, or maybe even rec league," Overstreet said. "I like it all, and we all block for each other."
As the Guilford safeties moved closer to the line of scrimmage, E&H quarterback Hunter Taylor took advantage in a big way. The 6-foot senior passed for 246 yards and two touchdowns, while running for 36 yards and another score.
"When the defense comes down like that, we've got kids on the outside that can fly," Overstreet said.
Elijah Rice, a speedy 5-8 junior transfer from Myrtle Beach, starred for the second straight week with 199 yards receiving and a score on six catches.
The suspense was over by halftime, as the Wasps collected 316 total yards en route to a 33-6 lead. E&H finished with 644 total yards, including 364 on the ground.
Following several years of pass-heavy, run-pass option offenses, the Wasps are moving in a different direction.
"No question, we want to run first," E&H head coach Curt Newsome said. "We've got three really good backs, and I think we've got the best back in Division III with Grayson."
The Wasps also have a potent defense.
Before Friday's game, E&H was allowing just 12 yards rushing per game with 14 sacks. The Wasps collected seven more sacks against Guilford, with 6-4, 250-pound sophomore transfer Jay Swegheimer pushing his official season total to 6.5.
After registering 40 sacks at massive Boone High School in Orlando, Florida, Swegheimer said he received recruiting interest from the likes of Air Force, Army and Fordham.
Swegheimer discovered E&H through Overstreet when both were freshmen dealing with labrum injuries on the University of Richmond football team.
"It was an adjustment, but I've loved it here ever since I stepped on campus," said Swegheimer, who grew up 25 minutes from Walt Disney World. "Our defensive line and defensive coaches are amazing. We all just go to work."
How did Overstreet convince his former Richmond teammate to make the jump to rural Southwest Virginia?
"Grayson told me that he loved Emory, and I already knew some of the guys after going home with Grayson a few times at Richmond," Swegheimer said. "It was always a goal of mine to play at a school where football meant something, and everybody lives and breathes Emory football in this area."
Newsome said that Swegheimer originally expressed interest in playing both defensive end and tight for the Wasps.
"I wouldn't trade Jay for another defensive end in the conference," Newsome said. "He has a motor that never shuts off, and he plays so hard. We actually had him for six sacks in the Ferrum game."
According to Newsome, Swegheimer and Overstreet have the same mentality.
"Humble and team-first. You couldn't draw those two guys up any better," Newsome said.
Swegheimer has been working closely with new E&H strength and conditioning coach Mike Gentry.
Defensive line play has been key for E&H, despite the graduation of two players who earned preseason All-American mention.
"I'm tickled to death with that line," Newsome said.
T.J. Tester, Overstreet's former teammate at Staunton River High School, rushed for 82 yards Friday, while backup quarterback Tahleek Steele (Rock Hill, South Carolina) added 116 yards in total offense.
GC (0-2, 0-2) managed just 79 total yards, including negative nine yards on the ground. Guilford, which was intercepted three times, was slowed by six penalties in the opening quarter.
Former E&H quarterback Alex Manley was the bright spot for the Quakers with a game-high 11 tackles from his defensive back spot.
The next game for E&H will likely be for the ODAC title on April 2, at a site to be determined.
"Three weeks is a long time off," Newsome said. "We will just shorten our practices a little and get in the weight room with Coach Gentry."
For the rugged Overstreet, adapting to the bizarre word of spring football has been no problem.
"It's just football to us no matter what time of year it is," Overstreet said. "We come out here to put in work and to win. A [ODAC] championship is a good reward."