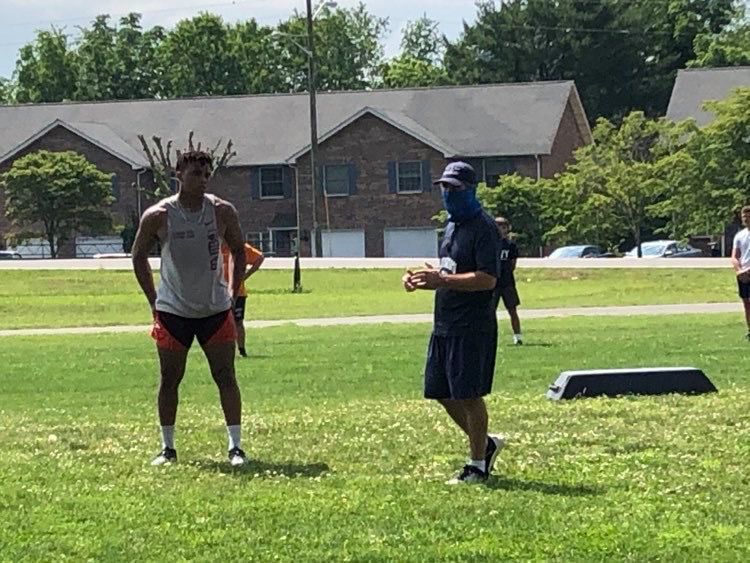 ABINGDON, Va. — The past few months have been worrisome for Scott Ratcliff.
A former football standout at Abingdon High School, Ratcliff has waited years for the 2020 season.
Eli Ratcliff, Scott's son, is a senior linebacker for the AHS Falcons.
"This is what every high school player waits for — your senior year," Scott Ratcliff said. "This is their opportunity to shine."
Like fans, coaches and athletes across far Southwest Virginia and the nation, the Ratcliff family has been monitoring the news relating to COVID-19 over the past three months.
So just how stressed has Scott been over the status of football games this fall?
A 6-foot-2, 230-pound linebacker, Eli Ratcliff has attracted interest from coaches at a variety of colleges.
And that's part of the reason why his father is battling with so much anxiety.
"That situation has been the toughest," Scott said. "Eli has missed several chances to compete at the next level."
Due to safety concerns with COVID-19, Eli was unable to make scheduled visits to schools such as James Madison University, East Tennessee State, VMI, Citadel and Old Dominion University.
"Eli really wants to play at the next level, but it's tough with so little exposure in Southwest Virginia," Scott said.
Following approval from the Virginia High School League and elaborate planning from local school officials, fall sports athletes across much of Virginia began out-of-season workouts Monday.
In the case of football, coaches wore facial coverings and followed a variety of other safety guidelines. For example, volleyball athletes were forced to bring their own ball.
"I was very relieved when I heard that workouts could start," Scott Ratcliff said. "I have confidence in our coaching staff to use all precautions needed to keep these student-athletes safe."
Before the VHSL gave the green light for workouts, Ratcliff said he considered having his son take a redshirt year where he would sign up for college classes and then return to the AHS team in 2021.
"Parents hold kids back when they are young," Ratcliff said. "They should be able to do the same in this case."
Mike Webb can sympathize with the Ratcliff family. Mike's son, Sage, will be a junior on the Richlands football team this fall.
Like Eli Ratcliff, Sage has caught the eye of college coaches. Sage is a 6-foot, 180-pound receiver, defensive back and kick returner.
"These past few weeks have been somewhat stressful with all of the uncertainties," Mike said. "We have a sports-minded family, and we've centered most of the past 20 years around games, practices and camps."
Mike said that he does not take the issues related to COVID-19 lightly and will continue to practice methods designed to lessen the risks of contracting the coronavirus.
"But we will try to live life as close to normal as possible," Webb said. "We're not overly concerned to the point where we would discourage Sage not to participate in sports, if we have a season."
Sage, who has gained 20 pounds since last season, participated in a junior day event for football prospects at Virginia Tech on March 1 before attending the spring football game at Coastal Carolina University in Conway, South Carolina, on March 5.
"Then everything shut down the following week," Mike Webb said.
According to Mike Webb, his son was forced to cancel planned visits to Navy, Liberty and the University of Virginia. Prospect camps at Marshall, Wake Forest and Duke were also on the agenda.
"Sage would have loved to have been on campus at these places to compete this summer," Mike Webb said.
Instead of fretting, Sage fought back with a Plan B on March 4. Along with several of his teammates, Sage worked to add strength and gain speed through running up hills in a weighted vest, pushing large truck tires and training with resistance bands.
For now, Sage and other prep athletes around Virginia must endure another waiting game as the traditional kickoff to the season in August approaches.
"We were relieved to hear that plans are being developed for at least an attempt of a fall sports season, and we fully hope that the VHSL can put together a plan in which that can take place safely," Mike Webb said. "I feel that the damage of not having kids in somewhat of a traditional classroom setting and on a ball field can have long-lasting negative effects on development."
On Thursday morning at Abingdon High School, AHS head football coach Garrett Amburgey oversaw conditioning drills with two different groups of athletes. The 45-minute sessions were held at 8:30 and 10:30 on the practice field.
"Our players have to sign a waiver to participate and understand that there could be an increased potential for exposure," Amburgey said. "We talk to them about the precautions and procedures that we have to follow."
Despite 80-degree weather, all the AHS coaches wore face masks. Before practice, the players underwent a temperature check and completed a health questionnaire.
"We've been fortunate to have some great weather this week, so we were able to work outside," Amburgey said.
Earlier in the week, Amburgey played music over the Falcon Stadium public address system as players underwent conditioning drills on the track that encircles the football field.
"We [are] working on body weight exercises, agility, conditioning and just getting acclimated this week," Amburgey said. "Next week, we're going to get back into the weight room with sanitation procedures. That's our plan."
Meanwhile, the worry over the long-ranging impact with COVID-19 continues for Scott Ratcliff.
"The curve needs to flatten, and for better or worse, our region is tied to the numbers in Northern Virginia," Ratcliff said. "If they continue to see an uptick, we are in trouble.
"I just hope and pray we actually get to play a full season."
Be the first to know
Get local news delivered to your inbox!