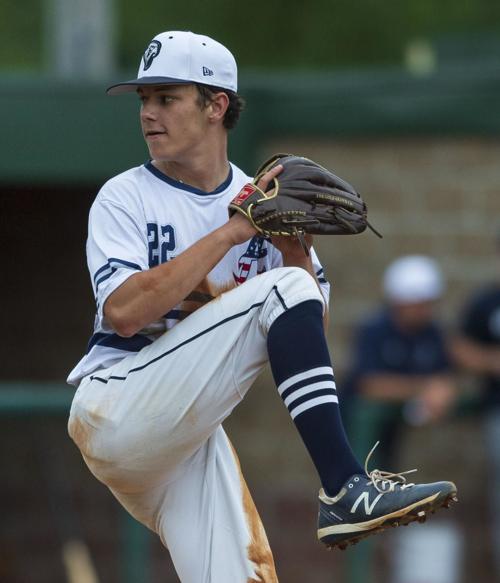 ELIZABETHTON, Tenn. — There was no Virginia High School League baseball season in 2020 due to the coronavirus pandemic, but Ethan Ketron has made a positive out of the negative.
"I think it can go either way," Ketron said. "I've had time to work on some things, but baseball's baseball, and I love it with all my heart. To be able to play is just the best part."
Ketron was super sharp last Wednesday as he teamed with Jake Thacker to throw a no-hitter for the A-Town Falcons of Abingdon, Virginia, in their 6-0 victory over the Bucs from Johnson City, Tennessee, in the East Tennessee High School Baseball League at Joe O'Brien Field.
The game was shortened to five innings due to rain, but any hope the Bucs had of a win disappeared well before the field got soaked by a deluge.
Ketron struck out six and allowed just two baserunners in his four hitless innings.
He issued a five-pitch walk to Kaleb Meredith to start the game, while walking Jaxon Williams with two outs in the third and then promptly picking him off first base. Other than that, Ketron was in cruise control.
"I just worked on throwing strikes and working ahead in counts," Ketron said. "The defense made a lot of good plays behind me."
Ketron was 6-1 with a 1.97 ERA in 2019 in helping the Abingdon High School Falcons advance to the VHSL Class 3 state tournament. The left-hander was locked in on Wednesday as the opposing batters could attest.
"He was throwing pretty hard," said Brayden "Bushy" Ryder, an outfielder for the Bucs and a member of the baseball squad at University High. "He mainly threw me fastballs. He didn't throw me a curveball, but I saw him throw it to some of the other guys, and it was pretty nasty."
Thacker struck out the side in order in the fifth inning to complete the no-no.
The A-Town Falcons (2-1) played flawless defense as well.
"That's usually what we rely on," said Brody Dotson, a rising senior at Abingdon High School. "Everybody on the team can throw and play defense. We just have to get the bats going."
Offense had been at a premium for the Falcons, who suffered a 2-0 loss to the Vikings (Bristol, Tennessee) and eked out a 1-0 triumph over Team Whited (Kingsport, Tennessee) in their first two games.
The team from Southwest Virginia collected seven hits on Wednesday, two of which came from Dotson. Ethan Gibson and Alex Odle drove in runs as well.
"It felt good to get some hits," Dotson said.
Be the first to know
Get local news delivered to your inbox!