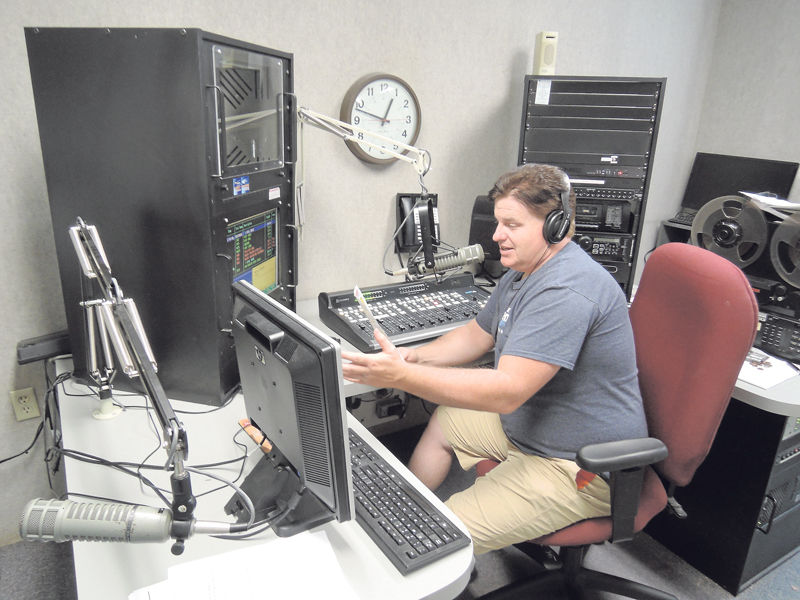 It's not easy getting up early in the morning to get to work. Unless, that is, you have a job that you absolutely love.
That is certainly the case for Nick Powers, an operations manager and radio announcer for WXBX (95.3 FM), WYVE (1280 AM) and WLOY (660 AM), divisions of Three Rivers Media Inc.
Powers, who joined the Wytheville radio station in January of 2017, gets to the station about 4:30 every morning when he does his daily wake-up show, which usually runs from 6 a.m. to 10 a.m. His day is not over then, however, because there are numerous tasks he needs to do around the station as the on air/operations manager. And then there's live broadcasts at various public events.
And after a full day at the station, Powers goes to his second job – broadcasting away baseball games of the Pulaski Yankees. That means driving to games held in Tennessee (Elizabethton, Bristol, Kingsport, Johnson City and Greeneville), North Carolina (Burlington), West Virginia (Bluefield and Princeton) and Danville in Virginia.
He admitted that he sometimes works 15 or 16 hours in one day. When he has an especially late night, he will skip his morning show and the station will use a pre-recorded show of his.
But Powers really doesn't consider it work when he gets to be deeply involved in two of the biggest passions in his life: radio and baseball.
The station and Powers are a perfect fit because WXBX (95.3) specializes in playing music from the 60s, 70s, 80s and 90s – which is right in his comfort zone. "I'm a big fan of the music of the 80s," said Powers. Among his favorite bands are the Monkees, the Bangles, U2, the Doors, and Huey Lewis and the News. "And I'm a big fan of Elvis."
And he's a big fan of baseball, especially the New York Yankees. "I'm a life-long Yankees fan," he said. His dream job would be to be the radio announcer for the major league team.
Barb Sewell, general manager at the station, said, "Nick has been a tremendous addition to Three Rivers Media and our stations, WYVE, WXBX and WLOY. His energy, enthusiasm and passion for sports announcing has brought new life to our programming…He commits 100 percent to his efforts here and has brought many new ideas to the table, such as the Saturday Night All Request Dance and Party Show. Radio is Nick's passion, and we are lucky to have him."
When asked about some of his favorite sports moments, Powers said it was the first baseball game he watched on TV when he was six years old. "It was game six of the 1977 World Series where Reggie Jackson became Mr. October with three home runs in the deciding game and helped the Yankees win their first World Series since 1962. I was only six-years-old, but that game, and my dad, who was a huge Yankees fan, hooked me on the Yankees and baseball."
Another game that stands out for Powers was played on Oct. 2, 1978, a one game playoff for the American League East Division Championship with the Yankees and Boston. "The game where Bucky Dent hit the big three-run homer and led the Yanks to the win. I remember being seven-years-old and rushing off the school bus and into my house to watch the game; it started at 3 p.m. on a Monday afternoon."
He also fondly recalled the 1996 World Series "when the Yankees came back from an 0-2 deficit to beat the Atlanta Braves and their vaunted pitching staff of Maddux-Smoltz-Glavine and win their first World Series since 1978, a win that launched the Yankees dynasty of really the next 12 years."
Powers grew up in Scott County and graduated from Twin Springs High School. He was a pretty good baseball player. "I was a switch hitter, hit for a good average left-handed, and hit with power right-handed."
Powers decided not to pursue a career in pro baseball; however, he did play on semi-pro baseball and softball teams that played in tournaments in Tennessee, South Carolina, Georgia, Florida and Kentucky.
In the meantime, Powers broadcasts games for the Pulaski Yankees over the summer months and also announces high school games.
He plans to do games at the three high schools this school year for basketball and baseball. He will step down from broadcasting football this season because he wants to spend time with his daughters who are in a band in a Northeast Tennessee high school. The station, of course, will continue with broadcasts of high school football this fall. Powers has set up a schedule that will once again provide equal coverage among the three county varsity football teams.