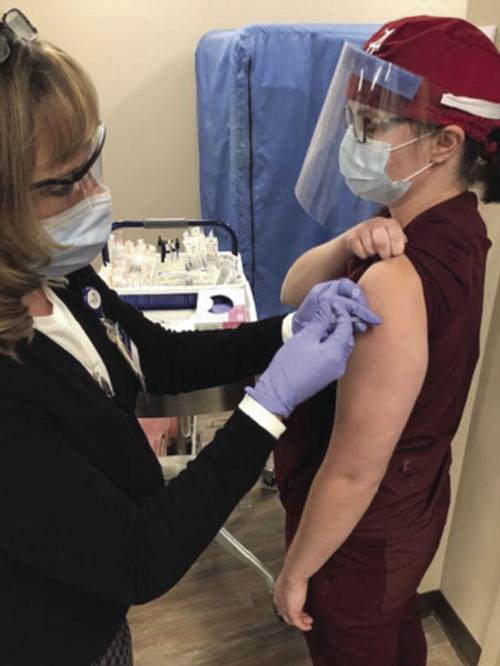 Tazewell, Va. – Natashia Davis is a frontline warrior in the battle against Covid19.
A registered nurse at Carilion Tazewell Community Hospital, Davis works the emergency room where many people with the virus come for help. Davis has been a nurse for four years and has worked at TCH the last two.
She said seeing lots of people with the virus and dealing with all the measures that have to be taken to keep people safe has taken its toll on the medical community.  She described it as much like being in battle to keep people alive and help them get or stay healthy.
Davis was happy to hear vaccines were found and even happier when they made their way to Tazewell.  Carilion received both the Pfizer and Moderna vaccines and begun distributing them in mid -December.
TCH started administering the vaccines Dec. 18 following guidelines established by the Virginia Department of Health.  Frontline workers were the first people scheduled to be vaccinated under Virginia's plan and while Carilion did not make it mandatory most workers are taking the vaccine.
A wife and mother as well as a nurse, Davis did not hesitate to roll up her sleeve and take the vaccine. She quickly cited family members who travel a lot or who are imuno-compromised or have other issues as her reasons for taking the vaccine.
Davis said the virus has affected everyone's lives and the vaccine provides hope of a return to normalcy. "My children no more about it, (the virus), than I do,' she laughed and said
Davis and Bales say early studies show the vaccine to be effective. They both urge people to continue to be vigilant about wearing masks, washing hands and maintaining social distance.
Davis said a solution to the crisis can't come soon enough for the people who come to work daily ready to do battle with an enemy they can't see.