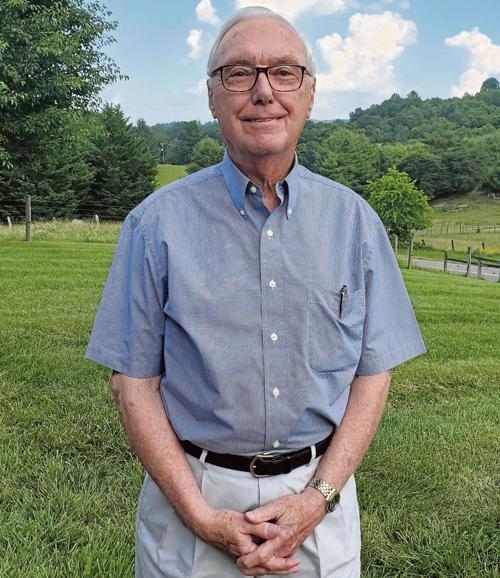 Nearly 50 people gathered at the Floyd Country Store for a surprise party to celebrate Joseph Baum's 70th birthday, his close friend Fred First recently recounted. But even on a day that was ostensibly all about Baum, the longtime family physician in Floyd County couldn't resist making a generous offer to those in the crowd. "I remember him taking the stage," First said. "He wasn't too busy to get up (and) say, 'I just want everyone to know, you have the freedom to drive up unannounced and I will treat you for nothing.'" First said Baum readily gave out his home address and phone number to anyone in need.
That birthday party was a decade ago, First said, but the anecdote is characteristic of how Baum has practiced medicine throughout his fifty-year career. "He has been so unbelievably generous with his time and skill set," First said. First described Baum as "unpretentious" and "so human," traits that still seemed to fit when he spoke to the Floyd Press last week after being named Virginia Family Physician of the Year by the Virginia Academy of Family Physicians.
Asked what the recognition meant to him, Baum said, "Well, it means a lot to me. They did list a lot of things about me that they think are admirable, I guess." Baum said the award made him "feel good," but he was quick to add, "I'm sure there are a lot of providers in the state of Virginia that have done many exciting and wonderful things too."
Baum can certainly count himself among those physicians with interesting and impressive careers. During the Virginia Academy of Family Physicians virtual award presentation on July 13, outgoing VAFP President Dr. Emmeline Clark noted that Baum has practiced in six different states and at five medical schools. In the 1970s, his medical knowledge served a community in Liberia, West Africa, where Baum was the only physician at a remote 100-bed hospital.
In his letter to the VAFP nominating Baum for this prestigious award, First wrote that the doctor has "illustrated again and again his commitment to the practice of medicine coupled with the generosity of spirit that has made him a unique resource for me and many others in our community." The letter continued, "Long ago, he made the decision to offer himself to the world as a healer."
Baum brought his altruistic philosophy of family medicine to Southwest Virginia in 1982, when he helped to found and open the first of the Tri-Area Community Health clinics in Laurel Fork, Virginia. Today, the practice also has clinics in Ferrum and Floyd. Tri-Area provides essential health care services, including mental health care, to low-income patients.
Baum said prior to his work at Tri-Area, he had been traveling the country with his son, who had recently failed seventh grade due to struggles with attention deficit disorder. "I took a year off to travel with him and homeschool," Baum said. Near the end of that year, Baum was traveling regularly between Eastern Tennessee State University and Pennsylvania, where he was looking for his next job. Between meetings, on a rare three-day break, he drove to Southwest Virginia.
"I read in a book about this community health center starting in a rural area; I just wanted to stop and talk with them," he said. "I became so impressed with the dedication and perseverance of these people that I decided right then it would be best for my son and I to be in a rural area," he remembered.
Baum discussed the revolutionary nature of the Tri-Area clinic in Laurel Fork, which brought expanded services—such as stress testing and vision and hearing tests—to the community, and offered those services on a sliding scale of cost. Beyond his work at the clinic, Baum also did house calls, he said, and was always willing to see folks who had after-hours emergencies, to help them avoid prohibitively expensive ER bills. Baum became known for offering plastic hospital-style bracelets to these patients, which simply read, "Pay it forward."
Health care in America—fairly or not—has a reputation for being profit-driven and inaccessible to many. In Southwest Virginia and other regions of Appalachia, misdiagnosis and overprescription contributed to a widespread opioid epidemic. How did Baum end up doing things so differently from many of his peers?
"When I was taught medicine back in the 60s, we felt like taking care of people was the most important thing, and the money really wasn't," Baum explained. "I don't know if that's changed or not." Baum elaborated on some of the challenges facing the American health care industry. "There are a lot of people that need health care and in America right now, health care is twice the cost per person as it is in Germany, France, Great Britain and other places, and they all rank ahead of us in quality—at half the price," Baum said. "I still think there's a lot of things not being done right in America, and if I can help someone, I want to do it."
Baum joined the Air Force right out of medical school, he said, in an attempt to learn as much as he could before practicing. This thirst for knowledge still compels him today. He said he's constantly reading new scientific research about the novel coronavirus and what it's teaching us about the human immune system. "I'm going to keep studying and doing the best I can," he said.
The variation in his work day-to-day and the opportunity to continually grow as a physician are also what drove Baum toward family medicine, he said, rather than another specialty. As a medical student at the University of Iowa, he had the chance to help treat obstetrics patients—people who were pregnant or in labor/delivery—and said he enjoyed that experience. However, "I decided even then, if I do 30 years and every time I open the door, I know what I'm going to be talking about, I'm going to be bored," Baum said. "Family practice offers variety."
Baum has felt fulfilled by his long career in medicine, he said, because it offered him two essentials: safety and usefulness. "I've always thought that true happiness is a product of feeling safe and feeling like you're helping people," he said. Baum has surely helped innumerable people, one of many factors that distinguished him among Virginia family practitioners this year.
Stay up-to-date on what's happening
Receive the latest in local entertainment news in your inbox weekly!