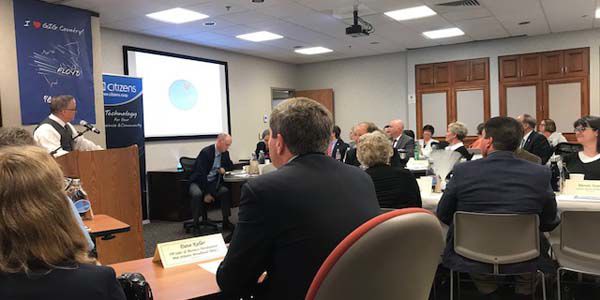 The leadership of Citizens in providing Gigabit Fiber to Floyd County was celebrated last week.
The daylong event with a Welcome to Gig Country theme included a breakfast and roundtable discussion with U.S. Representative Morgan Griffith, guests from the FCC and NTCA and other officials, followed by a press conference and tours of Citizens' central office. In the evening a community celebration featured music and food.
By the end of this year Citizens will provide nearly 60 percent of Floyd County with Gigabit Fiber to the Home (FTTH), CEO and GM Greg Sapp told the group. By the end of the project in 2021, nearly 97 percent of Floyd County homes will have fiber access.
Ashley Spinks, Communications Coordinator for NTCA – the Rural Broadband Association, said the NTCA has over 800 community-based telecommunications companies. Citizens is one of the NTCA's 170 Gig certified cable companies "on the cutting edge of broadband technology…literally invested in their communities and serving friends, families and businesses….Rural communities need this access to robust broadband to make sure they have the same quality of life as urban parts of this country. Congress has required America have this rural equal access….Citizens is helping to fulfill that mandate."
Spinks noted that "population density in places like Floyd County is low and geographical challenges are high. Building out fiber networks over wide open spaces…is expensive." The rewards are even greater. "Speeds that we don't even need now will be provided for decades in the future. That's a big deal….Investing in rural broadband is going to help close the digital divide."
Evan Feiman, the Governor's Chief Broadband Advisor, stated it is "amazing to see Floyd County leading the way" with this project. "I think we should celebrate announcements like this….The hard work that Citizens has done to truly not just accomplish their mission, but be national leaders in the way that you accomplish that mission is fantastic."
Citizens is "part of the fabric of this community," remarked Durant D. Walton, Executive Director of the Virginia Telecom Industry Association. "They share the most essential mission – that's responsible telecommunications service. Citizens realizes that success in this community means high-speed broadband to businesses on main street to the farmers and the homes that enable its citizens to live, to learn, to earn, and to stay in Floyd County."
Sapp said Citizens' history of providing telecommunications service to its customers dates back to 1914, when a group of citizens came together to provide telephone service "when no one wanted to serve our rural area". In 1995 Citizens began to offer dial-up internet service and a few years later DSL broadband internet service over its copper wires. In 2018 the company launched residential gigabit internet service in Floyd County.
The company now offers 1 gigabit per second download and 500 megabits per second upload – "the only speed we're offering until we can take it even higher," Sapp explained. Pricing starts at $39.95 with usage tiers beyond that. "We think of the internet like electricity and choices should center around usage and not speed."
In making the gigabit service possible, Sapp said Citizens' Board of Directors "has vision, and we have a family of 62 very talented and caring employees…that make it all happen.
"We're also about long-term growth and sustainability and are not focused on short term profits." He added it will take a minimum of 8-10 years to recoup the cost of each fiber connected home.
The total cost of the project will exceed $35 million, and Citizens has received funding to help with that expense.
In November 2016 Citizens elected to participate in the Alternative Connect America Cost Model (A-CAM) alternative with 200 other companies. The alternative provided extra universal service funds over a 10-year period to improve broadband service. The company also committed to certain metrics within that period. A-CAM funding represents around 28 percent of the project cost.
Also, a recently awarded matching grant through the Virginia Telecommunication Initiative (VATI) is helping to bring broadband to much of Copper Hill. The grant provides 42 percent of the cost, Sapp said, expressing his appreciation to the governor and others. Residents in the Copper Hill area will be going "from no broadband to one gigabit service fiber to the home."
Courtney Dozier, Chief Deputy with the State Department of Housing & Community Development, said she was "especially pleased to award the grant that's going (toward) the project. "That's going to be 14 miles of fiber that would have been a long time coming for that community. It represents exactly the type of partnership that is a model for the rest of the state."
Ray LaMura, President of the Virginia Cable Telecommunications Association (VCTA), agreed and said Citizens' economic impact on the community and its leadership in this project was something others should "look to".
Congressman Morgan Griffith also emphasized the importance of the gigabit service in Floyd County and the possibilities it could offer, for instance for telemedicine. In the district he represents, he commented, there are "a lot of people who can't get to the nearest hospital in a reasonable period of time. Telemedicine is going to be a revolutionary item for rural America, but you've got to have access to good internet service….It's going to change the way we do medicine in the United States but particularly in the rural areas of America…."
Lydeana Martin, Floyd County's Community and Economic Development Director, with whom Citizens partnered with on the VATI application, said that thanks to Citizens "forward thinking and support from partners" by 1995 every school in Floyd County was connected by fiber and every classroom had access to the internet. "It's been transformative for our community."
In Floyd County "we don't have some traditional economic development infrastructure" - an interstate, port, rail, or university. "What we do have is a vibrant community that is growing businesses and jobs faster than 90 percent of Virginia's localities. In the past three years we've had more than 90 new businesses. We've had more than 500 new jobs."
Martin said, "Our biggest connection to the world is fiber," and that allows local residents to not only be consumers but also "to buy and sell online". Fiber has enabled local businesses to grow, she added. "We still have our struggles economically. Wages still lag….We still have lots of people commuting out, but we're working really hard to diversify our economy… and enhance workforce skills." However, she added, the county is "blessed to have a growing economy" and "a path forward" due to Citizens.
Supervisors Lauren Yoder and Linda DeVito Kuchenbuch, along with Mayor Will Griffin also attended the press conference. Kuchenbuch commented that communications technology predated rural electrification in this county. "You were able to speak on a phone before you had a light in your house."
That kind of leadership is what is so important to the future of Floyd County, she added, "and…I'm so proud of this organization for its foresight … to be able to look and see this was a way for the county not only to communicate with each other, but for Floyd County to communicate with the world."