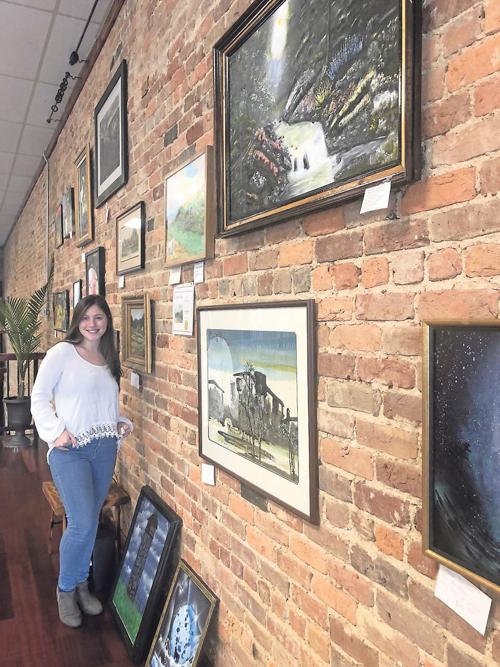 Lily Formato has big, colorful plans for the building at the corner of Main and Tazewell streets.
The 18-year-old has turned the former restaurant space into Local Artists and Sellers, an art gallery featuring just what the name implies: local artists. Future plans call for dancing, poetry slams and open mic nights for the young crowd.
She will host an Evening Soriee at the gallery, 100 W. Main St., Wytheville, on Saturday, Dec. 15, at 6 p.m. The public is invited.
The gallery space is inviting and impressive, featuring exposed brick and stone walls with an open staircase leading to a room below. Her father, local businessman and entrepreneur Richard Formato renovated the space a decade ago, she said, and she has been dreaming of ways to use it since then.
I've always wanted to do something with this place, but could never figure out what I wanted to do," she said. "It's the most beautiful place ever, and I could just see my paintings on the wall."
She said her father is excited to see her use the space, but insists she do all the work getting the gallery ready and paying all the bills.
Formato, a recent graduate of The Asheville School in North Carolina, has filled the walls and display cases with art of all kinds: oils, acrylics, photography, sculpture, jewelry, water colors and even funky shoes created by her brother, Jack. Her mother is Lori Formato.
There are also tie-dyed pieces, spray paint art and antique furniture (including a to-die-for L-shaped couch from the 1950's) for sale. Prices run from tens of dollars to thousands. Some prices are negotiable.
She said a lot of her ideas for the space come from her time in Asheville, a town that has embraced its funky, artistic side.
"Every Saturday night, my friends and I would go to dinner and coffee and then go blues dancing," she said. "It was like our favorite thing. For people under 21, it's fun, safe and you have a good time."
Formato comes from a long line of artists, including her grandmother, aunt, uncle and her father, who has paintings in the gallery.
"I guess it really does run in the family," she said.
Many of Formato's own works hang on the gallery walls. She prefers to paint in oil and enjoys creating portraits, landscapes and anything else she fancies.
"It kind of depends on how I'm feeling," she said.
Formato hopes the gallery is in Wytheville for a long time, even if she is not.
She has been accepted to the American University of Paris, starting in the fall of 2019.
It may seem silly to start the gallery when she might study overseas, she said.
"But I might as well take the risk, and we really need something like this in town," she added. "Who knows? Maybe I'll stay."
Formato charges a 25 percent commission on the works in the gallery. The gallery is open from 9 a.m. to 5 p.m. Monday-Saturday. For information on the gallery, message Formato on the gallery Facebook page, Local Artists and Sellers. There is also an Instagram page at #localartistsandsellers.