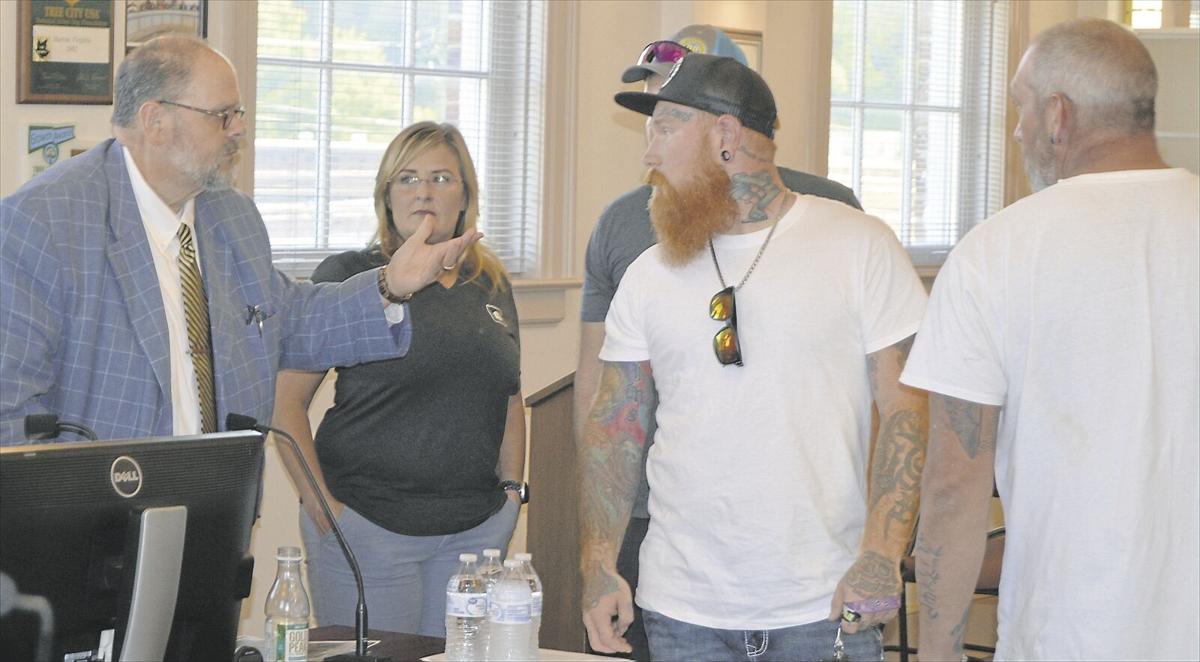 Rocky Sims got his first tattoo when he was 17 years old. He bought a do-it-yourself kit. He immediately fell in love with the ancient art of tattooing.
Even at that young age, he'd long been drawn to artistic pursuits – painting, drawing, charcoal work and airbrushing. Yet, once Sims discovered body art, he started down the path that has led him to the point of opening his own shop. He'd like to do so in Marion, the town where he spent many of his formative years.
Of Marion, Sims said, "It doesn't let people go." He also observed that the town is growing and possesses a strong presence of college students studying at Emory & Henry's School of Health Sciences. The closest tattoo shops operate in Glade Spring and Wytheville. "Now," he said, "is the time to open."
Sims has followed a professional path. He apprenticed at Wythe Ink, now Lucky U Tattoo, for nine years. He's certified in all the state-required training that includes first aid, CPR, and the like, and he's earned a professional tattoo artist's license from the commonwealth.
While the process has featured multiple steps, Sims is OK with it. "I appreciate every step I've had to go through. It makes me humble," he said during a recent interview.
When asked how many tattoos he done over the years, Sims shook his head and indicated he had no idea, and then after a pause, added, "thousands upon thousands."
Many days, Sims, who now works at Wolfman Tattoos and Piercings in Princeton, W.Va., said, he'll do 12 to 17 tattoos a day.
From the beginner 17-year-old to the budding entrepreneur that he is today, Sims credited the progression of tattooing and its acceptance in society as keeping him motivated. Early on, he said, many people associated tattoos with convicts, drugs, and troublemakers, but, in the last decade, Sims said he's tattooed nurses, doctors, lawyers, and police officers. He's tattooed older teens eager to get their first tattoo because it's cool to folks well into their senior years who want to memorialize a special person, pet or achievement.
Those memorial tattoos often bring hugs and tears when they're complete, Sims said. He loves "the reaction you get when you're done."
His passion for the work runs so deep, Sims said, "If I was rich, I'd do it for free."
Still, the father of three daughters ages 16, 12, and 9 knows the value of a paycheck. He wants to operate his own business, which he hopes to name Beauty & the Beast Tattoos and Permanent Makeup.
Sims has more than a few supporters. At a recent meeting of the Marion Planning Commission, he presented an online change.org petition in support of his tattoo shop that now boasts slightly less than 600 signatures.
In addition to local patrons, Sims said he expects a number of regular out-of-state customers would use his Marion shop, spending money locally on lodging, meals and other services.
Over time, he'd like to take on an apprentice and grow the shop. From the start, he plans to work with Melanie Barrett, who would offer permanent cosmetics through the business. She currently works in a shop on the Iron Street Mall.
For all Sims' plans opening a tattoo shop in Marion isn't currently easy.
The town has been home to tattoo shops in the past that drew negative attention, including staffers facing criminal charges, and ultimately failed as businesses.
After they closed, the town council added tattoo shops to its list of adult uses in the town code, which includes adult book and video stores, establishments for fortunetellers, palm readers, and mystics, and body-piercing salons among others.
The town code says, "…It is acknowledged that there are some uses that are deemed as having very serious objectionable characteristics because of their very nature, that become more objectionable when located next to residential neighborhoods, boarding houses, bed and breakfast, motels and or hotels, and therefore require special regulations to ensure that said areas do not become blighted or downgraded because of the location of said businesses. The purpose of preventing the concentration or location of said uses is to ensure that such adverse effects are avoided."
To locate in a commercial zone in Marion, such businesses must apply for a special use permit and go through a public hearing process as well as votes by the planning commission and town council. Even if approved, the businesses can't be within 750 feet of a church, public library, school, public park, playground, or day care among other restrictions.
Sims' desire to open a tattoo shop first came before the town council early this month.
At that time, Ken Heath, director of community and economic development, noted that times have changed and tattoos are far more accepted in today's society. He cited statistics that say as many as 50% of Americans have a tattoo or piercing.
Heath told the council that his office has had three inquiries about opening a tattoo shop in Marion in the last two months. "These folks want to open legitimate businesses," he said.
In a Sept. 14 email to the council, Heath pointed out that "a permanent makeup salon… has been approved and in operation on Iron Street Mall…, and the process used is actually the same as tattooing."
The council sent the matter to the town's planning commission for review and to develop a recommendation.
The commission undertook that work mid-month and heard from Sims, Barrett, and Dyron Dos Santos in support of the project.
Sims has worked out an agreement to lease space at 718 North Main Street in Marion beside Cargo pending the town's permission. The site is zoned for commercial/general use.
The commissioners examined two possibilities: Consideration of revising the Zoning Ordinance's restrictions on tattoo shops or consideration of a Special Use Permit.
Since revising the ordinance would be a longer process and the entire ordinance is already under review, the commission recommended moving forward with the permit process and holding a joint public hearing with the council.
This past Monday evening, the council considered the recommendation.
They spent time considering the portion of the town code that says that adult uses "…become more objectionable when located next to … boarding houses… and therefore require special regulations to ensure that said areas do not become blighted or downgraded because of the location of said businesses."
Of particular concern to the council was the mention of boarding houses because the building Sims proposes to use has a second-floor apartment. Sims only plans to use the first floor.
However, they also noted that Barrett's salon on the Iron Street Mall is near apartments.
Ultimately, the council agreed to hold a public hearing on Monday, Nov. 1, at 5:30 p.m. or shortly afterward to get public input on the proposed permit.
Town Manager Bill Rush reminded council members that stipulations can be placed on such permits and that the council isn't required to make a decision the night of the hearing and can even send the matter back to the commission.
Councilman Jim Barker, who also serves on the commission, said that he's not against the tattoo shop permit but wants to see the process done correctly.
Sims is anxious for the process to proceed. In an interview, he reflected, "I'm beyond ready to go."
Should he be granted permission to open a tattoo shop, Sims said he'd like to have it in operation by December or January.