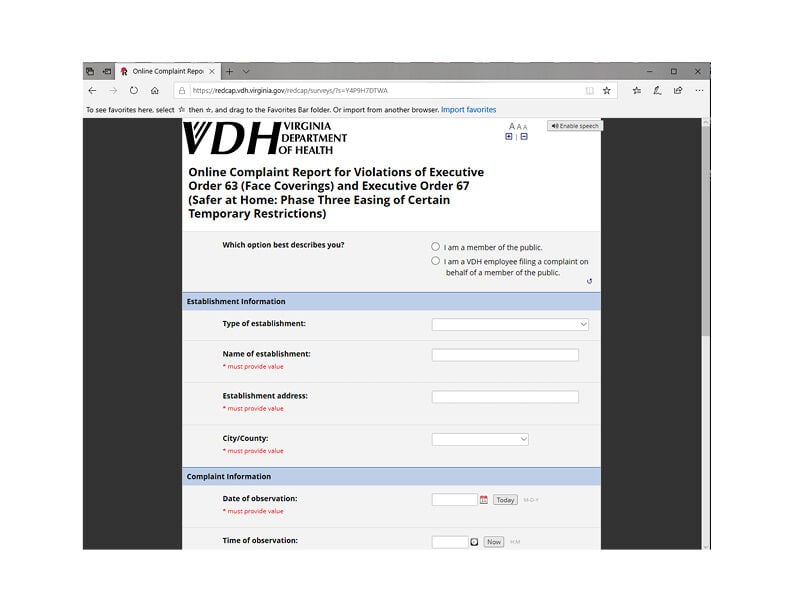 One of the first Smyth County complaints filed on the Virginia Department of Health's online portal for concerned residents to report non-compliance with mask and distancing mandates wasn't about a business at all.
It targeted Marion's Community & Economic Development Director Ken Heath and Marion Police Chief John Clair.
On June 25, an anonymous complaint was filed on the Health Department's portal saying that Heath, misidentified as town manager, and Clair had agreed to allow a Fourth of July celebration on Main Street, saying that the two expected hundreds, including vendors, bikers and musicians, and had posted invitations all over Facebook.
The July 3 event referenced was actually a protest and counter-protest that did draw hundreds for both sides and as many or more law enforcement officers. The day, which ended with a half-hour verbal sparring match between Black Lives Matter protesters and another group that had occupied Main Street, came complete with blocked off roads, plenty of police presence and, notably, no arrests, no physical altercations and no property damage. 
The mischaracterizations of what happened, who played a role and what role they played is one of the biggest frustrations for Heath. What folks are saying, he said, is easily proven to not be true. For example, there were no buses at the event despite persistent rumors that the town bused in protesters for the rallies.
Heath nor the town or Clair had any hand in organizing either the protest or the counter-protest.
"Everybody gets their constitutional rights," Heath said, adding that all the town gets to do is protect those rights for everyone.
On an Aug. 29 Facebook post, Heath confronted tales that the town organized event, including busing in protesters. He noted that all the town did was "provide basic constitutionally guaranteed rights and safety to EVERYONE that chose to come to this community … in fact, there were ZERO buses at either event."
The remaining three months – from June through August – of complaints, obtained via a Freedom of Information Act request from the Virginia Health Department, were much more mundane, with restaurants and retailers accounting for most of the filings.
Downtown eateries have picked up 10 complaints so far. Wooden Pickle accounted for four with Wolfe's BBQ and Moon Dog Brick Oven of Marion each having three. The Dip Dog Stand received a pair of complaints, as did Little Caesars in Marion. On June 27, the person making the anonymous complaint noted that "employee was female, very pleasant lady. However, she did not have any face covering on."
A later complaint, filed on July 28, said she drove up to the drive-thru window and spied a worker with her mask under her nose and those deeper in the kitchen without masks at all.
"I told her to pull the mask over her nose and keep her pizza," the complaint reads.
Grocers, with the exception of Ingles, received a fair number of complaints, too.
Food Lion received two reports, and Food Country had four. Food City's two county stores split five complaints.
On July 25, a complaint was filed about the Chilhowie store, saying "This is an ongoing thing. Food City has NEVER been compliant. They are willfully defying mandate."
The Marion Walmart was the subject of seven complaints. The seven Dollar Generals in Smyth generated 16 complaints, at least one that showed a high level of frustration.
Describing the Marion store, a complaint from Aug. 1 said the manager is not wearing a cloth covering, "he is only wearing a meager carpenter face shield … They are losing business because people like myself walk inside, see the employees not wearing a mask and do a literal 180 out of the store. I've contacted corporate Dollar General more than five times, and I'm getting tired of seeing people blatantly disregard mandates."
Frustration and fear was evident, too, in a July 16 complaint about the General Francis Marion Hotel. A person who said they worked there noted that bosses at the Main Street hotel don't wear masks.
Churches weren't immune from complaints, either. Rich Valley Presbyterian Church had two complaints filed, one on Aug. 16 and the other on Aug. 23. A July 18 complaint targeting Buckeye Hollow Free Pentecostal Holiness Church, charging that the church "arrogantly refuses to follow any of the set guidelines at these public events," saying it was holding frequent events on Saturdays.
Several complaints, particularly those leveled against fitness centers, turned out to be unfounded, according to the Virginia Department of Health.
An Aug. 13 complaint filed against the Lifetime Wellness Center said the person was harassed by a customer using the exercise equipment "because he said it offended him that I was wearing a mask."
The complainant said this was the second time filling out the form and said next time Ballad Health officials would be contacted.
"Do your d*** job. Okie Dokie," the person wrote.
The first report filed against the Lifetime Wellness Center came on Aug. 9.
Lavonda Brickey of the Health Department said in the report that there was an argument between two people at the center over mask usage. She noted that people exercising can, but do not have to, wear a mask. She suggested the center post specific parts of the governor's executive order in different parts of the center. Brickey had a similar situation with Anytime Fitness, which had a complaint filed on Aug. 18. She said in the report that she spoke with the manager and reminded him that people standing around have to wear a mask and that they must be worn when entering and leaving the building and when moving between equipment.
The Royal Oak branch of The Bank of Marion received an Aug. 5 complaint saying a teller was overheard talking about a family member who had tested positive.
"She probably doesn't need to be inside the bank working," the person wrote.
Brickey reported that she talked with the branch manager who said workers were putting on masks whenever a customer entered the lobby and that the family member in question had already been quarantined and the worker was cleared to come to work by a COVID nurse.
The first completed complaint from the Mount Rogers Health District came from Bland County on July 1.
It wasn't exactly what you might expect.
The anonymous complainant listed the establishment as "Squealers are Us" and under the additional information tab said "Stop making Americans turn on each other."
In the days, weeks and months that followed, Mount Rogers saw a steady flow of daily complaints about businesses, governmental agencies and churches not following COVID-19 executive orders requiring face coverings and social distancing.
Interestingly, Bland had only five complaints filed over a three-month period and only three of those were what you might call legitimate. Along with the first one referencing "squealers," a June 25 listed the address as 100 Justice Lane and read,  "Dear Governor Klan McBlackface, Because of people and tactics like yours places like Nazi and East Germany were allowed to happen. Do you even realize this?"
Several similar posts showed up in other places throughout the district, including an ominous one from July 16 that said "If you are reading this you are not a good person. Seriously. Normal folks aren't going to take this s***. Beware."
Be the first to know
Get local news delivered to your inbox!