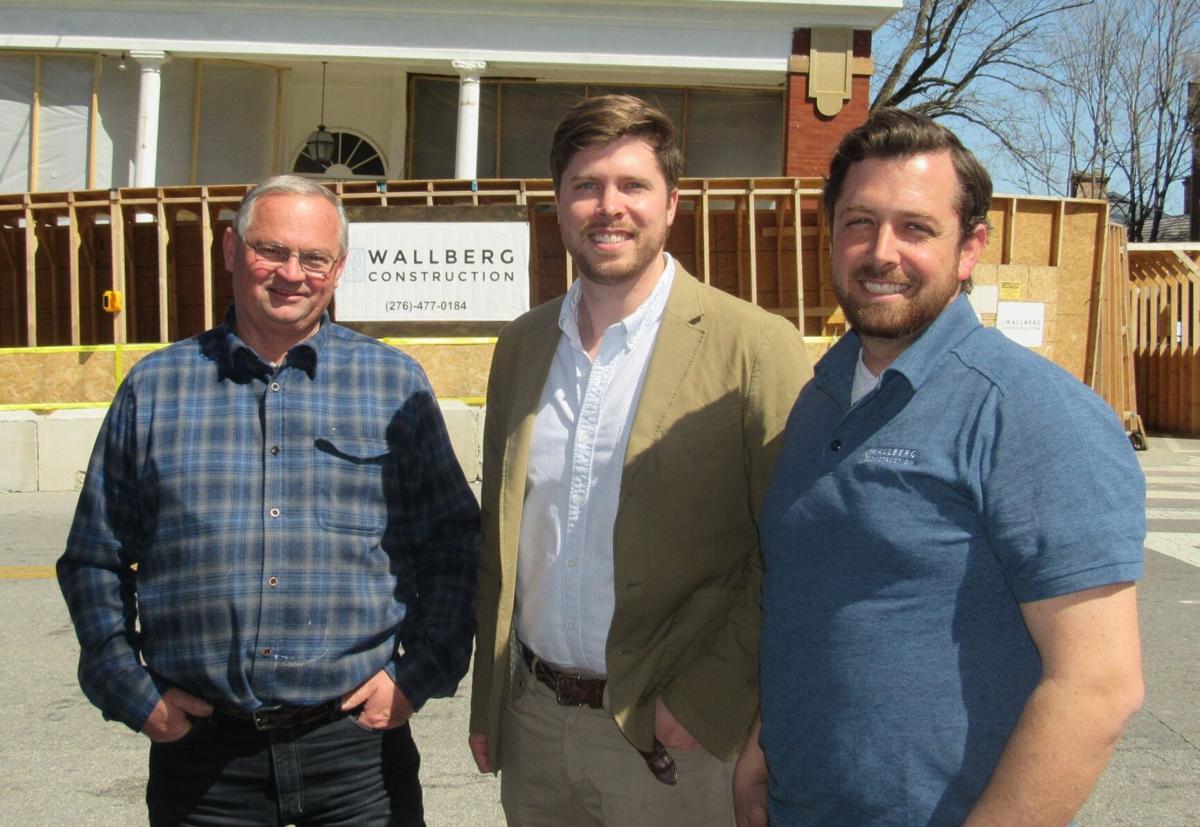 ABINGDON, Va. — An Abingdon-based business built on the value of philanthropy is becoming one of the region's fastest-growing commercial general contractors.
Wallberg Construction, owned and operated by Jeff Wallace and brothers David and Nathan Berg, isn't slowing down a bit, despite the pandemic this past year.
In just 10 years, the company has expanded from one employee to 40 workers, increasing revenue almost 70-fold during that time.
As impressive as the numbers are, their mission is simple.
"We are a company that seeks to improve the lives of people who work for us. To achieve that goal, we have to be a successful, profitable general contracting company that provides creative and high-quality solutions for our clients," said Nathan.
Licensed contractors in 20 states, the owners perform work throughout the eastern United States.
They just finished a project in Springfield, Vermont, and they are currently working on projects in Garland and Tyler, Texas. They'll be in Danville, Kentucky, later this summer.
But among their top 10 projects is the restoration of the Summers building, a century-old brick structure on the corner of Main and Court Street in Abingdon.
The massive structure will feature a glass penthouse on the top floor where a restaurant and bar will operate. The second and third floors will offer office and retail spaces. The basement will serve as a kitchen and a cellar for wine storage.
"We're taking painstaking measures to put the building back to the original form," said David. "We're restoring original trim, wood floors and as much of the plaster walls as possible."
According to the brothers, the rooftop restaurant will offer customers a full panoramic view of Abingdon, highlighting beautiful elements of architecture that can't be enjoyed from the ground.
Other local projects include the restorations of historical sites, such as the Meadowview depot, Smyth Chapel at Emory and many of the buildings on the campus of Emory & Henry College, including the exterior renovation of the depot, painting the train bridge at the entrance of the college and repairing the steeple at Memorial Chapel.
They renovated the exterior of the Preston House, which stands outside the Bristol, Virginia, city limits. The house is believed to be one of the oldest frame houses in Washington County, Virginia.
Wallberg Construction also recently built the Damascus Trail Center, a resource to help empower new visitors and stewards of the Appalachian Trail.
Their commercial work often takes them out of the region to work for large companies like Hibbitt and Claire's.
Berg brothers
The brothers credit much of their success to learning bedrock principles from Wallace, their mentor since they were teenagers.
Their complementary strengths have worked together to build a flourishing business.
A business management graduate from King University, Nathan has created a top-notch accounting system, offering his expertise in financial management skills to effectively understand and manage the company's financial needs. Nathan also holds a master's degree from the London School of Economics.
David is the detail-oriented, hands-on member of the team, working with employees to help them reach their full potentials.
The brothers grew up in Meadowview, learning a lot about craftsmanship from their father, Charlie Berg.
"He also taught us a lot about a good work ethic," said Nathan. The brothers were responsible for helping heat a wood stove in their old farmhouse when growing up.
David's first job in construction was at age 16. When Nathan was only 14, he was on-site helping at a demolition job.
Wallace's start in the construction business began in 1978 when he graduated from Patrick Henry High School, setting out with his brother Andy to make a living at their trades. Jeff was a plumber, and Andy's expertise was in electricity. Together they created Wallace Brothers Construction, a small business that concentrated on area remodeling and building projects. Jeff plumbed his first house while still a student at what was formerly the Washington County Regional Trade Center in Abingdon.
Throughout his early career, Wallace gained a reputation for embracing the spirit of giving. He often donated his serves to local people in the community who couldn't pay for work — a practice that's still alive after the owners became business partners in 2011, later meshing their names to form Wallberg Construction Co.
Building communities
Not only does Wallberg Construction build lasting structures, they also seek to build strong communities.
After working on hundreds of projects in the Washington County area for the past 40 years, Wallace has slowed down on construction jobs and put his Christian faith into action. He was instrumental in starting The Church of New Beginnings in 1990, where he was pastor until last year. The church that was built on 17 acres in Glade Spring includes a pool, amphitheater and campground for annual youth camps.
Wallberg Construction is in the process of constructing a vocational school on the property as a way to help people who are unable to find steady jobs after incarceration.
"The school also will benefit us," said David. "We are investing in our workforce, providing vocational training and assisting in career development.
"The average age for construction and skilled tradesmen is in the 50s. They are aging out of the profession, and fewer young people are replacing them. With this training, we may be able to hire many of them for our company."
In addition to teaching such skills as plumbing, electrical, carpentry, masonry and auto mechanics, the school will focusing on teaching basic life skills.
"We want to teach people how to do life and do it well," said Wallace.