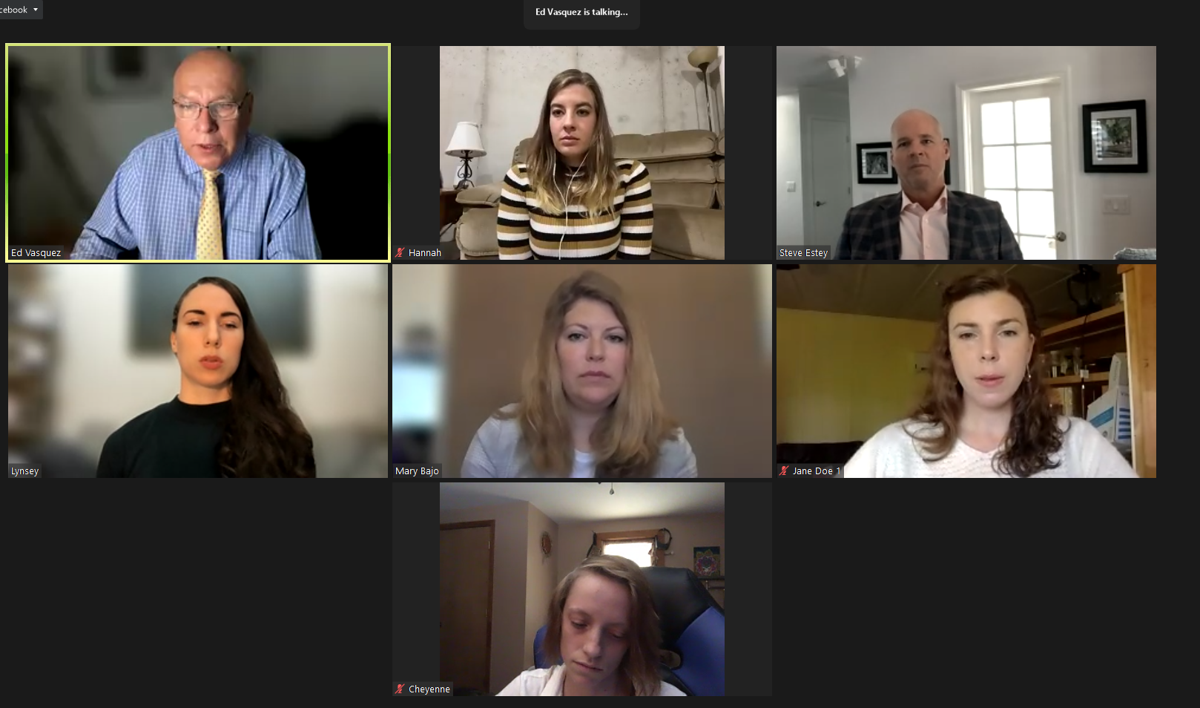 This story has been updated with a statement from A.R.E. CEO Kevin Todeschi.
Attorneys for a group of nine former camp-goers announced on Wednesday lawsuits against the organization that runs a Rural Retreat summer camp where the campers said they were sexually assaulted or raped as minors.
In a virtual press conference, the former camp-goers said camp culture and the Association of Research and Enlightenment's (A.R.E.) dismissal of complaints perpetuated the assaults by camp counselors.
The nine campers named in the lawsuit attended the A.R.E. Camp in Rural Retreat at various times.
One former camper, who went only by her first name, Lynsey, said she spoke up several times to camp leadership about sexual abuse she experienced only to have it brushed away.
The first woman to come forward about the abuse, Lynsey, now 23, said she was raped by an adult counselor at the age of 13.
"I reported it to the camp manager and nothing was done," she said.
Because she was met by judgment and shaming, she never told her parents, she said.
"I never told my parents and management never told my parents, nor did they report it to law enforcement," she said.
Founded in 1931, the A.R.E. Camp is a summer camp for members of the Association of Research and Enlightenment, a naturalist group founded by Edgar Cayce, a spiritualist known as the "Sleeping Prophet" who claimed to be clairvoyant. Headquartered in Virginia Beach, the A.R.E.'s camp is located on the Smyth County side of Rural Retreat.
Lynsey said the A.R.E.'s concept of soulmates and reincarnation encouraged a "relationship" between her and a second abuser.
Her second brush with sexual abuse at camp came when she was 15, she said, from her 22-year-old counselor.
"Instead of seeing me as a child and he as an adult abusing his power, they saw us as equals, souls drawn to each other because we could help each other move towards enlightenment."
During the last A.R.E. program she attended, Lynsey said, A.R.E community leaders planned a forgiveness ceremony in which she was forced to publicly forgive her abuser.
A second woman, Hannah Furbush, said that almost every important person in her life—her friends, her partner-- she met through the A.R.E. community.
"Because all of my friends were there, I always looked forward to camp," she said. "It gave my life purpose. It was my safe place and my community."
Furbush said she was a third-generation A.R.E. member.
"I used to wear this as a badge of honor because it meant that I'd been a member of the community since birth almost, but now it fills me with disgust fear and shame," she said.
Furbush said she began attending the kids camp when she was 10. Over the years, she said, she noticed that female campers were being preyed upon by staff members.
"And that's because hugs and massages and physical touch between children and adults was encouraged, but it went well beyond that," she said
Furbush said she witnessed male counselors send love notes to female campers and that counselors regularly participated in events that involved campers and counselors being naked together.
A third woman, a 27-year-old from Floyd who goes by Cheyenne Doe in the lawsuit, said campers learned about things like "the liberated underwear movement" in which campers marched through camp in their bras and panties or boxers. A counselor who took the campers' photos posted it to Facebook, she said.
A press release announcing the lawsuits also mentions an activity called "Goddess Night" in which female campers were expected to run naked through a field as male staffers and campers cheered them on. 
"This is A.R.E. camp culture, this corruption of boundaries and this was my normal," Furbush said.
During her five years as a counselor at the camp, Furbush said she was relentlessly harassed by older male staff members. When she was 20, she said, she was sexually assaulted by a senior staff member.
"I told the camp manager what happened and she said she would look into it, but nothing ever happened," she said. "My predator was rehired the next summer and continued to harass me and although I made sure I was never alone with him, my safe space was rapidly shrinking."
She again reported sexual harassment in 2017, she said, and the camp directors told her her complaint would remain confidential.
"But the next day, it was all over camp. For the rest of the summer I was an outcast because I made a big deal out of behavior deemed playful and normal. They said I couldn't take a joke... It was my job as the victim to meditate or go to healing prayer or journal my trauma away while these dangerous men were given promotions and allowed to stay at camp."
A fourth woman who spoke during the press conference, Jane Doe #1 in the lawsuit, said she was the victim of multiple childhood sexual assaults, all of which happened at A.R.E.
"The threat of losing my community kept me from speaking out," she said. "Looking back, as a child, I felt such a burden and responsibility to not affect the community in any negative way."
She said she felt lucky to have been born into the A.R.E. camp community, which she said felt like an extended family where she made lifelong friendships and where she felt accepted, nurtured and loved.
"I believed that in speaking, I would become a source of shame to my family and the community,"
After she was sexually assaulted by a male staff member at camp, the woman said she felt responsible.
"In the context of the camp, we were taught to love and accept our abusers unconditionally," she said. "We were taught that our souls choose difficult life experiences in order to practice unconditional love and forgiveness."
The lawsuits, which were filed in Virginia Beach's circuit court, seeks $10 million per client, as well as punitive damages from the organization. Individual counselors were not named in the lawsuit.
"Instead of protecting my clients, A.R.E. created a cult-like atmosphere that encouraged sexually abusive behaviors by these camp counselors," said California-based attorney Steve Estey.
"Their coverup and negligence demonstrate a pattern of systemic abuse that has traumatized my clients-- they're all suffering emotional anguish and anxiety as a result of being abused. They're holding A.R.E. responsible for its negligence and demanding that A.R.E. establish strict policies to ensure children's safety going forward."
A request for comment from A.R.E. leaders was not immediately returned, however, A.R.E Executive Director Kevin Todeschi said in a statement to several media outlets that the board first became aware of allegations of inappropriate behavior and sexual assault last summer, when some past campers posted about their experiences on the camp's Facebook page.
"We continue to be extraordinarily distressed by these allegations," Todeschi wrote in a statement to the Virginian-Pilot. "The camp has been in operation for decades. Sexual assault or assault of any kind has never been even remotely acceptable. Such conduct is contrary to everything we believe in."
Smyth County Sheriff Chip Shuler said he is unaware of any sexual assaults stemming from the camp being reported to his office. One of the women said she had reported assault to the police, but did not press charges.
Shuler encouraged anyone who wants to file a criminal complaint to call the sheriff's office at 276-783-7204.
"If they would require our assistance, our doors are always open," he said.