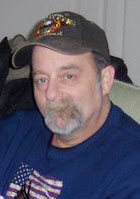 On Friday at around 9 p.m. U.S. Navy veteran Kevin Keller parked his red pickup truck in the parking lot at the Wytheville Rite-Aid, walked across the grass and stood in front of the U.S. Veterans Community Based Outpatient Clinic next door.
Sick and tired of being in pain, he pulled out a gun, shot a hole in the office door, aimed the gun barrel at his head and ended his hurt once and for all.
In a letter he left at the home of his best friend, Marty Austin, Keller apologized for breaking into Austin's house and taking his gun.
"Marty sorry I broke into your house and took your gun to end the pain!" the note said. "FU VA!!! Can't take it anymore."
Wytheville Police Chief Rick Arnold said that at 9:03 p.m. on Friday, someone at Advance Auto Parts, across the street from the VA office, reported hearing someone banging on the clinic door, followed by two gun shots.
Arnold declined to say if shots were fired at the clinic; however, on Thursday, part of the front door was boarded up.
"He (Keller) was a patient of the VA, but I cannot comment as to why," Arnold said.
"Salem VA Medical Center staff extends our sincere condolences to the family and friends of this veteran," said Ann Benois, who works in customer service and public relations at the medical center.
"Due to privacy regulations, we are unable to provide any information related to the care and treatment plan of this specific veteran," she said in an email. "Our many successes in treatment does not ease the loss of any veteran. We will continue to offer the best medical and mental health care possible."
According to a February press release on the U.S. Department of Veterans Affairs website, Keller was not alone in his fight against chronic pain.
"Veterans enrolled in the VA health care system suffer from high rates of chronic pain," the release said.
In October, the VA initiated a multi-faceted approach to reduce the use of opioids among America's veterans using VA health care. The Opioid Safety Initiative is an effort to improve the quality of life for the hundreds of thousands of veterans suffering from chronic pain, the release said.
Keller served on the USS Independence in the early 1980s.
"He was a great man," said his friend John Andres, who served with Keller on the Independence. He worked the dangerous job of aviation boatswain, playing a major role in launching and recovering naval aircraft on the ship.
"The whole deal is sad," Andres said about Keller's death. "To make a statement like that, to kill himself in the parking lot of the VA; he was basically telling them this is senseless."
Austin said his friend of nearly 30 years was usually happy and carefree, but had been in a downward spiral for more than two years, ever since VA doctors declined to prescribe him medication for pain he suffered after a stroke about 11 years ago.
"I realize there are people in this world hooked on drugs, but he needed the pain medicine. He went to Tazewell, Wytheville and Salem looking for help. He fired doctors and even fired the VA and got Humana insurance to go to different doctors, but medical records follow you and he had just had enough," Austin said. "I'm not even mad at him because I know he tried and tried and tried."
According to Austin, 52-year-old Keller could find no relief for the pain in his right leg and foot without medication. Sometimes, he turned to the street for pills, but it was too expensive.
"He was not addicted," Austin said. "He needed it."
Still visibly distraught Thursday, Austin said Keller obviously thought out his suicide and left letters in his home for friends, family and two VA nurses.
"They were harsh letters," he said of the letters to the nurses.
In one letter, Austin said, Keller wrote that he didn't want the medication; he needed it and that if he had received the medication, he would still be alive.
Austin said his friend told him that medical personnel told him (Keller) that narcotics would shorten his life and that they wanted him to have a longer life.
"He told them he preferred quality over a longer life so he would be able to do things," Austin said.
Austin said he plans to have a small memorial service for his friend. Then, in November, he will return to his and Keller's hometown of Stafford and bury the cremated remains in a friend's memorial garden. He said Keller has a son in Florida and a sister in Colorado.
Austin, who works at ABB in Bland, said Keller moved to the area about three years ago; he lived in Ceres. A printer by trade, Keller continued to work in the Fredericksburg area for about seven years after his stroke.
"He figured out how to do everything with his left hand," Andres said.
Eventually, Keller had to go on disability. He moved to Bland County because of the lower cost of living and "he knew I could take care of him," Austin said.
He said Keller had been depressed and angry for a while, but he had no indication that Keller was suicidal. The pair used to speak to one another every day but after Austin started the night shift at ABB, they only spoke a couple of times a week. Austin said he last spoke with Keller several days before his death.
After Keller died, Austin learned that his friend had recently called a suicide hotline and had an appointment at the VA mental health department in Salem on Wednesday, July 30, five days after his death.
Before his stroke, Keller loved riding motorcycles and at the time of his death, friends were gathering parts to build him a special trike that he could drive with his left hand, Austin said.
"And he loved doing woodwork; that was his passion," Austin said, adding that he made everything from picture frames to poker tables. "There wasn't anything he couldn't make."
The trike is close to completion, Andres said.
"He was going to be riding soon, but he was just in so much pain," he added.
Be the first to know
Get local news delivered to your inbox!