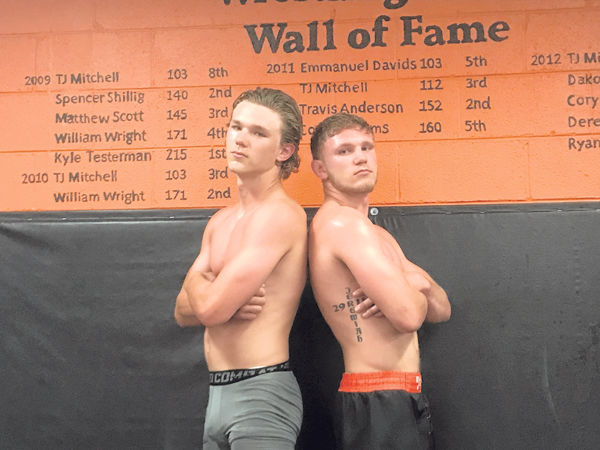 They aren't exactly twins, those Wynn boys born less than two years apart.
Josh is a little taller and Jacob a little heavier. Jacob is more talkative and Josh more quiet. On the mat, Jacob is meaner, seeming to thrive on beating on opponents. Josh is too slick for too much hammering, attacking from unexpected places in unexpected ways.
Still, the Rural Retreat brothers are more alike than different. Both are muscled up, both were leaders of an Indian team that claimed four state titles and one second place spot in the past five years. And both, as of next season, will be grappling for King University in Bristol, Tennessee.
Jacob, the older of the Wynn boys, has been a member of the Tornado wrestling team for the past two years. His younger brother will join him next season.
The college has long been on Josh's radar. Back when he was a middle-schooler, King College wrestlers helped run summer practices at Rural Retreat. When his brother went there, it was all but official – he would too.
Jacob said the King program is a diverse one. He and his brother are two of only three Virginia kids in the room. The rest come from places like Alabama, Georgia and California, meaning in practice wrestlers constantly get different looks and learn to adapt to different regional styles. It's a place, he said, where his younger brother will be a good fit.
Jacob praised his brother, saying he's technical, smooth and perhaps most importantly stays calm.
Those attributes, Josh says, were honed by years not only on the high school mats but wrestling Greco and freestyle. He said those styles helped him to get 100 percent better. With Greco, he said, you have to learn to work the upper body. With freestyle, you learn to be perfect on your feet. With both, he said, you learn to score and not give up points.
"In high school wrestling, if you bail out it's OK," he said. "In freestyle, you're giving up two points."
Josh says taking part in freestyle and Greco opened him up, making him a better wrestler all around. Between his sophomore and junior years, Josh wrestled to a second place finish in the state in Greco and third place in freestyle, earning a trip with the Virginia team to compete in Fargo, North Dakota.
Speaking from experience, Jacob says that freestyle and Greco experience is invaluable in college, noting that in high school a wrestler can survive doing one thing really well. In college, that changes, he said, and suddenly you've got to become a more complete wrestler.
"Josh has a good style," Jacob said.
It's not his style, exactly, but it's close. Now his friends, that's a different story.
"All my friends are his friends," the elder Wynn said.
Josh is hoping to wrestle at 133 pounds for King. Jacob's planning on wrestling at 141 pounds. The brothers being in back-to-back weight classes – a Wynn/Wynn situation – will be a familiar sight for Rural Retreat fans.
Between the two, the brothers own seven state high school titles. Jacob won three and Josh four. During Josh's freshman year he wrestled at 113 pounds and Jacob was at 120 pounds. In his sophomore year, Josh wrestled at 120 pounds and Jacob at 132 pounds. In his junior year, Josh picked up a title at 126 pounds.
Technically, Josh is the 23rd person in the history of Virginia to lay claim to four state wrestling titles, following in the footsteps of former teammate Trey Boyd. On paper, he'll likely be listed as No. 24. Bryan Wallace is currently listed at No. 23. The 285-pound Wallace is technically No. 25, after Josh, who won first at 138 pounds and Grundy's Jacob McNutt grabbed his fourth at 152 pounds.
Regardless, the younger Wynn is a member of an elite club.
Still, he's hungry. Josh said he wants to go to college and experience all that he can, maybe become an All-American and beat up some people. Jacob, who has two years under his belt, says his goals are to finish his degree and get out of his comfort zone, finding friends from all over. Oh, yeah, he too wants to be up on the wall of All-Americans at King University.
The Wynn boys, who have been wrestling together for more than a decade, recently have discovered an affinity for coaching. Jacob has helped run the summer practices at his alma mater, noting that he loves sharing his knowledge with young wrestlers. Coaching, he said, allows him to perfect his techniques, forcing him to break things down into bite-sized, teachable pieces. Josh found out much of the same last season, when he found himself helming a very young Rural Retreat squad. The Indians last year filled just nine weights, most of them occupied by freshmen. Josh, who had become accustomed to being the youngest in a group of champions, found himself becoming a mentor to a young group. Helping others hone their technique made his better, he said, allowing him to realize where he could better reach for perfection.
The Wynn boys might not be twins, but they're close and always have been.
Before they got into wrestling, they were into rasslin. Back then they hung ring ropes on their trampoline and practiced their best WWE moves, dropping elbows and choke slamming one another. As they migrated from rasslin to wrestling, the two practiced together, at home and at school. They learned to do flips together. They polished their low singles and high crotches. They encouraged each other and pushed one another. They made each other better.