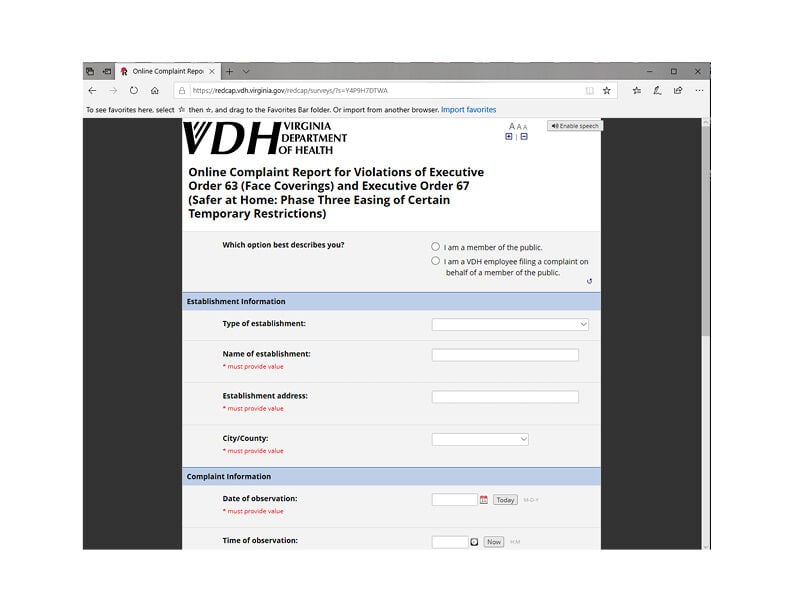 Bland County lodged the Mount Rogers Health District's first completed complaint on June 1, the day the Virginia Department of Health's online portal for concerned residents to report non-compliance with mask and distancing mandates went live.
It wasn't exactly what you might expect.
The anonymous complainant listed the establishment as "Squealers are Us" and under the additional information tab said "Stop making Americans turn on each other."
In the days, weeks and months that followed, Mount Rogers saw a steady flow of daily complaints about businesses, governmental agencies and even churches not following COVID-19 executive orders requiring face coverings and social distancing.
Wythe County's first complaint was filed on June 14 against Life Changers Christian Center in Wytheville, with the anonymous complainant citing fears of small children being exposed to the virus. Five days later, the county's second came in, this one lodged against the Comfort Suites hotel in Wytheville. A caller told the department that the manager there coughed on her mother "and didn't even apologize."
By the end of June, Wythe County was receiving a couple of complaints per day, many of which would generate multiple entries.
Wythe Eye Associates received its first complaint on June 26 when a customer told the health department that he was told he didn't have to wear a mask and "took offense to this because he is in the 'high-risk' category." The eye doctor was the focus of subsequent complaints on June 29, July 1, July 8, July 14, July 17, July 28, Aug. 7, Aug. 18 and Aug. 20.
The eye doctor wasn't the only Wythe County health care provider to be reported, either. Forrest Family Care received two complaints, one on June 29 and the other on July 22.
Wythe County Community Hospital even found itself on the receiving end of guidance from the state.
On Aug. 10, a complaint was filed saying that fourth-floor nurses weren't wearing masks at the nursing station, a housekeeper and respiratory therapist had masks on incorrectly and nursing students from Wytheville Community College were "walking around the halls with no masks."
The woman who filed the complaint against the hospital said she reported it to the facility's quality department and "felt very unsafe for myself and my family." Health Department worker Ed Ritterbusch noted in the forms, obtained through a Freedom of Information Act request, that he emailed the complaint and VDH guidance to WCCH.
Carrington Place in Rural Retreat was reported on Aug. 3, with the person filling out the form saying that two staff members wore their masks around their chins. When asked to pull them up, the complainant said one complied and the other did not and instead shut and locked the door.
The lion's share of complaints in Wythe came from visits to stores and restaurants. Wal-Mart has been the subject of a dozen from June through August. On Aug. 27, the person filing the form said "out of the 52 adults I encountered, 12 were wearing masks. Wal-Mart is doing nothing. Wytheville, Virginia is ignoring the mask mandate."
Rural King received six reports. The Lowe's store in Wytheville was the subject of seven complaints. On Aug. 8, the complainant noted that "Two more employees tested positive this week." In its notes, the Health Department confirmed three-plus employees from the store had tested positive for COVID-19.
Food Country, which has a store in Max Meadows and another in Rural Retreat, led the grocers by number of complaints, collecting 12. Food Lion's two stores in Wytheville had six combined complaints. Super Dollar in Wytheville had two.
Wythe Produce received three complaints, one each in June, July and August. The complaints were anonymous, but it appears that at least two were related. The complaint on July 31 said the owner "needs a stern call and reminder." One filed on Aug. 8 noted it was the second notice and the complainant had asked an employee if the Health Department had contacted the business. According to the report, the employee said no. The complainant then asked the Health Department "Are you serious about this enforcement?"
Log House restaurant on Wytheville's Main Street had several complaints, as did Domino's Pizza, Denny's and Shoney's.
A July 18 complaint about Shoney's was more a complaint about the local health department, saying "they acted like they wasn't interested" when the caller reported the restaurant. Employees there, according to the data released, said the department hadn't contacted them. No follow up was mentioned in the health department notes.
The three Wendy's restuarants in Wythe County received a combined two complaints. In the first, issued on July 31, a woman commented that it was frustrating to see workers not wearing masks "as we drove through five states with masks everywhere else." In the follow up, Sara Price said the general manager at the Wendy's told her the cameras would be checked and violators would be fired.
The second complaint, which claimed that a Max Meadows kitchen worker "coughed while not wearing a covering," appeared to be unfounded. The Health Department's Todd Musick wrote that he went to a vantage point that allowed him to see into the Wendy's and face masks were in use and visible on all employees.
Another that appears to be unfounded was an Aug. 19 report filed against Shanaki Martial Arts Studio. The complaint said "this establishment is a child care facility and they are no longer temperature checking the children upon arrival. Not all employees are wearing masks and they gather closely in an enclosed hallway, blocking exits and other businesses located in the building."
Sara Price, in a follow-up report for the health department, noted that Shanaki isn't regulated as a day care but as an exercise facility, one that she said had made "inventive controls for COVID prevention." Price wrote that students wear masks at all times, unless exercising and they don't mingle in the lobby, halls or classrooms. Price wrote that the facility had recently caught a student stealing food, weapons and electronics and "It is likely this is a complaint from a disgruntled parent."
An Aug. 10 complaint against Anytime Fitness in Wytheville also appears to be unfounded, per the Health Department records.
Travis Holt wrote, "(Anytime Fitness) has a great plan in place and many things are going beyond the order. They have video to record when staff isn't present and issue fines and cancel membership for noncompliance."
Holt on Aug. 7 wrote that Blue Ridge Nissan also appeared to be in compliance with the executive order in spite of a complaint issued. On Aug. 16, Holt said that there was no grounds for action regarding a complaint against Applebee's, saying that kitchen staff is not required to wear a mask and wait staff may remove theirs once they are out of a customer-facing area.
Not even churches and funeral homes have been immune from being on the receiving end of complaints.
On Aug. 5, an anonymous person wrote that Rural Retreat Baptist Church wasn't socially distancing, wasn't sanitizing between the 9 a.m. and 11 a.m. Sunday morning services, was holding choir practices and sharing hymnals.
A few days later, Lindsey Funeral Home, also in Rural Retreat, was sent guidance from the health department after an Aug. 11 complaint about the facility not policing or practicing social distancing and masking guidelines.
 "People in this general area don't take this virus serious," the person filing the complaint said. She noted that she feared being exposed and carrying the virus back to her community and job.
Bland, the county that kind of started it all, only had five complaints filed over the three-month period. Only three of those were what you might call legitimate. On June 22, a complaint targeted the Bland County school system, saying that students taking part in off-season practices were using locker room and that the parking lot was packed and "obviously way over a safe limit." The same complaint said that School Board employees, including Superintendent Scott Meade, were not abiding by distancing guidelines or wearing masks. The anonymous complainant said they had a relative working in the office that "does not even feel safe being there at this point." There was no record of the Health Department's interaction with the school system.
On July 30 a complaint was issued against the Kangaroo Express gas station and on Aug. 24, the Dollar General in Bland had a complaint lodged.
The final Bland complaint, filled out on June 25 listed the address as 100 Justice Lane and read, "Dear Governor Klan McBlackface, Because of people and tactics like yours places like Nazi and East Germany were allowed to happen. Do you even realize this?"
Several similar posts showed up in other places throughout the Mount Rogers district, including an ominous one from July 16 that said "If you are reading this you are not a good person. Seriously. Normal folks aren't going to take this s***. Beware."
Be the first to know
Get local news delivered to your inbox!