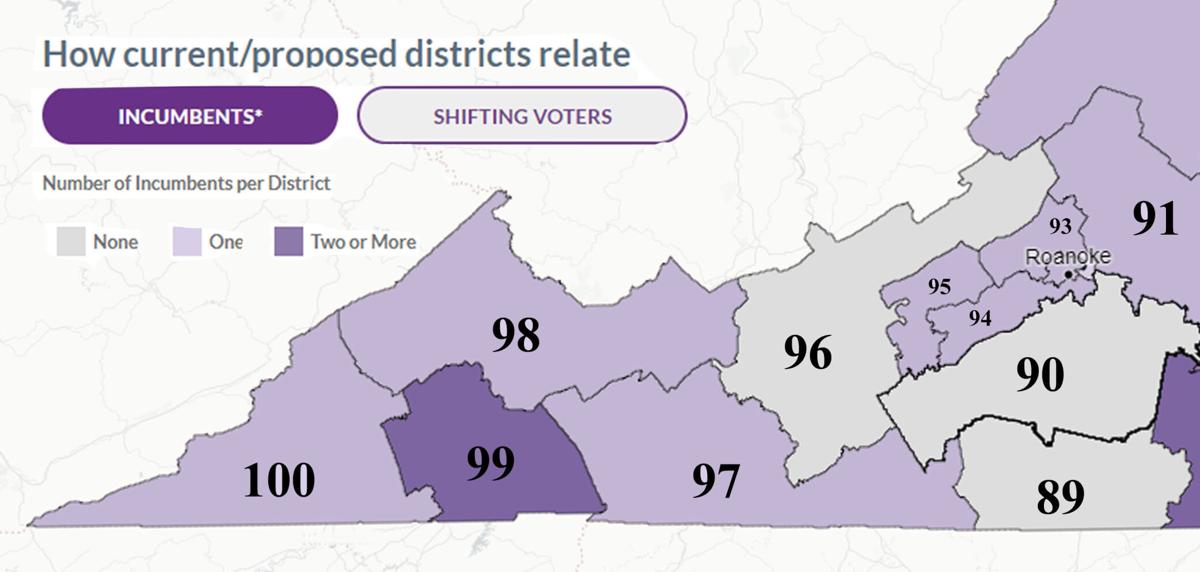 Southwest Virginia will likely lose a seat in the Virginia House of Delegates if the proposed statewide redistricting plans released last week are approved.
The Virginia Redistricting Commission met last Monday in Richmond to review two different versions of proposed redistricting plans for both the House and Senate, which would essentially combine and realign what are currently the 4th and 5th House Districts in Southwest Virginia.
The proposed changes coincide with population declines in the region compared to growth in other parts of the state. Similar declines 10 years ago resulted in the former 2nd House District shifting from the coalfields to Northern Virginia.
The commission has until Oct. 10 to submit its final recommendations to the General Assembly, and whatever changes are ultimately approved would not impact the current election, which includes all 100 House seats on the Nov. 2 ballot.
"My understanding is, [with] the candidates on the ballot, that this election will not be impacted by anything that happens with the commission's work on the state level," Washington County Director of Elections Derek Lyall said. "This is an unusual time. COVID delayed the census information coming out as it would have in February or March, so whatever happens at the state level will apply at a later time."
Both 4th District Delegate Will Wampler, R-Abingdon, and 5th District Delegate Israel O'Quinn, R-Bristol, declined to comment for this story.
"Given our region's population loss in the last census, we are facing the stark possibility of diminished representation in the General Assembly," state Sen. Todd Pillion, R-Abingdon, said. "This, unfortunately, is not new, as decadeslong population trends have favored shifting legislative districts from Southwest and Southside to growing urban and suburban areas. Until we reverse this trend, we will continue to lose seats in the Legislature. This is why we focus so much on economic development and creating an environment for opportunities to retain our talent and attract others to the region."
Delegate Terry Kilgore, R-Gate City, agreed.
"When you've got Loudoun County growing at plus 300,000, that's a huge number of voters in the richest county in the nation. We've got to stabilize our population, try to create jobs like we announced last week (EarthLink in Norton) and keep working. We started losing a lot of population when coal mining left," Kilgore said.
In another sweeping proposed change, the House districts would be renumbered — to align more with state Senate districts — so Southwest Virginia districts would become 97 through 100, with District 100 corresponding to the current 1st District, which is represented by Kilgore.
"Normally the Senate starts in the east and the House starts in the west. The Redistricting Commission walked away from years and years of tradition," Kilgore said. "I don't like that. The problem is everybody knows it as House District 1. … We'll see where it goes from here. It's a long process. We'll probably be back in session right before election."
The commission released two maps each for the House and Senate — both are similar, but one was drawn by Democratic consultants and another by the Republican consultants.
In both versions, Delegate O'Quinn would continue representing the city of Bristol and part of Washington County but would gain most of the remainder of Washington County plus some portion of Russell County, which are part of the current 4th District seat held by Wampler.
Part of O'Quinn's current district — including parts of Smyth and Grayson counties and the city of Galax — would shift into the new 97th District represented by Delegate Jeff Campbell, R-Marion.
Under one plan, Campbell's district would include all of Grayson, Smyth, Wythe, Galax and parts of Carroll County. In the other version, it would include all of Smyth and Grayson counties, the city of Galax, plus portions of Carroll, Patrick and Wythe counties.
Kilgore's proposed district would change little and include all of Lee, Scott and Wise counties and the city of Norton, plus some residents in Washington County, according to one plan. The other includes a small part of Russell County.
The current 3rd District — represented by Delegate Will Morefield, R-N. Tazewell — would become the 98th District and encompass the counties of Buchanan, Dickenson and Tazewell, plus some residents of Russell and Bland counties, in one plan. In the other, it would include all of Bland and part of Russell.
"With redistricting currently underway, I respectfully decline to comment on the process," Morefield said. "It is the greatest honor to represent our region in the General Assembly, and if given the opportunity, I will continue to work hard for Southwest Virginia."
This region will retain its two state Senate seats, but they also will undergo some changes.
The current 38th District will be designated the 39th District and include all of Bland, Carroll, Floyd, Grayson, Patrick, Smyth, Tazewell and Wythe counties, plus the city of Galax and about 28,000 votes in 10 districts of Pulaski County, in one plan. In the other plan, it would include all of Pulaski and the majority of Smyth County.
State Sen. Travis Hackworth, R-Richlands, captured that seat earlier this year and will fill the unexpired term of former Sen. Ben Chafin.
The proposed 40th District will pick up part of the former 38th and would include the cities of Bristol and Norton, plus all of Buchanan, Dickenson, Lee, Russell, Scott, Washington and Wise counties. One plan also includes a single precinct in Smyth County.
"While there are considerable similarities in the four maps that were released last weekend, these are the first official statewide draft maps presented to the commission. This is very much still an open process and work in progress that will continue to play out into the fall," Pillion said. "Our delegation supported the constitutional amendment that created the bipartisan Redistricting Commission. This process is a first for us in Virginia, and we will continue to monitor the commission and its work closely in the weeks ahead."
Kilgore declined to predict how receptive state lawmakers will be.
"When it comes to the General Assembly, it's an up or down vote. If we can't agree, it goes to the Supreme Court, so, at the end of the day, the Supreme Court of Virginia may draw the lines," Kilgore said.