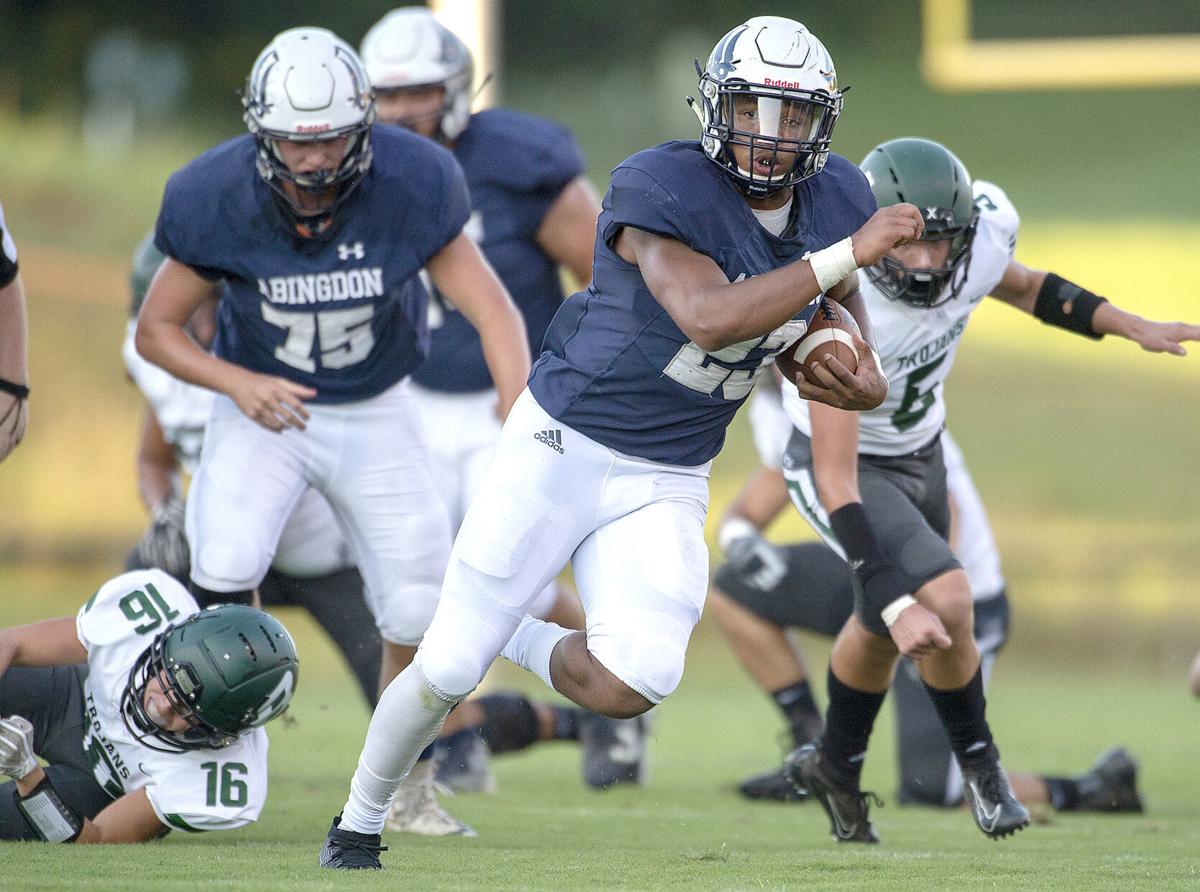 ABINGDON, Va. — Abingdon High School senior running back Martin Lucas had a life-changing conversation with Arizona State University head football coach Herm Edwards in April.
"It was awesome," Lucas said. "Coach Edwards was motivating me before I even made my decision on where to play."
After months of research, discovery and anxiety, Lucas finally gave his verbal commitment Friday to join Edwards at ASU.
The 6-foot-3, 250-pound Lucas narrowed his final list of candidates to Virginia Tech, Old Dominion, Coastal Carolina, Villanova, Marshall and ASU on July 9.
Due to the COVID-19, Lucas has been unable to visit the ASU campus in Tempe. So he did the next best thing.
"I went on a lot of virtual tours of the school, the football facilities and the area," Lucas said. "I was able to build a relationship with the coaches."
According to Lucas, ASU considered him as a running back and linebacker.
ASU recruiting coordinator Antonio Pierce, who played linebacker for nine years in the National Football League, oversaw the long-distance courtship of Lucas. Abingdon is located 1,933 miles from Tempe.
Former NFL head coach Marvin Lewis serves as the co-defensive coordinator for the ASU Sun Devils. Edwards played 10 years in the NFL and later served as an NFL TV analyst.
Lucas said the various NFL ties within the ASU staff played a role in his decision. He was also intrigued by last year's HBO 24/7 documentary series that profiled Edwards and the ASU program.
"I've watched several of the Arizona State games on TV," Lucas said. "The pace of the game will be a lot quicker at the college level, but I'm excited for the opportunity."
Arizona State has also made scholarship offers to massive offensive lineman Brody Meadows from Graham, slot receiver/defensive back Xayvion Turner from Graham and running back Trenton Adkins from Ridgeview.
In a far Southwest Virginia region where holding back a year for sports is common, Lucas is just 16 years old.
Lucas said his father made the decision to decline the holdback route.
"The (ASU) coaches said they like how I'm one of the youngest guys in their recruiting class, and they like the fact that I'm still growing," Lucas said.
The immediate concern for Lucas is his senior season with the AHS Falcons.
Officials from the Virginia High School League are expected to make a final decision on the 2020-21 athletic calendar on July 27, but none of the options include football in the fall.
"I've just been waiting. It's definitely nerve-wracking," Lucas said. "We will all know more about what we will be doing with practice and games after that July 27 meeting."
AHS has been holding football workouts and weightlifting sessions four days a week.
"But we can't use a football. It's just weird," Lucas said. "We're in shorts and T-shirts, and we just practice routes and run sprints. No contact is allowed. It doesn't really seem like practice."
The most likely option for prep football in Virginia involves a shortened season in the spring. That prospect has created added pressure to seniors who intend to play at the college level.
On Thursday, 2019 VHSL Class 4 state offensive player of the year Malik Newton from Lake Taylor High School in Norfolk announced that he will bypass his senior season and enroll at Pittsburgh in December.
"I want to play, especially with this being my senior season," Lucas said. "But if the high school season is held in the spring, I don't know if I will get to play because of college. And I want to be fresh when I get on campus at ASU."
Lucas expressed a theme similar to athletes, coaches, parents and fans of all prep sports in Virginia.
"Things are just up in the air right now. It's hard," Lucas said.
On Friday afternoon, Lucas was able to decompress. He even celebrated over a pizza dinner with his family.
"When I first started to get scholarship offers, I thought I would be able to enjoy all my official visits, but the restrictions over COVID-19 changed all that," Lucas said. "It's a big relief knowing that the recruiting process is over, and I've finally got a team. Now, I can focus on getting ready for the next level."
Lucas has already picked out his travel destination once the pandemic restrictions are lifted.
"The ASU campus will be the first place I go," Lucas said. "Coach Edwards is a great leader and coach, and I'm excited to be part of his program."
Be the first to know
Get local news delivered to your inbox!