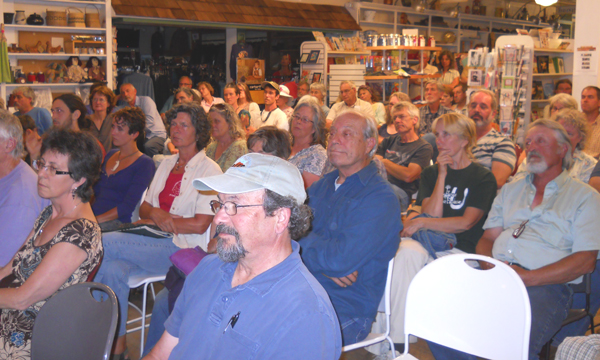 Citizens filled the Floyd Country Store last night to talk about the proposed Mountain Valley Pipeline, which is projected to cross the middle of Floyd County on its way from West Virginia to Pittsylvania County, Virginia.
Although the route is not yet known, a local group – Citizens for Preserving Floyd County (CPFC) – is getting information from landowners who have been contacted by surveyors working in conjunction with the project. With landowners' 911 addresses, the route is being pieced together by Jeff Walker, a soil scientist who works with maps. Jason Burgard, a landowner on Wills Ridge, said he had been approached by surveyors. Also contacted was the Nolen family, who owns property on Shooting Creek. The pipeline is proposed to come north of the Industrial Park and not into the Town of Floyd, Walker said.
At the meeting, Bill Kovarik, a Radford University professor, said the pipeline being proposed for this project is 42 inches in diameter. He explained some of the process involved with the project and noted that the companies involved in the project would hold an open house and that public input would be received in October/November. "It's good citizens are having their own meeting before then," he added.
Landowners, whose property was affected in Dominion's Greenbrier Project a few years ago and were involved in the fight against that pipeline, also spoke last night and shared their experiences.
Before the meeting, the topic had been getting attention on social media, pointed out local blogger and biologist Fred First. CPFC also has a Facebook page, and news of the meeting last night was advertised on it.
Areas of concern voiced last night include the county's fragile water system. "We have ancient fractures in these mountains," commented Jane Cundiff, another RU professor, who teaches environmental biology.
Citizens were also concerned about the effect of the pipeline on property values and tourism.
Woody Crenshaw, owner of the Floyd Country Store, remarked that "we can try to fight eminent domain and the reality of fracking if we want, but the best thing is to let it be known that we do not want it here."
No current members of the Board of Supervisors were present, but a former Supervisor, Jerry Boothe, and a former County Administrator, George Nester, attended. Nester, who was County Administrator at the time of the Dominion project (during which Boothe and others served as Supervisors), remarked, "you heard very good advice from Woody Crenshaw….Public opinion is what's going to win this."
One attendee advised that clear language be used in communications with those associated with the pipeline project. To which a woman replied, "It seems very clear to me tonight 'Floyd County says no'."